Incorporating a range of regional fare that features fresh and healthful ingredients, the Asian-inspired restaurant segment utilizes traditional equipment to create authentic dishes.
When a cuisine is on point on all levels, it equals opportunity for the industry. By focusing on fresh, healthy ingredients and a variety of flavors at a reasonable price, the Asian restaurant segment remains a good example of a cuisine that's hitting all the hot trends.
Capitalizing on the explosion of the Asian/noodle bar restaurant segment, Kelley Jones, principal of Kelley Jones Hospitality and the founding partner of Trust3 Hospitality, which has offices in New York City and Las Vegas, is about to open his first ramen restaurant in Vermont and has plans to expand in college towns across the Northeast.
A seasoned restaurant pro, Jones has found the Asian market to be quite lucrative. He opened China Grill in Las Vegas in 1999 and New York City's Buddakan in 2006, among a number of other concepts. "The big thing is ramen is affordable, healthy and filling," says Jones. "Dim sum is on fire too because of the increased popularity of small plates."
And Jones is not the only one who is hip to this trend. The Asian menu type represents approximately 9 percent of all restaurants in the United States, according to Chicago-based CHD Expert's FIND data. Sub menu categories include: Chinese, Indian, Pakistani, Bangladeshi, Sri Lankan, Japanese, sushi, Korean, Thai, Vietnamese and other Asian cuisines such as Cambodian, Malaysian and Indonesian.
There are more than 63,500 Asian restaurants in the U.S., 42 percent of which are classified as Chinese, reports CHD Expert. The Asian menu type represents approximately $26 billion in retail sales, with average unit volumes exceeding $415,000. While 92 percent of Asian menu type restaurants are classified as independent, 84 percent are fast service and 16 percent are limited service.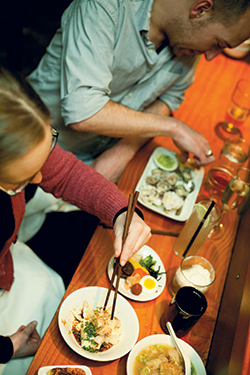 "The popularity of ethnic and spicy flavors has grown considerably in the United States in recent years, which bodes particularly well for restaurants specializing in Asian foods," says Drew Strommes, U.S. analyst for London-based market research firm Euromonitor. "While Italian and Mexican food had been long-time favorites for many Americans, consumers are now branching out and experimenting with more adventurous ethnic varieties."
Specifically, traffic has increased at Chinese fast food restaurants and restaurants serving other Asian foods, such as Thai, have garnered the attention of many Americans. "Major players in the U.S. foodservice industry have clearly attempted to capitalize on this trend, as evidenced by the expansion of Chipotle's Southeast Asian concept ShopHouse," says Strommes. "We expect this trend to continue, with the sales growth for Asian fast food restaurants in the U.S. outpacing overall fast food in the U.S. through 2019."
Jones is banking on this, with plans to open 10 or more ramen shop sites in the next 2 years. "The innovation is not coming from the culinary side, but instead with the actual dining event that includes the decor, lighting and music," says Jones. "It's more about the overall experience."
On the equipment side, there isn't much innovation, as many of these operations leverage authentic preparation methods for these dishes. "This is true whether the restaurant offers Asian fusion or authentic Chinese, Japanese or ramen," says Jones. "With the exception of pasta machines for those making noodles in-house, preparation is centered around hand labor for added control and a focus on the traditional."
Japanese Authentically
Before opening his Japanese-style tavern, Biwa, in 2007, Iowa native Gabe Rosen completed his degree in Japanese language at Portland State University and studied at Hokkaido University in Sapporo, Japan. "When I went to school in Japan, I thought I knew what Japanese food was," says Rosen. "I quickly found out I didn't know the ethnicity of everyday Japanese fare."
Returning to Portland, Ore., a year later, Rosen and his partner Kina Voelz sought to create a traditional Japanese restaurant. Biwa is largely credited with fueling the trend of the city's izakayas, which are informal Japanese drinking establishments.
Biwa's cuisine is described as straightforward yet trendy. Though the food is mainly Japanese, the formats can mimic European and Middle Eastern dishes. The menu includes six or seven sashimi dishes that change daily, along with kushiyaki, a Japanese-style shish kabob. Ramen and udon noodle dishes also are popular, as is a mix of seasonally changing salads. The restaurant is known for its small dishes, such as Asian pear salad, Korean beef tartar and cauliflower croquettes.
The biggest challenge for this authentic 50-seat operation is obtaining the high-quality specialty ingredients that are necessary for a number of dishes, such as dried fish, as well as traditional Asian pantry items. "Surprisingly, soy sauce varieties are very limited in the U.S.," says Rosen. "Also, because our high-quality approach warrants costlier ingredients, we've had to get our customers used to thinking outside of the box in terms of our pricing."
Biwa produces its diverse menu in a kitchen with limited space and equipment. The simple and straightforward cookline includes a 12-inch flattop, an 18-inch broiler, a fryer and three two-burner ranges. For the most part, the same equipment has been in use for the past nine years. "What I like about our equipment is that it keeps the cooking methods direct and allows us to focus on every dish individually," says Rosen. "Because it's about how heat will be applied to the ingredients, the production process is more deliberate and old school."
Biwa recently incorporated an authentic Japanese grill, which staff will use on the patio during summer and out front for special occasions.
Cooking equipment used at Toki Underground is as simple as its menu and includes a six-burner stove, grill, flattop and fryer.More advanced pieces of equipment, including a 100-gallon steam-jacketed kettle and 20-foot ventilation hood, are part of Rosen's newest restaurant, Noraneko, which he opened with colleague Ed Ross in March of last year in response to the ramen noodle trend. "The menu includes all types of ramen, from the traditional Japanese style to contemporary fusion," he says.
Biwa has continued evolving over the years, and plans are in the works for a facelift. "This is a Japanese tavern dining format that we're applying to a more expanded palate of ingredients, and that's exciting," says Rosen.
Asian Meets Street Culture
Opened in 2011, Washington, D.C.'s Toki Underground is a 28-seat Taiwanese-inspired ramen shop that offers a twist on the traditional, evident by the graffiti and skateboards on its walls.
"I'm from Taiwan, and love noodles, so the goal was to create cultural fusion," says chef/owner Erik Bruner-Yang. "This restaurant represents where I was at 25 years old."
Opened in 2011, Toki Underground has the distinction of being one of Washington, D.C.'s first ramen noodle shops. Photos courtesy of David KriegerToki prides itself on being one of the city's first ramen noodle shops with a concept that differs from those in Japan. With thousands of ramen noodle shops in Tokyo compared to hundreds in the U.S., Bruner-Yang says Americans are not yet knowledgeable about the different nuances and styles of this cuisine.
Toki's menu, with five ramen and three noodle dishes, focuses on the Sapporo style. This includes pulled pork ramen infused with kimchi or red miso and tsukemen noodles with a mix of summer vegetables or ground pork. "Ramen can be based around chicken or seafood, but is predominantly pork-based," says Bruner-Yang. "There also are different types of noodle shapes and lengths."
Toki's equipment lineup is as simple as its menu, with only a six-burner stove, grill, flattop and fryer in the back of house. Although there are no plans to expand on the concept, Bruner-Yang keeps busy with his two other Asian-inspired businesses, Honeycomb, an Asian grocery store, and Maketto, a 6,000-square-foot food and fashion marketplace that includes a 60-seat Cambodian/Taiwanese restaurant, coffee/bakery café and international menswear store.
"In the years ahead, we will see other types of Asian restaurants run by second and third generations," says Bruner-Yang. "This will include more home-style cooking, which is the future."
Centered Around Sake
California's WaBa Grill is a fast-growing limited service chain that is expanding to Arizona and Texas in 2016.Minneapolis' Moto-I was originally created as a sister restaurant to Herkimer, a brewery down the street. Owner Blake Richardson simply applied his passion for beer to sake, and the rest is history.
Open since 2009, the 3-level, 400-seat restaurant is more than its sake, which is produced with rice from Moto-I's own mill. Rather than entrées, the focus is on starters and small plates, including ramen, that blend American and Japanese street food.
Best sellers include ramen; Rangoon won ton puffs; Japanese fried chicken with sweet Indonesian soy sauce; house-made steam buns; and Benny Bun, an Asian eggs benedict that includes two buns, poached eggs, candied miso bacon, miso béarnaise and scallions.
Unlike the majority of ramen restaurants, Moto-I doesn't include MSG in its broth. Instead, richer, heartier ingredients are incorporated for added flavor. Almost all dishes include a poached egg on top. "We make all of our noodles and broths
in-house and also offer many vegetarian and vegan options," says general manager Katie Muller. "But what sets us apart is that we're the only restaurant with a sake brewery in the Midwest."
Although the menu is not styled for sake pairing, that is the main focus of Moto-I's dishes. There are also 12 local beers offered on tap.
Like many Asian restaurants, the back of house is straightforward and includes a 3-hole wok, 36-inch charbroiler, steamer and a couple of fryers. A steam-jacketed kettle, located in a separate production area, is used for preparing the sake rice.
Moto-I's demographic depends on the day of the week or even the time of day. The restaurant has regular open mike nights and also serves brunch on Saturday and Sunday with $2 sake specials.
One of its most popular events is fantasy sumo wrestling, similar to fantasy football. Players choose rikishis, or wrestlers, for their fantasy stable and receive points based on their achievements. There is a $15 entry fee, and those taking first, second and third place receive 50, 35 or 15 percent of the winnings, respectively.
This year, Moto-I plans to expand its brewery to incorporate different types of rice and is working on bottling its sake. "We're in the process of finishing up our licensing and getting labels approved with the state," says Muller. "We anticipate bottling by this summer."
Keeping It Fresh
Dishes at WaBa Grill are based around proteins, rice and vegetablesNamed one of the fastest-growing limited-service chains with sales less than $200 million by Chicago-based research firm Technomic, WaBa Grill is expanding its 120 California locations with sites in Arizona and Texas this year.
Locations average 1,500 square feet, with between 20 and 30 seats. The fast-casual concept was primarily Asian when it opened in 2004, but removed the word "teriyaki" from its name in order to expand its demographics and menu. Salmon and beef short rib dishes also were recently added to its menu of chicken and steak entrées.
"Now, we're more of a grill but still considered Asian fusion, since our sauce is teriyaki-based," says Matthew Martinez, marketing manager of WaBa Grill Franchise Corp., based in City of Industry, Calif.
Dishes are based around proteins, along with white or brown rice and vegetables. Entrées are created to be high in protein, low in carbohydrates and with no high-fructose corn syrup. All ingredients are fresh, rather than processed or frozen.
The flavor of the teriyaki sauce is at the heart of its meals, which are designed to be simple, flavorful and easy to eat on the go.
Entrées are prepared in five minutes in the open kitchen, which displays the entire prep and cooking process. All items are cooked to order, and vegetables are prepped daily and then lightly steamed in water on the range. Butterflied chicken breasts and marinated steak are cooked on a griddle to sear in juices and then moved to the grill for braising with WaBa's signature sauce. A rice cooker is also part of the equipment lineup.
"Equipment innovations are important, but how we set up the cooking process plays an even bigger role in the kitchen," says Martinez. "It's the setup in the back of house that has evolved over the years."
The griddle has been moved by the grill and cutting board, and a larger area has been created for vegetable prep and meat cutting. "The griddles and grill are now designed to trap oil or residue, and also safety has improved with today's equipment," says Martinez.
With higher food costs and labor, WaBa Grill has had to compensate with price points that are a bit more than is typical for an Asian concept. "Our customers are adjusting to that change and are willing to pay top dollar for a higher-quality product," says Martinez. "We're emphasizing the healthy component, so getting the message out has been our focus.
The plan is for WaBa Grill to expand to 1,000 locations by 2020. "Right now, we're in acquisition mode, opening one store a week," says Martinez. "Our goal is to move from being 90 percent franchised to 70 percent franchised and 30 percent company owned."
Top 5 Asian Restaurants by # of Units
Panda Express 1,700+
Noodles & Company 400+
Sarku Japan 250+
P.F. Chang's China Bistro 200+
Pei Wei Asian Diner 200+Source: CHD Expert, January 2016 FIND Database
Top 5 Asian Restaurants by Annual Sales
Panda Express $2.2 billion+
P.F. Chang's $800 million+
Noodles & Company $450 million+
Pei Wei Asian Diner $300 million+
Benihana $250 million+ Source: CHD Expert, January 2016 FIND Database