Restaurants can be profit centers for convenience retailers with decent store traffic that enlists the help of experienced foodservice personnel.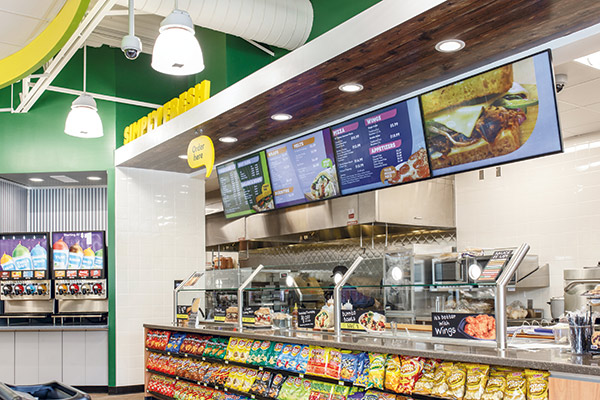 CST's five rebranded Corner Store Markets have expanded the chain's selection of fresh produce, quick meal fixings and made-to-order items.In convenience stores, the future is all about prepared food, not fuel. Because the bulk of c-store revenue is produced inside the store, as opposed to at the pump, a growing number of these retailers are expanding high-margin prepared food offerings and, as a result, increasing profits.
"Gas makes up about 70 percent of c-store revenue dollars, which only equals about 30 percent of profit dollars," says Jeff Lenard, vice president of strategic industry initiatives for the National Association of Convenience Stores, (NACS), based in Alexandria, Va. "An average convenience store brings in about 800 customers a day; how many new restaurants have this many potential customers?"
A number of factors suggest the convenience store/restaurant model may soon be the rule, rather than the exception, for retailers.
First, operators have a number of options when it comes to creating a quick-service operation in a store with a small footprint. Retailers can bring in prepared food from an outside manufacturer or restaurant chain to sell in the cold case; work with an established restaurant partner to cobrand an on-site operation; create a signature prepared food line on- or off-site that can be sold hot or cold; or create a signature restaurant operation on-site.
For retailers, going into the restaurant business solo has its challenges. The biggest issue is a change of mindset. Operating a restaurant represents a complete departure from traditional c-store models, which mainly consist of purchasing, stocking, selling and replenishing packaged goods. "Convenience stores preparing food on-site need to act like a restaurant, not a retailer," says Lenard. "C-stores that don't brand with a known partner should acquire the talent of someone who is in the restaurant business and can assist in executing this type of operation."
The good news is there are now more experienced restaurant personnel willing to jump into the retail arena and make their mark. For example, in Washington, D.C., Anna and Jon Goree relocated their successful Seoul Food food truck operation into a Maryland gas station, creating a Korean meal destination. "For those who can set up in a gas station as opposed to a food truck, the same or slightly bigger footprint can be executed," says Lenard.
Another benefit is that the convenience store/restaurant model appeals to the growing demographic of singles in the U.S., which rose from 17 percent in 1970 to 27.5 percent in 2012, according to the U.S. Census Bureau. The convenience factor of getting fuel, snacks, beverages and a meal in one stop also attracts Millennials, a sought-after demographic due to their disposable income and spending habits.
"The 28 percent of U.S. households that are married with kids eat out more, and this is where c-store foodservice can fill a niche," says Lenard. "C-stores are moving large amounts of premade sandwiches and sides from open-air coolers, which do enormous volume on their own."
According to NACS, 84 percent of items purchased in convenience stores are consumed within an hour. This purchasing pattern aligns more with restaurants than grocery stores. "Restaurants are 100 percent geared toward immediate consumption, as are c-stores," says Lenard. "There are so many parallels between these operations."
This makes it likely that c-store restaurants will be more prevalent in the years ahead.
Building Proprietary Brands
PRIDE Stores' Urban Counter is a quick-service concept that offers salads, burgers, hot dogs, sandwiches and wraps made to order.When Mario Spina's father established The PRIDE Stores operation 50 years ago, there was no indication that the gas station/convenience store operation would turn into a successful quick-service restaurant chain.
The Warrenville, Ill.-based company operates 12 PRIDE Store gas stations and convenience stores in the Chicago suburbs. Its parent company, Parent Petroleum, also distributes fuel to 350 gas stations in the region. "Our high-volume locations sell 400,000 gallons of fuel a month on average, when 70,000 to 80,000 gallons a month is typical for a station," says Spina, the company's CEO. "Our inside sales are high, as well."
Unfortunately, fuel sales don't amount to consistent revenue, with gas stations typically selling fuel at a loss during certain stretches throughout the year. "It's a feast or famine business with gas, which has low margins, and credit card fees are high," says Spina.
After considering leasing space to a franchise brand, Spina decided he wanted to be in the restaurant business. The result was Urban Counter, a quick-service concept created by The PRIDE Stores' corporate chef Adrian Ion. The menu includes salads, burgers, hot dogs, sandwiches and wraps made to order in a kitchen equipped with a griddle, broiler, fryer, prep table and countertop coolers.
Urban Counter now operates four locations within The PRIDE stores. A 1,400-square-foot dedicated restaurant site will open early this year within a new 5,000-square-foot building adjacent to the St. Charles PRIDE location.
Ion created a second concept, Taco Urbano, which opened its first location last November inside The PRIDE of Batavia. "I'd describe it as traditional Mexican food with a modern twist," says Spina. "Like Urban Counter, everything is made fresh to order, including our guacamole and pico de gallo." A second location is already planned for 2016.
Taco Urbano's menu includes tacos, burritos, tortas, salads, nachos and quesadillas. The equipment package supporting this operation includes a griddle, countertop hot plate, broiler, prep table and steam table.
The company also operates three PRIDE Cafés within its stores, which sell five freshly cooked paninis, three side salads and handmade espresso drinks along with PRIDE Fresh Food brand sandwiches, wraps, wedges, fruit cups, veggie cups, hot dogs, pizza, tamales and hot pretzels. This program is supported by a panini press and espresso machine at the store level.
PRIDE also built a 1,000-square-foot commissary to bring in-house the company's fresh food campaign and handle catering orders. "When we were outsourcing, the sandwiches weren't as consistent as we wanted, and we were paying a markup," says Spina. "Instead, we took the money we were saving by centralizing production in our own facility and enhanced the quality of our ingredients."
The company now distributes these items from its 13,000-square-foot warehouse, which also includes office space.
In addition to the central commissary and warehouse, PRIDE handles property development and management in-house, as well, including general contracting and property maintenance. "We've recently invested heavily in remodeling the stores' interiors, including adding faux hardwood floors, wainscoting on the walls, tiling around the coolers and refreshing the paint," says Spina. "Still, every store has a unique look."
Although the line has become more blurred when it comes to retail foodservice programs compared with traditional restaurants, there are challenges operating in a different format.
The biggest struggle with Urban Counter and Taco Urbano has been customers' speed-of-service expectations. "It takes more than three minutes to cook a ½-pound burger, so it's a matter of making our customers aware that there will be a wait time," says Spina. "We've found that people will wait a little longer for high-quality, fresh food."
After a five-year licensing process, eight PRIDE locations now have liquor licenses. In addition to craft beer, the stores carry higher-end wine varieties. The new Urban Counter site will have five beer varieties and five wines on tap with suggested food pairings. There also will be a liquor store on-site.
To help drive fuel and c-store business to the restaurants, the company introduced a loyalty program, PRIDE Points, in 2015. This twist on traditional loyalty programs will reward points to customers who purchase fuel and items in the store. For every 500 points, program participants will receive a $5 coupon that can be used for c-store or restaurant items.
"Our most important revenue stream is the quick-service restaurants," says Spina. "The goal moving forward is to have the same quality food as traditional restaurants of this type, but at a lower price point."
Filling a Niche
The Corner Deli & Grill's menu offers more than 200 dishes, including sandwiches, Mexican fare and grilled items.Seeking a new avenue for revenue, Richard Speckman, president/owner of The Corner Enterprises Inc. in West Los Angeles, Calif., was at a loss as to how to best utilize 500 extra square feet of space in his Mobil Mart gas station.
"I was looking for another profit center, and the only thing I could think of adding was a sandwich shop," says Speckman. "I considered franchising a sandwich brand, but decided I'd rather be independent."
Speckman had many years of retail experience under his belt, working at gas stations throughout high school and running his own since 1987, but foodservice was a foreign entity. Fortunately, with assistance from his sister-in-law, who had experience in the restaurant business, and the addition of executive chef Mario Olguin, The Corner Deli & Grill was created.
The concept is essentially three restaurants in one — deli-sandwiches, salads and wraps; burgers; and authentic Mexican food, with many recipes from Olguin's grandmother. "My idea was, since we had no brand restrictions, I could sell what I wanted," says Speckman. "Plus, Mario had experience with all three restaurant types, so we went with it."
The Corner Deli & Grill has a menu with 200-plus items made from scratch out of a 250-square-foot kitchen. The Mexican food, burger and sandwich stations utilize a 4-burner stove, an oven, 2 flat grills, a charbroiler and a fryer, which are under a single 12-foot hood.
There was only one slight hiccup upon opening the operation. "In the beginning, when we turned on the hood, people couldn't get out the front door," he says. "We didn't realize right away that the hood wasn't properly balanced, since we came from a world of roller grills and microwaves. It was a totally different animal running a restaurant business compared with a c-store foodservice program."
When the restaurant opened in 2003, business started off slowly, but after advertising around town by distributing menus, flyers and coupons, it took off. The gas station, convenience store and restaurant now have 11 employees, including 3 delivery drivers, and offer online ordering and on-site catering. While the gas station is open 24/7, the
restaurant hours are Monday through Friday 6:30 a.m. to 5 p.m. and Saturday 9 a.m. to 3 p.m.
The operation uses four different online ordering companies and, due to the increase in business, will be upgrading its POS system to allow remote order taking outside the store and online. Orders will come in directly to the POS system and go out to the cook station line. Order takers also make the rounds by the gas pumps to relieve congestion inside the store. "Sometimes we're maxed out as far as our volume, which is not a bad problem to have," says Speckman.
Customers order either online or at the restaurant, then take their ticket to the convenience store side to be stamped after payment. The ticket is turned in when the food is picked up by the customer. This system helps filter additional patrons through the convenience store, which encourages impulse and incremental purchases.
"What makes us unique is that, with the gas station in front, we have built-in clients," says Speckman. "Our customers are coming in here as a destination anyway, but that's not to say most customers are buying gas, because they're not."
The Corner Deli & Grill is fortunate to be located at the corner of a busy intersection flanked by three 20-story buildings. Speckman says this type of foodservice concept can work for c-stores that are located in high-traffic areas as long as the right people are running the restaurant side.
"However, the food and service have to be excellent," he says. "We have outlasted all 6 restaurants across the street that have gone out of business in the last 13 years, proving that it's not just a busy area that makes a business successful."
A Modern Makeover
In late 2015, CST Brands Inc., a San Antonio-based Fortune 500 fuel and convenience retailer, announced a total brand makeover that started in its hometown, with a plan to expand in the next three years. The chain operates approximately 1,000 stores in the U.S. and Canada.
Five rebranded Corner Stores, called Corner Store Markets, have expanded the selection of fresh produce, quick meal fixings and a made-to-order food menu with pizzas, sandwich melts, soups and salads, among other items.
As a benefit of CST's 2014 acquisition of New York-based Nice N Easy Grocery Shoppes, Corner Store was able to import the smaller chain's popular made-to-order food program to Texas through its Corner Store Market concept, introducing its hot and cold food menu anchored by its pizzas.
Jack Cushman, executive vice president, food services, at Nice N Easy Grocery Shoppes, developed the chain's proprietary foodservice brand 10 years ago and sees much potential in the concept moving forward. "The biggest challenge is figuring out the organizational structure, because it is difficult to merge two business models under one piece of real estate," says Cushman. "It is the structure of the organization that drives its success."
CST's research has revealed that its customers want a broad range of food and beverage options, including healthy choices, grocery staples and fresh food prepared on-site. With the modern makeover and expanded grocery and food offerings, Corner Store aims to attract more Millennials and women looking for on-the-go lunch options or a quick dinner. This represents a big departure from the typical c-store customer.
With this retail channel's limited footprint, it's key to address menu and equipment limitations up front. "With space constraints comes skill-level issues and serving-capacity limitations," says Cushman. "For this reason, when we purchase equipment, it has to address multiple aspects of the menu."
Hallmarks of Corner Store Markets' and Nice N Easy's kitchens include speed ovens, convection ovens and pizza ovens. "Our convection ovens proof sub rolls, but also bake muffins," says Cushman. "All of our equipment has multiple uses, except for the pizza oven, which gets a workout on its own."
Cushman says what makes c-store foodservice programs unique is that they provide a point of differentiation to the retail business model, which otherwise is identical to most competitors'.
Looking ahead, Cushman predicts the c-store gas station model of today will eventually become extinct, similar to the gas station auto repair garages of years ago. "With these operations, there is no point of differentiation and margins continue shrinking," says Cushman. "The QSR business model in a c-store format will be as common in 20 years as c-store gas stations are today."
C-stores By the Numbers
There are 152,794 convenience stores in the U.S.,
one per every 2,100 people.
In 2014, U.S. convenience stores had $696.1 billion in sales, roughly equal to those at restaurants, which had $709 billion.
Convenience store foodservice is roughly a $42 billion industry, contributing 19 percent to in-store sales.
In 2014, the foodservice share of margin dollars increased from 31.8 percent to 33 percent.
Source: National Association of Convenience Stores