Dealing with customers' food preferences and special dietary requirements is tough enough for a single-site operation, but can be particularly challenging for one with hundreds of locations.
As one of the largest senior living organizations in the United States, Brentwood, Tenn.-based Brookdale's 1,150 locations include independent living, assisted living, memory care, therapy and home health services, hospice and skilled nursing care facilities in 47 states. This includes approximately 468 freestanding assisted living communities, 550 Alzheimer's and dementia sites and 49 independent living locations that serve 111,000 residents.
"Our foodservice program includes several thousand recipes that also can be set up and modified for nine different diets," says Joska J.W. Hajdu, Brookdale's senior vice president. "The program's 5,000 recipes can become 50,000, but there's much training, complexity and compliance that goes into that. In the senior living segment, we can't just wing a texture-modified diet, or it can put a resident at risk."
FE&S spoke with Hajdu about Brookdale's initiatives, the changes in senior living dining and the evolving trends in this segment.
Rather than set hours, Brookdale offers all-day dining that gives residents more flexibility with their schedules.FE&S: The climate of dining is shifting in the senior living segment. Can you describe what is happening?
JH: There are many trends buzzing specific to senior housing but much of it centers on all-day dining. Several hundred of our properties now offer this, and it is a company-wide initiative to expand it this year and next. This development breaks the traditional rules of senior living, where breakfast was typically served from 8 a.m. to 9 a.m., lunch between noon and 1 p.m. and dinner between the hours of 5 p.m. and 6 p.m. Today, many dining venues are open virtually all day with more choices and flexibility. And rather than the massive 200-seat formal dining rooms, the offerings are broken up into multiple smaller venues with individual identities. There also are grab-and-go options, due to the increased demand. This allows seniors to eat their meals in their living spaces or on the road.
FE&S: Seniors are becoming much more proactive in taking control of their health. How have Brookdale's communities adapted to the trend in healthier eating?
JH: One common thread we see is these are different customers who are impacted through the media and a lot more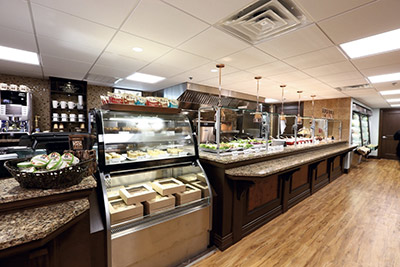 Brookdale's various foodservice options were developed to better fit resident lifestyles.educated on what they're eating. As a result, many healthy eating trends are influencing how we design our menus. One big trend with seniors is gluten free, not so much as a diet, but as a healthier eating preference. We're also seeing a lot of farm-to-table demand, and the sourcing of more local ingredients to create simpler meals. There also is more interest in fusion, vegetarian and vegan cuisines, which has influenced our menu. One of the more exciting new menu trends is the use of ancient grains, such as quinoa, farro, barley and kamut, as alternatives to pasta and potatoes. Smaller plates and portions have become more popular. Rather than a big slab of meat loaf and pile of mashed potatoes, we're doing a lot of duo and trio plates so residents can create a combination of two or three smaller entrees.
FE&S: One of the biggest challenges in senior living foodservice is accommodating a variety of eating preferences and healthcare requirements. What equipment is integral to your operation?
JH: Probably the most important piece of equipment is the stove, because it can handle almost any type of cooking need. We've recently incorporated rapid-cook ovens that combine convection and microwave capabilities for quick à la carte applications. There also are other innovative units that we're experimenting with and beginning to install in our communities that provide induction heating. This includes cooktops and steam tables, where heat can be controlled more accurately for better consistency. More of our locations are now utilizing electric indoor smokers with lava rocks, which allows us to more easily add flavor profiles to meat and fish. Infrared radiant grills have replaced traditional gas- or wood-fired versions, for even cooking without flare-ups or charring. Rotisseries have been incorporated into our display cooking programs, and items prepared with these units are very popular with residents. Food processors have been invaluable in preparing texture-modified diets to the exact consistencies needed. We've also incorporated rapid-cook ovens and wood-burning ovens into our first branded concept called Eat American Bistro. These restaurants will be located at our communities and be open to residents, the public and our employees.
FE&S: There has recently been much crossover from the restaurant and school dining segments into senior living foodservice. What has taken place in your operations?
JH: One similarity is that everything is cooked fresh from scratch in open kitchens. Also, instead of meal credits or
Mobile point of sale technology helps speed of service at Brookdale's dining facilities.accounts, we use dining dollars for meal payment, similar to many universities. Residents receive a meal card with credit and can choose how to use it. We've also transitioned from traditional menus to electronic menu boards, and our offerings also are posted online. This provides residents with easy access to meal information on their mobile devices, while allowing for simpler and more affordable menu changes when necessary.
FE&S: In the past, senior living foodservice programs had a stigma in terms of food quality and variety. How has this changed?
JH: A decade ago, senior housing dining was not something culinary graduates would gravitate toward and we successfully turned the tide on that with the creation of the Culinary Arts Institute of Brookdale. Much innovation happens in this teaching institute, which is in its twelfth year. It also has helped us attract a much higher caliber of professional chefs who are out there looking for new culinary trends while creating their own. Much of this information is highlighted in our magazine, Hospitality Leader.
FE&S: How is Brookdale positioned to address senior living foodservice trends in the years ahead?
JH: We feel it's important to be ahead of the trends. Brookdale has several resident advisory boards throughout the country, and we respond quickly to requests. We're also innovating food for seniors, which is a full-time gig. FE&S