As senior living foodservice programs adapt to meet the needs of more discerning residents, a variety of equipment items help to expand and diversify menus.
Case Study: Integrace in Eldersburg, Md.
Integrace's seasonal menu items incorporate fresh ingredients, including local produce.A decade ago, residents of senior living communities were solely focused on dining convenience, but today expectations have significantly increased and become more challenging to meet.
"Retirees are much more aware of what they're eating, and their expectations are higher," says Sean O'Connor, vice president of sales, marketing and communications at Integrace, which encompasses four Maryland senior living communities, including Fairhaven and Copper Ridge in Sykesville, Bayleigh Chase in Easton and Buckingham Choice in Adamstown. "Ten years ago, our customers just wanted to know if the food was good, but now they're asking how it is prepared and if there are 'heart smart' and low-sodium items available."
Rather than traditional cafeterias, Integrace's locations feature extensive dining service programs that include full-service restaurants, bistros and coffee shops as well as options designed for those with health challenges. For example, the Beasman dining room offers an à la carte menu for breakfast, lunch and dinner seven days a week, while the Beasman Bistro offers food court–style food stations. The Copper Kettle restaurant, also at Beasman, serves dinner five days a week.
While a typical dining room at Integrace's communities seats 140, bistros and memory care dining accommodate 30 people each. Family members can dine with residents at any of the restaurants.
The four-week cycle menus utilize fresh ingredients, including local produce and seafood from Maryland. Integrace adjusts menus based on the available seasonal ingredients. Offerings include standard fare, like baked chicken and meat loaf, along with specialty items like prime rib, Cornish hen, bacon-wrapped pork loin and daily chef specials. Each meal features numerous starch and vegetable options, such as creamy risotto, grilled asparagus and ratatouille. Specialized diet menus include gluten-free,
soy-free and vegetarian dishes.
Healthier dishes infused with flavor are a menu staple at Integrace.In response to resident requests, a new pilot program in the Bistro provides casual "stealth health" dining options, including hand-tossed green salads, grain salads made from quinoa and barley, and sandwiches created on artisanal, high-protein, whole-grain breads and rolls from local bakers. The Bistro also provides comfort foods, such as stone-fired pizzas, stromboli, baked pastas, rustic stews and cassoulets and hand-formed Angus beef burgers. Beverage offerings include wine and beer at the Bistro, and a juicing program is in the works.
"The goal is to bring the dining program to residents, since the majority are actively seeking information relating to ingredients and nutritional value, which is great to see," O'Connor adds.
Integrace's communities feature a 10,000-square-foot main kitchen that handles the dining room, memory care residents and catering functions, and a smaller 2,000-square-foot restaurant kitchen. The larger kitchen includes sections for cooking, prep and baking. Main equipment includes convection ovens, fryers, steamers, flattop grills, charbroilers, induction equipment, tilting skillets, food processors, mixers and blenders. In the restaurant kitchen culinary staff finish menu items using such equipment as a flattop grill, charbroiler, fryer and convection oven.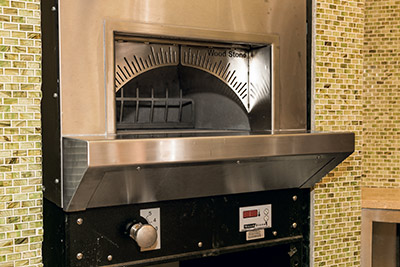 As part of its exhibition cooking platform, Integrace uses a wood-burning pizza oven."The pizza oven is a new addition in the Bistro, which allows for the production of pizza, calzones, baked pasta and other items," says Laura Breton, Integrace's senior director of sales, marketing and communications. "This equipment also provides exhibition-style cooking. It's important that our equipment is flexible for multiple uses."
Catering is big business for the senior living communities. "We do $90,000 a year in on- and off-site catering for [residents and Integrace employees]," says Stephens. "For example, one of our locations has a theater where we regularly hold receptions with passed hors d'oeuvres and champagne."
One part of Integrace, the Integrace Institute, conducts research and provides training and education on Alzheimer's disease and dementia. Created for dementia patients, Unidine's Fresh Bites program provides convenient nutrition-packed finger food, giving residents the ability to walk around and eat rather than sitting down for meals and being frustrated by utensils.
Another of Unidine's signature programs, Fresh Benefits, was developed for the many seniors who don't get enough daily caloric intake. By increasing enriched snacks and meals, these residents can supplement what they're eating. A 350-calorie brownie can be fortified to be 500 calories, for example.
"Our seniors are being exposed to new flavors through tastings and menu samplings," says Breton. "Our chefs regularly talk to residents about our food offerings and how menus can be improved and help them feel better."
Senior Living Foodservice Facts
Total purchases in terms of food, beverages, packaging, and nonfoods (equipment) for the senior living foodservice segment are expected to reach $4.2 billion in 2015.
In 2014 the retail sales equivalent for senior living foodservice hit $6.1 billion, up 5.8 percent from 2013's $5.7 billion.
Overall, revenues among senior living foodservice operators grew 5 percent annually during the past five years. Revenue projections for the next five years come in at 9 percent annually.
Total daily meal costs average $13.80 per senior living resident in 2015.
Sixty percent of senior living facilities have a full-time
executive chef on staff with a formal culinary education.
There are currently 21,700 senior living facilities in the United States.
Source: Technomic, Chicago