Today's innovative healthcare foodservice providers tend to be masters of multiple disciplines. Their business models often range from retail to catering to patient foodservice, with a few grab-and-go options tossed in for good measure.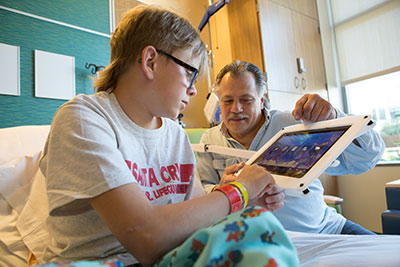 Brett Demy, a patient at UCSF Benioff Children's Hospital San Francisco, and his father can order meals, communicate with his doctor and watch entertainment from the bedside digital tablet. Photograph by Elisabeth FallTo remain leading edge in their approach, today's healthcare innovators continue to take concepts like room service to new levels, enhance capacity and food quality in their café formats, become flexible by design and even turn to robots to make the most effective and efficient use of their labor. All of this happens as healthcare foodservice operators look to take a position on healthier eating through thoughtful menu construction, demonstrations and more.
The net result is that some of the foodservice industry's most sophisticated operators go to market in the healthcare space. On the following pages FE&S proudly introduces you to five operators setting the pace for today's healthcare foodservice operations.