A rapidly evolving healthcare environment has led to a number of organizations aligning with one another. This can impact the population these healthcare foodservice operators need to serve as well as how they provide food and nutrition services. Such was the case with the 72-bed Syosset Hospital when it took on a 32-bed orthopedic program from another hospital in February of 2014.
The team setting up and implementing room service includes, from left, Lexus Magwood, an ambassador; Russel Ficke, chef manager, Daniel Geskie, foodservice supervisor, and Eric Sieden, director of food and nutrition services."Our hospital changed from being an acute care facility serving an elderly population to a facility with a center also serving younger people seeking orthopedic surgeries," says Eric Sieden, director of food and nutritional services at Syosset and Plainview Hospitals, which are part of the North Shore-LIJ Health System.
"These younger patients have very high expectations for foodservice because most of their surgeries are elective," Sieden says. In response, Sieden's department rolled out a room service dining program specifically for these patients.
When evaluating the menu for room service, Sieden and his culinary team discovered the existing plain, non-selective trayline menu in place for the older patients wasn't appropriate for the new demographic Syosset would now serve. "We had to add this room service without added labor and support from a software provider, which we hope to have in the future," Sieden adds.
Under these budgetary restrictions, staff prepare room service using equipment that supports other foodservices such as a grill, refrigeration and ovens. High temperature glass ceramic plates are kept warm in a lowrator. During service, a pellet activator heats pellets and plates are put inside a cart to ensure minimal drop in temperature.
Patients usually stay in the orthopedic unit for only a couple of days before they get discharged or transferred to another facility for rehabilitation. As a result, Syosset can use the same extensive menu for several weeks. Menu items include many egg varieties, pancakes, sausage, cereals, fruits and breads for breakfast. For lunch and dinner, patients can order from the breakfast items as well as deli sandwiches, salads, soups, grilled items, entrées, pasta, pizza and desserts. In addition to regularly featured items, patients can select from daily chef's specials. Patients can also request vegetarian, kosher, halal and gluten-free menu options.
Ambassadors Assist Patients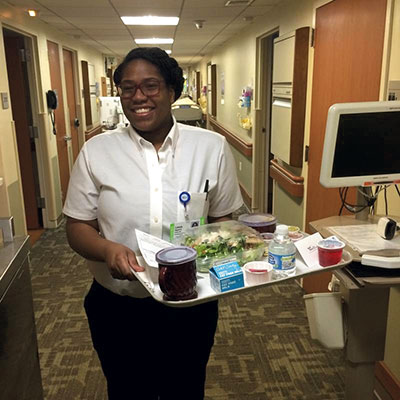 Lexus Magwood, an ambassador, delivers a tray to a patient. One ambassador works each shift. At 10:30 a.m., a dining ambassador starts his/her shift and goes up to the floor to meet with patients. The ambassador has a patient roster and each patient's corresponding diet requirements, which the chief dietitian and executive chef gather when patients come in to the hospital for pre-surgical testing and orientation. A diet technician accompanies the ambassador only in the morning to assist with patients on a therapeutic diet.
The ambassador explains the room service menu and emphasizes that if patients don't indicate specific selections they will receive the chef's special for the day, which Syosset prepares via the trayline. After the ambassador verbally takes lunch and dinner orders and records them on printed forms, he or she returns to the kitchen by 11:30 a.m. and delivers the forms to production staff, which allows enough time for cooks to plan for and prepare special requests. A call center handles calls from patients who aren't seen by ambassadors, arrive late, want to change orders or order a guest meal.
The ambassador then delivers trays at 12:30 p.m. "Even though 12:30 p.m. is the regular mealtime, patients on non-diabetic diets who do not require insulin beforehand, can have their meals at a more convenient time of their choice," Sieden says.
At about 1:30 p.m., the ambassador visits patients with a hospitality cart to offer snacks and a hot beverage. A few minutes later the ambassador picks up used trays, places them on a cart and transports them to the warewashing area.
The ambassador — there is one official ambassador and five in the department trained for the role — helps dishroom workers if time permits and assists with other tasks such as dessert preparation. They return in mid-afternoon to confirm patients' dinner orders and take breakfast orders for the next day. At 5 p.m., they bring dinners to patients, return an hour later with snacks and a hot beverage, and at 6 p.m. pick up the used dinner tray. All this happens by 6:30 p.m. when the ambassador's shift ends.
"Because we have had no increase in budget for this new service, we've reassigned staff's job duties so some functions can be shared to spare ambassadors from rounding on the floors," Sieden says.
In the future, this room service model may be adapted to the medical/surgical floor as well
Facts of Note
Number of beds in hospital: 72
Number of beds in orthopedic area: 32
Patient meals served daily: 220
Retail meals served daily: 175
Annual budget: $1.8 million
Staff: 22 FTEs
Innovators
Eric Sieden, director of food and nutrition services
Russell Ficke, CEC, CCE, CDM, chef manager