Consumer interest in healthy, vegetarian restaurant concepts continues to grow. The successful ones use equipment packages that generate maximum yield and flavor profile when working with ingredients that can be costly.
Case Study: fresh&co, New York City
fresh&co's locations incorporate local, seasonal and organic ingredients into unique food bars.Mixing local, seasonal and organic ingredients with innovative food bars in a custom concept has been a recipe for success for fresh&co, one of several concepts developed by ST Management.
The multiconcept operator is led by Steve Tenedios, who first opened up Café Metro in 1981. Today the company's portfolio includes 25 restaurants, such as Café Metro Catering & Events, Food Merchants, Catering & Events and Flavors. Tenedios' children Christina and George, having worked at ST Management since their teens, helped create the fast-casual fresh&co concept with their father in 2008.
In the beginning, growth was slow, with one location opening up each year until the end of 2012. As the brand and positioning became more defined, a total of five fresh&co locations were established within Manhattan between 2013 and 2014. The company now operates 12 fresh&co restaurants in the Big Apple.
"The concept took on a life of its own as we expanded," says George Tenedios. "This included incorporating vegetarian and vegan options, in addition to meat-based dishes."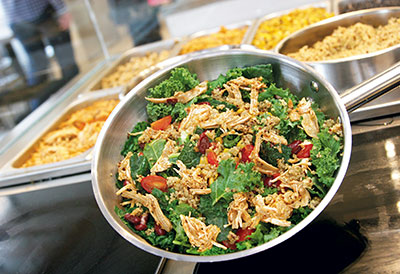 fresh&co's quinoa bowls, including the burrito bowl, Wild Ginger bowl and Asian Energy bowls are made with organic quinoa.The vegetarian offerings, which comprise about 40 percent of the menu, have taken off in the last year, while in the last six months, the vegan dishes, or 35 percent of the chain's offerings, have also picked up steam. The vegan dishes replace animal proteins with beans, nuts, tofu and soy meat substitutes. Vegan cheese is also available.
"We really like to keep our customer's health and best interest in mind when sourcing our ingredients," says Arete Pappas, fresh&co's on-staff nutritionist.
The chain incorporates locally grown fruits and vegetables from the tri-state farming community, which includes sustainable farms in the Hudson Valley, Long Island and New Jersey. And fresh&co also is affiliated with New York governor Cuomo's Taste of NY Program, which requires a pledge to purchase at least 10 percent of its ingredients locally.
The majority of fresh&co restaurants occupy corner properties in Manhattan, which places space at a premium. As a result, fresh&co's 10,000-square-foot Manhattan commissary supports the operation with cook-chill, baking and bulk production. Locations take daily deliveries of all pre-prepped greens, soups, salad dressings and desserts. The commissary contains such heavy equipment items as ovens, burners, grill tops, steam kettles and walk-ins.
"Having a commissary helps us capitalize on bulk production and local sourcing, which allows staff members at each site to focus more on food prep and customer service," Tenedios says.
The fresh&co menu centers on four food stations, including paninis, soup, salad and a quinoa bar, where staff prepare food to order in front of customers. "The beauty of this concept is that customers can either order chef-designed items or customize their own dishes," says COO Alex Perez. "This means they can get a different food experience every time."
The 8 to 10 panini varieties include a vegan portabella burger, a vegan Puebla Grilled Cheese made with dairy-free cheese, and a vegan falafel with tomato, caramelized onion and sun-dried tomato tahini on whole-wheat ciabatta. The soup station offers between 8 and 14 varieties that change daily, with vegan, gluten-free and 100 percent certified organic offerings available. These include 5 Star Mushroom, Organic Green Split Pea, Vegan Chili with Beyond Meat and Tuscan Grilled Vegetable.
In addition to an extensive salad bar that offers a choice of more than 50 toppings, the menu's seven chef-inspired salads include the Santa Fe Salad, Kale Caesar and Gaucho Salad. The menu also includes a number of side salads, all gluten free, as well as 14 small-batch dressings made fresh daily.
The quinoa station has six bowl varieties, including three vegan options. The selections, such as the burrito bowl, Wild Ginger Bowl and the Asian Energy Bowl, all include organic quinoa.
Grab-and-go and baguette sandwiches also are available.
"We recently introduced a line of 100 percent vegan sandwiches made on fresh collard greens, which has been very well received," says Tenedios.
A new dessert menu offers different items each week, such as vanilla chia seed pudding, raw vegan chocolate date nut bars, vegan paleo macaroons and hemp brownies, among other items.
An extensive breakfast menu at fresh&co offers sandwiches, wraps, quinoa breakfast bowls, made-to-order omelets, a hot cereal bar, gluten-free pancakes and hand-cut French toast.
The menu is consistent across all of the chain's locations and, though footprints vary, the restaurants range in size from 1,300 to 2,000 square feet.
The contemporary/retro decor features a green and white color palette, with reclaimed wood dressing up the counters and used for a community table. Total seating ranges from 10 to 60 seats.
An accelerated cooking oven is used for fresh&co's hot sandwich offerings.The kitchen encompasses about 15 percent to 20 percent of each site's square footage and is broken out in sections to ensure food safety and quality. The panini station includes a combination convection oven, while soup is rethermalized in water baths. The quinoa is sautéed in cast iron pans on induction burners.
The reception and growth of fresh&co in New York City have proven that the popularity of the vegetarian foodservice segment has expanded beyond the West Coast.
"The new reality is that vegetarian and vegan foods have become more accepted and mainstream," says Perez. "We're even seeing diehard meat eaters become regular customers."
And fresh&co's expansion is slated to continue. The company plans to open three to four more New York City locations in 2015, with a continued focus on keeping pace with healthy food trends.
"In the last two years, the East Coast has caught up to the West Coast in terms of vegetarian, vegan and healthful foods," says Tenedios. "Our focus is on slow and steady expansion in New York City, with the potential for sites in the city's suburbs and airports in the years ahead."