Aside from its plant-based menu, Native Foods Café's business is unrecognizable from its beginnings in 1994 as a small, full-service restaurant in Palm Springs, Calif. The operation was created at a time when the vegetarian movement was not yet in full swing. Still, Native Foods' founder, chef Tanya Petrovna, had a vision to create a meatless menu for the masses.
Fast forward to 2009, when husband-and-wife team Daniel Dolan and Andrea McGinty purchased the operation and helped grow it into a chain of 26 locations with sites in California, Oregon, Colorado, Illinois and Washington, D.C.
"This was a very small restaurant in Palm Springs with just a couple tables that evolved into a unique and successful fast-casual concept," says Scott McDonnell, director of West Coast operations for Native Foods.
FE&S spoke with McDonnell about the success of Native Foods Café in the evolving vegetarian segment.
FE&S: As vegetarian food has become more mainstream, the demographic is shifting. Who are your main customers?
SM: Those who visit our restaurants tend to be health-conscious females between the ages of 18 and 40, who are well educated with no kids. More products in the plant-based vegetarian segment have been introduced every year, which has made it easier for people to adapt this lifestyle, even if it's not 100 percent. This helps the cause. The more people become educated about plant-based eating, the more they will be willing to try new items.
FE&S: With food costs on the rise, is it challenging to keep pricing in line with your competitors?
Native Foods Café, which started as a single-site, full-service vegetarian restaurant in Palm Springs, Calif., has grown into a national chain with 26 locations.SM: We try to keep prices in the ballpark of other fast-casual chains, even though plant-based food ingredients cost more. We still want to be considered an affordable option. Most of Native Foods' menu items are around $10.
FE&S: Another issue vegetarian restaurants contend with is the misconception about meat substitutes. How do you address this?
SM: Since everything we offer is vegetarian or vegan, our menu centers on meat substitutes. This includes tempeh, which originated in Indonesia. It's a soy-based product made from organic soybeans and millet that is rich in protein with iron and antioxidants. It has a rich, nutty flavor and flaky texture. We also have seitan, known as "wheat meat," which is made from vital wheat gluten and our proprietary spices. This process involves kneading dough, since this product has a meaty texture. Seitan is used for our bacon cheeseburger, meatball subs, tacos and chili. Our "Native Chicken," a meat substitute, is made from soy wheat proteins. All of these products are produced from scratch in our commissary. We can create different meat textures for each dish, depending on the need.
FE&S: Although Native Foods Café is a vegetarian concept, the menu offers a number of familiar dishes that traditionally contain meat. What are your most popular items?
SM: Since we opened, we've kept most of our core items, including the Chicken Run Ranch Burger, with crispy battered Native Chicken, ranch dressing, romaine and carrots on a whole-wheat bun; Scorpion Burger with blackened tempeh, chipotle sauce, romaine, carrots and avocado; and Oklahoma Bacon Cheeseburger with sliced seitan, melted cheddar, caramelized onions and tofu bacon with barbecue sauce, ranch dressing, carrots, tomato and romaine, which are our most popular offerings. We recommend our Native Classics for first-time guests who may not be as familiar with plant-based foods. The Twister Wrap has fresh baby greens, cucumber salsa, avocado and a choice of crispy, grilled or buffalo Native Chicken with creamy ranch or chipotle sauce in a whole-wheat wrap. Our classic deli Reuben has thinly sliced deli-style seitan dyed with natural beet juice on toasted rye with sauerkraut, horseradish, cashews, cheese and Thousand Island dressing.
FE&S: Has Native Foods Café incorporated any new items into the menu lately?
SM: Rather than changing the menu, we will provide seasonal offerings to keep it fresh and updated. We just launched a seasonal menu for spring that includes an Avocado Crunch Wrap, one of our most popular specials, that combines crispy coconut-battered avocados with mango-lime-avocado dressing. Another seasonal item is the Chimichurri Chop Salad, which has romaine and roasted spring vegetables tossed with croutons and chimichurri dressing and a ranch drizzle. We're also incorporating ingredients that are in season, like strawberries for a new strawberry lemonade and a chocolate strawberry parfait.
FE&S: Describe the decor at your locations and how it reflects the overall concept.
SM: Although we want our customers to know they're in a Native Foods Café, each location is designed to be unique and cater to the market it's in. For this reason, we may incorporate a state flag or photos of area landmarks, places or activities. We have local artists come to each location and provide unique chalkboard art. The walls portray animated vegetables and list information about Native Foods' proteins. Since our first LEED-certified site opened in Glendale, Calif., in October 2013, we've made more strides to operate sustainably. This includes using energy-efficient equipment and repurposing oak trees for use as community tables in our restaurants. Our sites seat between 65 and 75.
FE&S: Native Foods Cafés are serviced by a central commissary. How does the operation work?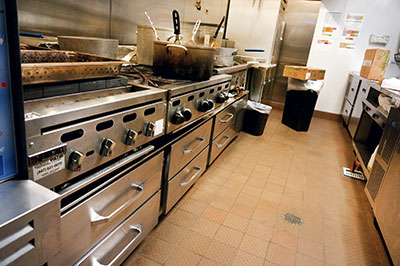 The cooklines at Native Foods include a flattop griddle, charbroiler and convection oven.SM: Our commissary (or Home Kitchen) services all of our locations. This was formerly located out of our Culver City, Calif., location's kitchen, but we moved to a larger 4,000-square-foot Chicago facility in the last quarter of 2013. Because we need to expand these facilities, we're moving again in about a month. This is where we make our seitan and
tempeh, the latter of which is produced in dough proof boxes that provide humidity, temperature and air-flow control for culturing the product. We also use a meat grinder for processing soybeans and steam kettles to cook the seitan. Food is frozen and delivered to each location via a food distributor.
FE&S: How is the production handled in Native Foods' on-site kitchens?
SM: Our smallest kitchen is about 700 square feet, and the largest is 3,000 square feet — but most range between 900 square feet and 1,000 square feet. Our cookline includes a flattop griddle, charbroiler, two fryers, convection oven, stove, steamer and steam table for hot holding. We have multiple pieces of refrigeration, including reach-ins and walk-ins, by the prep area. This section includes refrigerated prep tables with reach-in and drawer coolers and drawer-style freezers for holding backup ingredients and produce. We use an immersion blender for many sauces, dressings and soups; a large food processor for slicing and dicing produce and seitan; and a stand mixer for baking.
FE&S: Have you had to make changes to the equipment or back of house to accommodate the expansion of your operations?
SM: Although we haven't changed a lot over the last five years, we did increase the size of our flattop griddle and refrigeration units to accommodate more business. We also added a second fryer to our locations to help increase throughput. We're constantly testing different equipment, such as an impingement oven for melted cheese sandwiches. Speed of service is a main consideration with our concept and reliability is a big purchasing factor with equipment. When a piece of equipment goes down, it can wreak havoc on an operation. It's critical to have everything working in harmony.
FE&S: What does the future hold for Native Foods Café?
SM: We're still expanding, but this year we're focusing on our current markets.