In the drive to enhance top line sales, foodservice operators of all shapes and sizes are considering catering. But implementing a successful catering program is easier said than done. In this article, Chef John Reed offers five considerations foodservice operators should take into account when deciding whether to get into the catering game.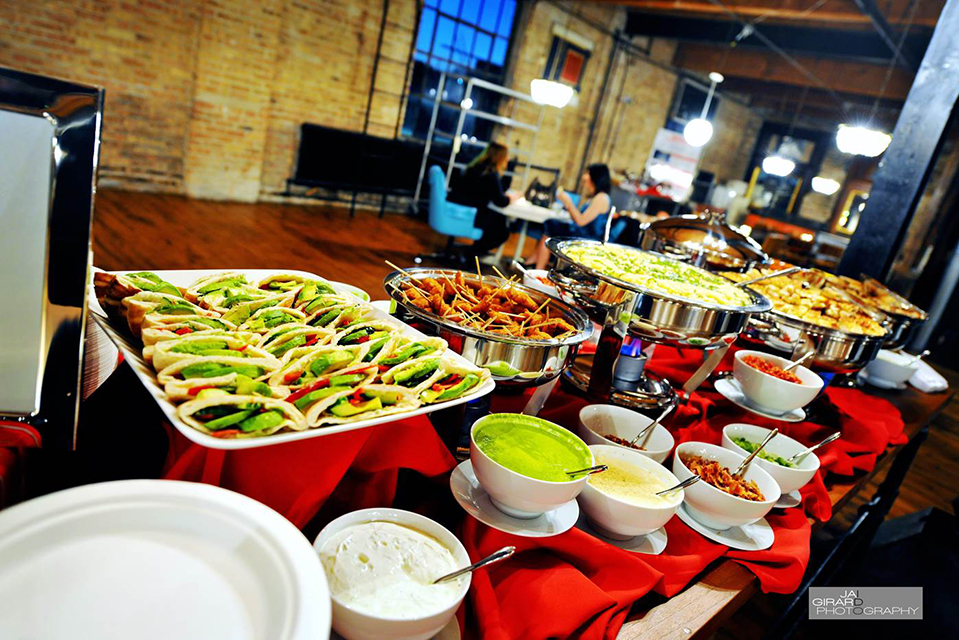 A to-go order here, a party platter there. Occasional bouts of catering, whether intentional or not are one thing but full-scale, off-premise catering is a whole other ball game. But why even bother with that beast?
Because in an era of slimming margins and rising costs, that so-called beast has become an important revenue stream for all types of foodservice businesses.
"People think they can just put their food in disposable trays and send it out the back door to expand their business share, but, in reality, catering requires much more thought than that," says John Reed, CEC, CCA, ACE, principal of Customized Culinary Solutions. When done right, though, catering can not only bring in extra sales, it can boost brand awareness and drive traffic back to the home base, adds Reed, who has consulted with operators on catering programs.
"Catering has fixed assets after you consider the labor and food costs," says Reed. Unlike traditional dine-in, which can ebb and flow, with catering you know exactly how much you'll be able to bring in per order or day — not unlike private dining.
Great, but how do you know if catering's worth it? That determination, Reed says, "is based on frequency and demand. If there's demand for catering where there can be consistent sales on a regular basis, margins will go up. If it's a one-shot deal once in a while, it won't be profitable." Add to that economies of scale — reusing equipment, a more dedicated catering staff, volume worked into general production — that can raise the profit an extra 30 percent or 40 percent, according to Reed.
When catering becomes a booming business, setting it up as a separate entity or line item helps break down bottom lines between the restaurant and the auxiliary revenue. But first, decide what part of your restaurant or foodservice business you're going to offer through catering, Reed says. "Are you offering your experience off premise? Because then you have to have very set, specific guidelines and say no to some venues so you can control the situation." It's about creating the same special experience one might find at a restaurant at another location off-site.
On the other hand, he adds, "If you want to extend your product line in an off-premise environment, you need to maintain the quality of that product." For example, a steak from a steakhouse with professional charbroilers might not taste the same in someone's home or at a smaller venue. Finally, "if you're considering custom catering you have to have good culinary skills," says Reed.
Off-premise catering is not for every business, he notes. "You have to be able to adapt to some crazy situations," he says. "Fortunately, there are a lot of resources out there, from software programs to trade shows to help people learn."
Off-premise catering, however, has various effects on operations, design, equipment, supplies and other investments. Even the occasional food festival or chef gathering requires an off-premise mindset. Here are Reed's top considerations when considering catering.
Storage and Space
Catering requires extra dry and cold storage. From food containers to displays, extra supplies, utensils and equipment, a foodservice operator needs the extra space to store these pieces. Additional cold storage is necessary as well as blast chilling equipment and prep space for food prepared for the event. While it's possible to rent equipment and some supplies, if these things are used more than 10 times it's worth buying them and finding the storage space.
Food Safety and Proper Handling
Proper food handling and safety is imperative with catering prep, which requires cooking, cooling and reheating on-site. There's a much larger risk of foodborne illness exposure. Rolling racks, hot-holding cabinets, insulated coolers, blast chilling equipment, adequate walk-in coolers, even undercounter and smaller refrigerators for on-site cooling will help maintain temperatures. Traditional methods of reheating involve chafing dishes and lamps, but larger catering sites might want to see more adequate methods. For that, there are portable convection ovens and induction burners.
Menu Design for Catering
Fried food is notorious for becoming soggy when reheated in catering situations. Sauces often need to be kept on the side except for certain products like chicken breast that can dry out without them. Delicate items like fish need to be held or cooked on-site and if there is a delay in the foodservice that can cause problems. Rule of thumb is a plate shouldn't require more than five "touches," including the main part, side or two, garnish and sauce. Ice cream can be sent out on dry ice and tempered on-site, but it's a challenge.
Off-Site Selection
When researching a site, check the electrical requirements. Coffee makers and other equipment can blow fuses if they draw more than 20 amps. In that case, limiting one equipment item per outlet works best, or generators might be necessary for larger-scale off-premise cooking and reheating. Most places have potable water, but ice — bringing it in and how to hold it — is a key consideration. Conduct a walk-through of the site from the transport drop-off to the setup spot to determine the pathways for wheeling equipment and racks. Also, consider local codes; some regulations prohibit open flame and even consider chafing lamps as such. Others prohibit propane. Rented tables should be more than 30 inches tall, which is standard height but designed for someone sitting in a chair, not working on it while standing.
Staffing and Transportation Needs
It's important to consider not just the type of mobile equipment, racks and flatbed carts or dollies needed but also the vehicle used for transport. Is it a refrigerated truck? A van? Some restaurants have food trucks they use for catering purposes. But those have limited food production capabilities and a finite amount of people they can serve in one setting, unless they have extra hot-holding storage on-board for more food prepped ahead of time. Some municipalities prohibit food trucks as part of local rules and regulations. But they can be great novelty and advertising extensions. When it comes to staffing, consider cooks needed for food production but also backend dish clearing, washing and cleanup.