Since its development back in 1957, the Llanfair Retirement Community in Cincinnati, Ohio, has undergone many changes. In 1979 a 75-unit apartment building was added to the community's campus. Four years later, another 32-unit condo-style independent-living building was also built.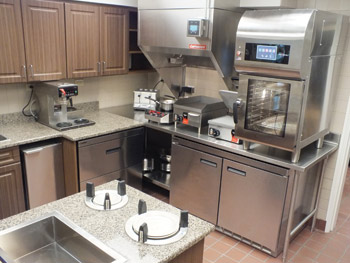 Last July, Llanfair added a brand-new rehabilitation center with 19 private studios. This separate development was built onto the existing nursing care area and includes a small dedicated kitchen and 22-seat dining room.
"This is for patients stepping down from hospitals who need individualized care plans for assistance as well as physical and occupational therapy before going home," says Steve Schmitz, Llanfair's director of culinary and nutritional services.
The small-footprint foodservice concept has been successfully implemented in Ohio Presbyterian Retirement Services' 11 communities throughout the state.
FE&S spoke with Schmitz about the details of the most current renovation and what makes Llanfair's operation unique.
FE&S: In healthcare foodservice, patients have varying degrees of independence. How do the rehab unit's foodservice options address this?
SS: Each rehab guest has a six-page à la carte menu to order from. If they are confined to their room, they can call down to the servery to order food room-service style. They also have the option to eat in the dining room, which provides full service.
FE&S: Your foodservice program seems to be cohesive yet autonomous. Are there different menus for the various divisions of Llanfair's operation?
SS: The main kitchen is designated for our regular menu, which operates on a five-week cycle for the healthcare, memory care and assisted living areas. Our rehab guests can choose items off of this menu as well as a more extensive menu from the rehab servery.
FE&S: In terms of the menu, the healthcare foodservice segment has diverse food parameters. What are the menu considerations for rehab patients as compared to nursing home residents?
SS: Those in rehab aren't scheduled to eat at a specific time, so we are able to be more flexible. Menu considerations for our regular nursing area would include modified textures, whereas for rehab we typically implement more cardio diets. These are low in salt, fat and sugar, and utilize healthier cooking methods. We send rehab guests home with menu ideas, tips on cooking techniques and suggestions from our dietitian.
FE&S: With the emphasis on healthier menus, what are Llanfair's menu alternatives for rehab patients?
SS: We purchase the majority of our food locally, including at farmer's markets, and use few canned goods. Most everything is made from scratch in-house. Sandwiches are a popular lunch item, including grilled cheese with soup. We also offer vegetarian options, such as veggie burgers and salads. Dinner selections vary from roasted chicken breast to salmon and flatbread pizza. Most items on our rehab menu also are available to our nursing care residents on a rotating basis.
FE&S: The goals for the kitchen in Llanfair's new rehab unit differed from those of the development's main kitchen. What were the foodservice equipment considerations?
SS: We opted to use food wells in the main kitchen, which holds prepared food designated for the rehab operation. We also added two action stations in the new dining room by incorporating two induction burners for made-to-order sautéing, along with a small electric griddle for things like eggs and stir-fry dishes. A sandwich press was incorporated for paninis and other hot sandwiches. The biggest addition to the back of house was a combi oven, which is the first one on campus. We can offer a variety of oven-fried, baked and steamed items quickly with this unit.
FE&S: The main kitchen appears to be the hub for the majority of food preparation at Llanfair. What are the main pieces of equipment that support the menus?
SS: This kitchen is probably about 2,000 square feet and includes a gas grill, three conventional ovens, two convection ovens, a large boilerless steamer, a deep fryer and a six-burner gas range. We don't utilize tray lines. Some items are cooked to order, while others are precooked and held.
FE&S: The main kitchen produces some items included on both menus. What were the production and logistic methods that had to be implemented to do this efficiently?
SS: The rehab center's foodservice operations are located close to the main kitchen, which helps. Prix fixe items, such as lasagna, roasted rosemary chicken and beef brisket, will be panned up, put in a hot well for holding and then transported in an insulated cart to the rehab servery.
FE&S: The healthcare foodservice segment has evolved in recent years to mimic full-service restaurants. What are the most prevalent trends for these operations?
SS: There is a big departure from everything institutional, including tray lines and the use of canned and frozen foods. More facilities are producing fresh, made-to-order items, with the focus on high-quality meals.
FE&S: The renovations aren't over at Llanfair. What are the plans moving forward?
SS: We are planning a big kitchen renovation for our independent-living kitchen this spring. This includes a restaurant-style kitchen with food cooked to order and renovated dining space with a bistro at the entrance. The menu will change completely. We currently have a self-service salad and soup bar that will be replaced with a full-service restaurant. We're looking to add a combi oven, in addition to more griddles, broilers and gas burners. It will be a more efficient way to prepare the same items we currently offer.