With so many components and the high expectations of guests, it can be difficult for a resort to be all encompassing, especially when it comes to foodservice. By providing 5 restaurants, 24-hour room service and an extensive banquet facility, Montage Deer Valley in Park City, Utah, may have accomplished this challenging feat.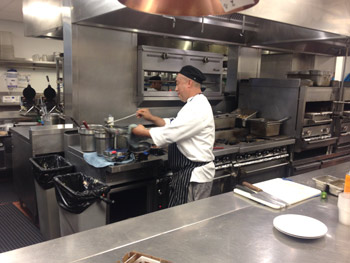 The kitchen at the Montage Deer Valley's Apex restaurant includes two overfired broilers with planchas on top, five six-burner ranges with convection ovens, a flat grill with convection oven and a pass-through salamander."This segment has evolved dramatically," says Brian Reeder, the resort's director of restaurants. "We have seen a shift from general resort cuisine to specific conceptual ideals that are upheld in various seasonal resorts worldwide. As a result, we have moved from delivering on the basics of foodservice to competing with the highest standards of restaurant service locally and globally."
The Mountain Craftsman-style resort, located in the Empire Pass of the Deer Valley ski resort, has 220 guestrooms and 81 privately owned residences. Along with its extensive foodservice program, the operations include a large spa facility and big conference and event venue in the area, with more than 50,000 square feet of adaptable indoor and outdoor meeting space. "The makeup of the hotel guest ratio is 50 percent group guest and 50 percent leisure," says Dan Howard, director of public relations.
Operating five restaurants in addition to the banquet operations and room service requires an extraordinary number of chefs to be able to work with a fair amount of independence, in addition to an executive chef to coordinate the offerings and make the many menus cohesive.
The banquet kitchen is staffed by one chef and six cooks, while one chef and seven cooks staff the pastry kitchen. The resort also employs a full-time butcher. Each restaurant features a distinctive concept and menu.
The 175-seat Apex is a 3-meal restaurant offering continental cuisine. It provides a breakfast buffet from 7 a.m. to 10 a.m., a skier's buffet from 11:30 a.m. to 2:30 p.m. and an à la carte menu. From 3 p.m. to 10 p.m., the top third of the restaurant converts to a separate 65-seat restaurant that operates as Burgers & Bourbon, a more informal eatery.
"Apex's chicken schnitzel is an iconic Alpine dish served in all seasons that has not changed since we opened," says Shawn Armstrong, the resort's executive chef. "Our biggest burger, The Big Rob, is named after our security team manager and has not changed, but Rob himself has lost more than 100 pounds over the last year."
Located on the floor below Apex, Daly's Pub & Rec is a 150-seat family-friendly restaurant with its own kitchen. It includes a four-lane regulation bowling alley, a Wii lounge and flat-screen televisions throughout. Its offerings include wood-fired pizzas, fish and chips and potpies.
The 100-seat Vista Lounge, open from 3 p.m. to 11 p.m. with live music nightly, operates during the ski season. Vista Lounge features a menu of shared plates, including cheese fondue, shellfish towers, charcuterie and desserts. "There is a separate prep area for the lounge's menu items so that food can be generated without requiring access to any of the other resort kitchens," Armstrong says. "Vista's signature had previously been Asian tapas, but the menu was changed in 2014 to present dishes more synonymous with après-ski dining."
Like Vista Lounge, the 65-seat Yama Sushi is a seasonal restaurant, and it includes a separate sushi bar. "It's signature is the West of the Mines Roll, a crispy softshell crab, avocado, mango, blackened albacore tuna, serrano chili, micro cilantro and unagi sauce, which pays homage to the town's silver mining heritage and the hotel's location 'west of the mine,'" Armstrong says. "There is some crossover between Yama Sushi and Vista Lounge in terms of food storage, and cocktails for this restaurant are served from the lounge's bar."
Montage's gourmet-to-go espresso bar, Buzz, serves sandwiches, salads, house-made gelatos and artisan honey harvested by the resort's resident beekeeper.
The Spa Montage and the outdoor Alpine pool deck area also feature separate menus. "We have a total of 3 kitchens that are the primary sources for our 10 areas of execution in F&B [food and beverage]," Armstrong says. "The elevation of the kitchens at 8,300 feet impacted the performance of the previous equipment and led us to newer elements."
Apex's back of house measures approximately 6,000 feet and also services Burgers & Bourbon, Buzz, room service and both pool areas. It includes two overfired broilers with planchas on top for cooking burgers and other proteins; five six-burner ranges with convection ovens; a flat grill with convection oven; a pass-through salamander; two milkshake machines; thermal circulators and a vacuum machine for sous vide; and a barbecue smoker to prepare Apex's signature smoked turkey sandwiches.
"We adjusted Apex to accommodate Burgers & Bourbon, adding two overfired broilers and removing the chargrill, which enables us to toast buns and cook burgers simultaneously," Reeder says.
The 2,000-square-foot banquet kitchen supports the Vista Lounge and Yama Sushi. This includes a 20-gallon tilt skillet; 6-foot gas chargrill; French-top stove with convection oven; pair of double-stack convection ovens; 60-quart standing mixer; and walk-in refrigeration.
"Yama sushi bar was added in year two so that we could prepare food in a new section of the resort without running food from an existing kitchen," Reeder says.
To support an expansion of banquet space in 2015, the banquet kitchen will be expanded. The remodel will include equipment that has higher production capabilities, including additional tilt skillets, steam kettles, combi ovens and a blast freezer.
A dedicated 1,500-square-foot open kitchen produces menu items for Daly's Pub & Rec. This area includes a large pizza oven; 6-burner range with convection oven; double 40-pound fryer; flat grill with convection oven; and rapid-speed oven.
"We added additional refrigeration in this kitchen to create a garde manger station," Armstrong says. "This consolidated the bar and gave us the room to be more efficient with our Daly's menu. We also added another standing freezer because of the volume requirements."