A Creative Playground for Tall-Toque Chefs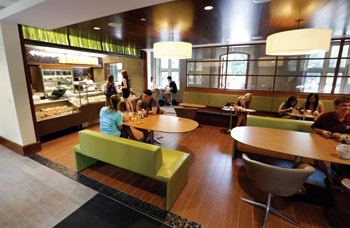 Just 170 square feet, Bamboo Bistro fronts an open area with seating options that include comfortable upholstered swivel chairs, benches and a banquette.It's no wonder that Nashville-based Vanderbilt University consistently lands high on annual "best campus food" rankings. After all, two of its dining program leaders, director Camp Howard and assistant director Bill Claypool, are graduates of the Culinary Institute of America as well as certified executive chefs. Highly trained culinarians lead individual dining venues on campus as well — an indication of just how far the segment has come from the stereotypical matron-in-hairnet-at-steam-table days.
They're big-time chefs catering not to a white-tablecloth crowd, but to Food Network-fueled Gen Z students with sophisticated tastes and big appetites for fresh, creative, high-quality, convenient food options. At Vanderbilt, that's exactly what they get — with a side of fun.
Take the Last Drop Coffee Shop, a small, fast and efficient concept launched a few years ago. It's an order-at-the-kiosk coffee, smoothie and pastry shop with a retro Southern California vibe. Following the success of that model, the school's two newest foodservice concepts, Bamboo Bistro and Rocket Subs, show both the campus dining program's playful side and its commitment to offering distinctive, on-trend dining options. Both retail restaurants opened last fall, and both, Howard says, have been enthusiastically received by students.
QSR Meets Vietnamese Street Food
The fresh, contemporary Bamboo Bistro brings the flavors of Southeast Asia to the first floor of Vanderbilt's newly renovated Alumni Hall, an iconic building erected in 1919 to memorialize alumni killed in World War I. Howard says the concept was developed to be unique, with menu offerings and a design aesthetic clearly distinct from what's available anywhere else on campus.
Its inclusion in the Alumni Hall renovation was part of a plan to reinvigorate the building as a student center — a place for tutoring, catered dining, meetings, studying and socializing. "The administrators knew they wanted to include foodservice as a way to get more students in the building," Howard says. "The first thing they think about for many new or refresh projects is some sort of traditional café with coffee, sandwiches, salads — that type of thing. Our take, however, was to look at where students are, what they touch, what they eat throughout their day and try to come up with something new and different. Something that wouldn't be repetitious in style or menu with what's available elsewhere on campus. Ultimately, we decided on Asian because it's pretty universally understood and liked, but we gave it a little different twist."
Instead of the ubiquitous stir-fry option, the team turned to simple-to-execute, upwardly trending Vietnamese-style street foods and built the Bamboo Bistro concept around them. The big draws? Pho noodle bowls, which students can customize with a selection of broths as well as fresh, authentic toppings and add-ins, and banh mi sandwiches, traditionally filled with cold cuts, pickled vegetables, cilantro and complementary sauces. Asian-inspired salads, rice puddings and teas, including bubble tea, round out the menu.
The focal point of the main lobby, where students gather to study and socialize, Bamboo Bistro makes a big impact from a small footprint, just 170 square feet. Positioned at the far end of the long, narrow lobby space, it fronts an open area with seating options that include comfortable upholstered swivel chairs, benches and a banquette. The Bistro can close during off-hours with garage-door-style backlit graphic panels. When open, only the bottom row of those panels shows above the fresh-looking glass display case, adding a distinctive design element to the unit's facade.
Given its small size, the operation relies on Vanderbilt's commissary kitchen for most food preparation — virtually none is done within Bamboo Bistro itself. Rather, staff quickly assemble menu items from preprepped ingredients, customized and, in some cases, heated just prior to serving. Customers can also choose from a variety of prepackaged items ready for grab-and-go service.
"The sandwiches and broths and meats are all made in the commissary and brought over here. If someone wants a hot sandwich, we heat it quickly and can customize with any toppings or fresh ingredients they want at the counter," Howard says. "Dishes and any serving tools go back to the commissary for washing, and all service ware is disposable. It's a system that works really well, and it's a great fit with our program."
Like all Vanderbilt dining venues, Bamboo Bistro operates as a retail restaurant and accepts dining plan dollars as well as credit and debit cards.
Out-of-This-World Sandwiches
Sandwiches of a different sort are star attractions at Rocket Subs, another self-branded concept that the Vanderbilt dining team created to replace an underperforming national-brand sandwich concept. Also small in footprint and easy to execute, Rocket Subs has been a big hit since its launch last fall. Sales have increased by nearly 40 percent over the previous concept, according to Howard.
Located in the basement of the Carmichael Towers residence hall, Rocket Subs is the foodservice component of a recently renovated c-store/foodservice hybrid operation.
As with a few of its other self-branded venues, like the Last Drop Coffee Shop and the island-themed Ro*Tiki, Vanderbilt's team had some fun with this one. It installed not just a sandwich counter but a retro, space-age, rocket-fueled mini concept offering sandwiches that are "out of this world."
With names like the Apollo (roast beef, turkey and ham), Titan (Genoa salami and pepperoni) and Mercury (flame-roasted vegetables), the sandwiches are made fresh to order. Customers can choose to enhance their sandwiches by adding Red Rocket Sauce and pesto mayonnaise, among other specialty and traditional condiments.
Students place their orders on two iPads mounted in an eight-foot rocket-shaped kiosk positioned in front of a life-size mural of a moon-walking astronaut.
After a student places an order, a staff member assembles it in a small prep area behind the counter. This area has its own walk-in cooler and equipment for heating and holding soups, as well as rapid-cook ovens for heating sandwiches.
Howard says that when developing large venues, such as more traditional dining halls and even some smaller concepts, he calls in design consultants. Ricca Newmark, for example, provided design consultation for Bamboo Bistro. Many smaller concepts, including Rocket Subs, however, are developed and designed internally, taking full creative advantage of being self-operated. "It's a lot of fun," he says. "We try to come up with great menus, but also with themes and concepts that keep our program fresh and interesting and that the students can relate to. Doing our own thing also really differentiates us from other schools and sets Vanderbilt apart."
---
For a complete list of our 2014 College and University Foodservice Innovators click here.
Snapshot
No. of students: 6,800 undergraduate (90% living on campus); 6,000 graduate
Operation: Self-operated, retail format with meal plans
Locations: 2 large dining centers; Athletic Training Table; Language House; Asian bistro; pub; 3 cafes; coffee/smoothie shop; vegetarian kosher restaurant; catering; 6 c-stores (including 3 foodservice/ c-store hybrids); Taste of Nashville program including 25 local restaurant partners
Meal plan participants: 5,840
Revenues: $26 million
Annual purchases: $8 million
Employees: 40 management and support; 230 hourly; 150 students
Key Players
Camp Howard, Director, Campus Dining
Spiros Vergatos, Assistant Director, Campus Dining
Bill Claypool, CEC, Executive Chef, Assistant Director
Keith Loiseau, Campus Architect
Bob Grummon, Project Manager, Campus Planning
Architect: Bruner/Cott Architects (Alumni Hall/Bamboo Bistro)
Foodservice consultant: Ricca Newmark Design, Lenny Condenzio, FSCI, Principal (Bamboo Bistro)
Equipment Dealer: Dykes Restaurant Supply, Inc.