A T-line for tray assembly allows peak meal output for more than 1,500 meals a day with notable enhancements to food quality and a reduction in waste.
Mirrored traylines allow assembly of up to 600 trays during peak meal periods.When the foodservice team at University of Michigan Health System reviewed its patient delivery system in 2002, the old equipment, including items for cook-chill, a traditional trayline and plate retherming on patient floors seemed outdated and inappropriate to meet a more patient-focused environment. "A renovation was long overdue," says Joyce Kerestes, director of patient food and nutrition services.
Following a feasibility study conducted several years earlier by Georgie Shockey, president of Ruck-Shockey Associates Inc., the hospital team decided in 2010 to proceed with an RFP for the design. Integrated Design Solutions (IDS) was selected as the architectural firm, and foodservice consulting firm JEM Associates, led by John Egnor and Louisa Stangel, was selected as the project's foodservice design consultant. The $8 million project, completed in October 2012, renovated the 13,500-square-foot kitchen located on the 11-story hospital's basement level.
Then, from January 2013 to March 2013, the University of Michigan Health System rolled out room service one floor at a time to the patients on 8 floors of the 604-bed main hospital and 4 floors in the nearby 48-bed Cardio-Vascular Center.
The renovated kitchen features distinct functional areas including storage/warehouse; ingredient control; food prep; tray assembly on a double-sided, T-shaped à la carte room service line; and areas for washing pots, pans, dishes and serviceware. The project also includes a call center for receiving and processing patients' food orders. "The new kitchen allows us to prepare fresh food to order and significantly upgrade the menu," says executive chef Stephen Schifano. "The department conducted a robust menu survey of inpatients to help solidify which items were placed on the menu and to help set the design and selection of equipment."
"With the new system, which no longer requires retherming in the floor galleys, we've been able to reduce food waste because patients are able to request their menu selections closer to when they wish to eat, so patients get what they want when they want it," Kerestes adds. "We've reduced our food budget by approximately 20 percent."
"The project was approved on the condition that no new full-time-equivalent employees would be added," Shockey says. "This was achieved, and service was expanded to 24/7."
"We've been able to incorporate chef assistants into the staffing model, many of whom are graduates of the Culinary Institute of America, Johnson & Wales and local colleges," Schifano says.
In order to appreciate the current operation, one must go back in time to the days before and during the renovation. "The old kitchen did not allow for separation of the pot/pan area from other functions, and the production area did not have dedicated refrigeration for post-production foods," Shockey says. The old system used cook-chill to accommodate meals ordered one day and served the next. Food was plated cold and then rethermalized on patient floors prior to service.
During construction, the operations and design teams wanted to consolidate construction phases as much as possible in order to expedite the project and maximize use of resources. As a result, the team completed work in three phases.
This was made possible by moving the food production about three miles off-site to a vacant university-owned building with a commercial kitchen. "We moved some of our equipment such as mixers and smallwares to the temporary kitchen. From 2011, when the temporary kitchen was set up, until the new kitchen was built in 2012, we didn't miss a beat," Kerestes says. "We prepared food and placed it in pans and on portable racks, which staff members checked very carefully. We rented a refrigerated truck and a van, and transported food to different areas in the kitchen where construction wasn't being completed, and plated it there. We did not interrupt patient foodservices or alter menu offerings during this time."
An Efficient Kitchen Operation
Food comes in to the loading dock, and staff take deliveries through receiving doors and into storage, which includes walk-in coolers for meat, produce and dairy, a freezer, a preproduction refrigerator and dry storage.
Staff working in garde manger come to the storeroom to pick up food items they need for the day. In the garde manger area, staff prepare yogurt parfaits; portion salads, salad plates and dessert; prep fresh fruits; and prepare items for the deli station.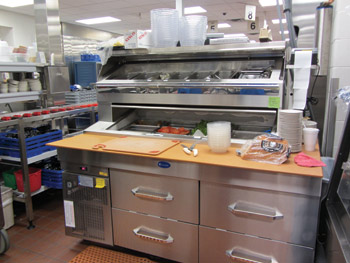 The cold salad and sandwich prep tables contain shelving and drawers to hold all the ingredients needed for tray makeup.The culinary staff prepare the majority of the menu items to order. Cold tables support made-to-order deli sandwiches and salads with top and bottom bins so staff can assemble fresh items in many combinations. Each line on the cold side includes equipment that staff can move, giving them greater flexibility within the space. This also allows staff to easily transition from breakfast to lunch and then to dinner. Two open-air refrigerated display cases at the beverage and deli stations hold desserts, fresh fruit plates, sides, vegetable salads and specials.
"We were structurally confined by hoods that could not be relocated in this kitchen," Schifano says. "So we had to design hot production lines under the current hoods." The mirrored hot lines contain a four-burner range, griddle, refrigerated drawers under the hot equipment, and reach-in refrigerators. And University of Michigan Health System soon will add charbroilers to the hot lines. For hot holding, each line has hot drawers, and wet and dry steam wells. The lines share a combi oven and high-speed convection microwave oven.
For bulk preparation of soups, sauces and select entrées, staff use the cook-chill system with 100-gallon and 60-gallon kettles, a 35-gallon tilt skillet, three 10-gallon steam-jacketed kettles, 8 convection ovens and a pair of rotary ovens. Staff place hot food into a blast chiller or water chiller to rapidly and safely reduce food temperatures prior to storage.
Rethermalizers gently rewarm soups and sauces for service.
Mirrored Lines for Tray Assembly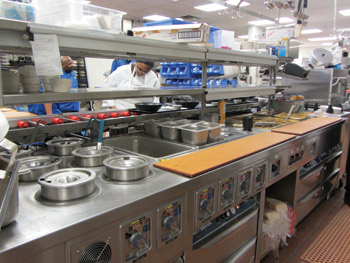 An open assembly area and easy communication among staff on both sides of the line are accomplished with this design and layout.For tray assembly, ticket orders from the remote call center print on the line. The call center has ergonomically designed workstations that allow for staff to sit or stand with dual computer monitors while taking phone orders from patients.
"Early on we saw that, with the high volume of orders during peak meal periods, the meal assembly lines needed to have dual-exiting capabilities to maximize the transportation routes to the patient units," Shockey says. "The innovative design solution addressed this by reversing the flow to have a tray load on two different ends, east and west, of the lines. Once this was done, the line was oriented for the flow of food products and dishware to the line."
The line layouts on both the hot and cold side "were meticulously thought through for placement of each menu item," Shockey says. "The way meal tickets are printed to each station and the ability of staff to close one line for the slow periods are all designed to help the operation run efficiently."
"There are always peaks and valleys, so at peak time, two lines are open, and during the slow times, only one line is open, which saves energy and labor," says Ann MacLean, associate director. "We alternate which line is turned on and off."
An open skate-wheel meal-assembly line allows for three-dimensional levels of product storage close to the point of service. The starter station in particular places all condiments within easy reach for any tray. Wider-than-normal shelving as well as backdoor access allow for restocking without interruption of the lines during peak meal output.
"Perhaps the most important piece of equipment of all — that is, if you ask the patients — is a combination ice cream machine that serves soft-serve ice cream and four flavors of shakes," Schifano says. "We have two of these machines so we can provide uninterrupted service to the patients when one machine is being cleaned. This [cleaning] is a four-hour process every two weeks."
At the end of the line, expediters check trays for accuracy and appearance. "We tested delivery carts and selected a model that is quiet on patient floors," Shockey says. "This was a key element because room service is available all day and noisy carts can be very disturbing to patients."
An induction heating system maintains hot food temperatures for entrée plates. Staff deliver trays within one hour from when the call center receives the orders. An automated tracking system allows staff to monitor at all times during the delivery process. "The far ends of the kitchen provide space for warehousing and dish processing, keeping functions in good flow for meeting HACCP requirements," Shockey says.
The increase in patient satisfaction scores, in addition to many positive compliments from patients and nurses, confirm the original decision to move to room service. Kerestes, Schifano, MacLean and Knibbs continue to lead enhancements to the menu to be sure it meets patients' preferences and nutritional needs. Keeping production efficient is an ongoing challenge, one that the team manages with admirable expertise.
Facts of Note
Ownership: University of Michigan Health System
University Hospital (UH) Overview: 11 floors; room service goes to 8 floors; 604 beds
Cardio-Vascular Center (CVC): 5 floors; room service on 4 floors; 48 beds
Opened: Renovation complete in October 2012; opening rollout from January to March 2013
Scope and Size of Project: 13,500 sq. ft. of renovated kitchen space. The kitchen only serves the inpatient population and the local community Meals on Wheels operation.
Total Annual Revenue: $4 million, including sales of guest and guard trays and a dietetic internship program
Department Budget: $20 million, including $16 million for UH and CVC
Served Daily: 1,500 patient trays in both facilities and 400 meals for the Meals on Wheels program
Hours: 24 hours/day; 7 days/week
Menu Specialties: Omelets made to order and available all day, Michigan chicken cherry salad, Mediterranean salad, potato-encrusted cod, Asian stir-fry, home-style macaroni and cheese, homemade meatloaf, made-to-order deli sandwiches, four flavors of milkshakes and seasonal menu specials
Total Project Cost: $8 million
Equipment Investment: $2.8 million
Key Players
Owner: University of Michigan Health System
Executive Director, University Hospitals, and Chief Operating Officer, University of Michigan Hospitals and Health Centers (UMHHC): Tony Denton
Associate Director, Operations and Support Services: Thomas Peterson
Director, Facilities Planning and Development: Bob Harris
Construction Manager: Ken Silverman
Director, Patient Food and Nutrition Services: Joyce Kerestes
Associate Directors, Patient Food and Nutrition Services: Ann MacLean and Diane Knibbs
Executive Chef, Patient Food and Nutrition Services: Stephen Schifano
Project Co-Managers: Elaine Allore and Heather Fazio
Architect: Integrated Design Solutions (IDS), Troy, Mich.
Foodservice Consultants: Ruck-Shockey Associates Inc., The Woodlands, Texas; Georgie Shockey, president (operational); JEM Associates, Pleasantville, N.J.; John Egnor; president; Louisa Stangel, project manager (equipment/layout/design)
Equipment Dealer: Stafford-Smith, Kalamazoo, Mich.