Made-from-scratch menus featuring locally sourced ingredients prepared with mobile cooking and holding equipment continue to drive catering foodservice sales to new heights.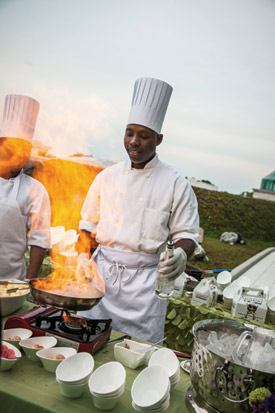 Both on site and off, catering has become a cash cow for foodservice operators. Consequently, a growing number of chains, including quick and casual service, now provide catering options for customers.
In 2012, the off-premise catering segment generated the retail sales equivalent of more than $43 billion, reports Technomic, a Chicago-based research firm. Off-premise catering sales in limited-service restaurants totaled $16.7 billion or 39 percent of the foodservice and retail marketplace. Technomic forecasts catering sales will grow through 2015, with the fast-casual segment leading the pack in social catering with a compound annual growth rate of 12 percent and quick-service restaurants growing at a rate of 8 percent on a yearly basis.
Further proof of this burgeoning segment is the growing number of catering businesses sprouting up throughout the country. The National Association for Catering and Events estimates a total of 9,374 catering firms operate in the United States. The U.S. Census Bureau reports that annual revenue from these companies exceeds $7 billion.
While mobile equipment is a given for this segment, a few other factors continue to impact what items operators specify. For example, because some areas restrict the use of open flames, induction cooking continues to become more prevalent in this segment. And because the quality of fried foods is compromised when they are prepared in advance, caterers typically only offer these items if a fryer is available on-site."Caterers are in the moving business, relocating kitchens to events the same day," Greg Casella, owner of Catered Too, Palo Alto, Calif., says. "For this reason, we try to prepare as much food in a kitchen as possible prior to transporting it off-site to the event."