Modernizing an ancient cuisine may seem like a stretch, but Chi Lin in Los Angeles manages to take Chinese food to a unique new level.
Chi Lin's 300 handcarved wooden Chinese lanterns give off a subtle glow reflected back in the black glass tables.When the 90-seat restaurant opened last May, the goal was to create a healthier, innovative take on traditional dishes, eschewing big portions and thick sauces and focusing on higher-end ingredients prepared in a fresh wok environment. "We realized that people love Chinese food, but rarely eat it because it's so heavy," says Brent Berkowitz, director of development and operations for Innovative Dining Group (IDG), which owns and operates Chi Lin, in addition to seven other restaurant concepts. "They typically order only a couple dishes, knowing they'll have enough for lunch the next day."
A high-end Hong Kong-type restaurant, Chi Lin features smaller portions that encourage customers to try three to five different dishes that include more upscale ingredients.
"China is currently going through a renaissance, with its people still enjoying traditional food, but incorporating better ingredients, like Chilean sea bass instead of trout," Berkowitz says. "We seek to emulate that, taking Chinese cuisine as a flavor profile and updating it."
This includes incorporating the traditional with the nontraditional. The new take on the cuisine was initially a challenge to communicate to Chi Lin's conventional Chinese chefs, who were unfamiliar with many of the ingredients they would work with. "We wanted to be true to the Chinese culture and food history, while adding new ingredients in the mix. For years, our chefs had been making shrimp with egg- white sauce, and we were introducing them to larger shrimp and black truffle sauce," Berkowitz says. "They were used to using canned bamboo shoots, and we asked them to try fava beans instead. It was a great learning experience."
Examples of Chi Lin's popular appetizer items include a crab soup dumpling topped with sea urchin mousse served with pink vinegar; kale salad with white asparagus, crispy shiitake mushrooms and a sesame vinaigrette; and scallion pancakes served warm and topped with shaved smoked beef marinated in Chinese five-spice powder. Best-selling main dishes include wok-tossed filet mignon with black pepper sauce and opal and Thai basil topped with crispy shiso leaves; crab Aberdeen with a sauce of toasted garlic, chopped spicy red peppers and fresh scallion that originates from a small Chinese fishing village; and Peking duck prepared the old-school way but faster.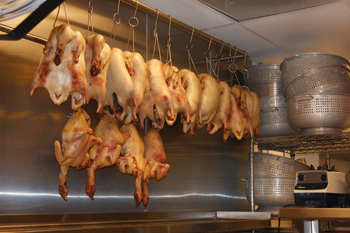 To prepare it's Peking duck, Chi Lin uses a Chinese oven in which the birds are hung in a circle and rotated so the fat self-bastes the meat. First the birds air dry, as seen here."We hang the birds to air dry and use a Chinese duck oven to prepare this dish," Berkowitz says. "Ducks are hung in a circle and rotated inside the oven, which allows the fat to self-baste the meat." Chi Lin serves this with house-made crepes and hoisin sauce. The restaurant also prepares the same dish with chicken for those averse to eating duck.
Accommodating the more prevalent health concerns with today's consumers, Chi Lin utilizes a soy sauce that is low in sodium and free of GMOs and gluten. The menu also features 10 gluten-free items.
Although the Chi Lin culinary staff use the same techniques typical of other Chinese restaurants, the cooking process is cleaner and healthier. As in higher-end Hong Kong restaurants, staff clean Chi Lin's woks between each dish.
What also makes Chi Lin unique is that it shares some back-of-house space with the 200-seat RivaBella West Hollywood restaurant, one of IDG's Italian concepts. Both concepts utilize the same bakery, which includes two side-by-side convection ovens, a gelato maker, a walk-in freezer and an ice cream cabinet, as well as a dishwashing area.
Ten 140,000-Btu woks anchor the front of Chi Lin's separate 1,200-square-foot kitchen. "We can use as many as five woks to prepare one order," Berkowitz says. "It's a fast and furious type of cooking that requires high Btus for fast turnaround."
A popular dish at Chi Lin is its scallion pancakes served warm and topped with shaved smoked beef marinated in Chinese five-spice powder.The cooking area also includes a small grill and a couple of fryers. Prep work takes place in the back of the kitchen, which includes the Peking duck and chicken production area, in addition to a jumbo steamer used for dumplings and fish. "We were looking for a strong Chinese steamer that would steam efficiently and where opening the door wouldn't impact the process," Berkowitz says. "We went through two to three steamer designs before we found one that worked for us."
Along with its menu items, the restaurant's décor reflects the concept's mix between Old and New World Chinese cuisine. Berkowitz describes the restaurant's interior as sexy, dark, intimate and reminiscent of a Shanghai speakeasy with a modern flair.
The restaurant's 300 hand-carved wooden Chinese lanterns, which give off a subtle glow reflected back in the black glass tables, also reflect the space's black-and-red color palette. A unique infinity mirror serves as a showpiece, along with a dramatically lit, three-dimensional white butterfly art piece.
As the new kid on the block, Chi Lin caters to the current marketplace, which includes more health-conscious consumers looking for fresh foods and big flavors. "Our menu is ever evolving, as we find new areas of China with innovative cuisines as well as ingredients we can incorporate from the world market," Berkowitz says. "We are no longer geographically isolated, so it's easier to find new foods to cook with that don't change the culture of the cuisine, but instead add to it."