Missoula, Mont., may seem like an unlikely place for a Mongolian grill chain's success story to begin, but it was here 14 years ago that Dan, Linda and Andy Vap created the first HuHot Mongolian Grill.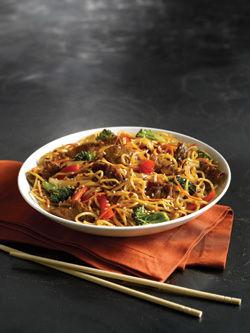 Banking on its create-your-own, all-you-can-eat stir-fry concept, the operation has found national success. Since 1999, the chain has grown to include 50 locations in 17 states. Although much of this expansion has occurred in the Midwest, locations are operating in Texas, the Carolinas, Colorado and Spokane, Wash. The majority of the operations are franchised.
"We also run six corporate stores, and we're opening our seventh next month," says Jeff Martin, HuHot's vice president of operations.
Ranked in Entrepreneur magazine's Franchise 500 in 2013, 2012 and 2010, HuHot was also listed in both the 2012 Inc. 5000, as one of the fastest-growing companies, and the Franchise Times' Next 300 Franchise Systems.
The chain's 2012 sales were estimated at $77.5 million by Technomic, a more than 10 percent increase from the prior year. Unit growth was close to 10 percent last year.
FE&S spoke to Martin about what makes the HuHot concept unique and relevant in the hot Asian segment.
FE&S: Describe the HuHot concept.
JM: We are a modern version of a Mongolian grill, which is a create-your-own Asian stir-fry. It centers around the 72-inch round flattop grill, which is front and center for exhibition-style cooking. The process is very interactive. Guests go down the food line to pick out their meal's raw ingredients, fill their bowl, drop it off and watch the cooks prepare it. The concept is fun, playful and entertaining, with chefs providing quality and theater simultaneously.
FE&S: How do you keep your concept relevant?
JM: We are addressing a number of trends in the foodservice industry. Today, food safety and allergies are front and center. Our customers are seeing their meal completed from a raw state. They know exactly what it contains and how the cooking process is performed, because it's right in front of them. This is ideal for those with food allergies, since they are selecting the ingredients and the food never leaves their sight.
Also, our concept capitalizes on consumers' love of food and theater, since it offers entertainment value. There are not many restaurants out there where parents can send their kids to the food line to have fun. Children enjoy the process of putting healthy meal components, like vegetables, into their bowl, which is more nutritious than what they'd typically order.
In addition, customization has become increasingly important to today's customers. They appreciate the ability to choose their own ingredients and customize a meal.
Finally, unlike other concepts of this type, we are an all-you-can-eat format. This is important today, where consumers are focused on value for the dollar.
FE&S: Describe the ambiance at your locations.
JM: Like our concept, our décor is unique. I'd describe it as a modern, Americanized version of an Asian eatery. The ambiance is casual, with open spaces and a playful vibe that is irreverent but not silly. Our dining rooms include hand-painted Chinese murals with warriors on the walls. These incorporate bright colors and fun characters, which are a little different at each location.
FE&S: What does your menu entail?
JM: Although the concept and formula are simple from an operations standpoint, the consumer can choose from about 500,000 ingredient combinations. We're serving one entrée that varies.
First, consumers choose their protein, which includes sliced beef, chicken, pork, sausage or seafood. We're also currently testing an Asian meatball. Restaurant owners and managers have latitude to offer seasonal or regional varieties, such as game meat, mussels or crawfish. Dinner options expand to include a greater variety of seafood.
Next in line is noodles, including Chinese, yakisoba and gluten-free pad thai rice sticks. Customers can then choose from between 20 and 25 different vegetables. We have traditional choices, such as carrots and zucchini, interspersed with Asian ingredients, like bamboo shoots and bean sprouts.
The highlight of the selections are the 12 proprietary Asian-inspired sauces at our sauce bar. Selections include traditional varieties, such as Kung Pau Wow!, but we also have created several curries, hoisin and Szechwan sauces. These are organized from mild to hottest, with each having a flame rating. Seven flames is the highest. Many customers enjoy combining different sauces to create a unique taste. Every quarter we also launch a "sauce of the season" that's featured. At the end of this section are additional topping choices, such as soy sauce, sherry, garlic oil and lemon juice.
Meals are cooked with the sliced seared meats and sauce preceding the other ingredients. This caramelizes the meat and sears the sauce into the protein, which we've found to be more flavorful.
We also offer appetizers, soup, salad and desserts, which are prepared in our back of house. All of our locations serve beer and wine, with some also offering full liquor service.
FE&S: With a set menu, how do you entice customers to come back?
JM: Because our focus is on the grill, we try to give consumers different reasons to try us out. Twice a year we run limited-time offers and debut new sauces, and two quarters each year we bring back fan favorites. Spring and fall are when there's a push with new appetizers or desserts. We also spend a lot of time developing new sauces for our seasonal program. In addition, we're looking to develop beverage pairings in the future.
FE&S: What equipment is integral to your operation?
JM: The centerpiece of our operation is the circular 12-burner, 490,000-Btu Mongolian grill in the front of house. It's our most expensive purchase and is meant as a showpiece. This area also includes refrigerated bars for ingredients. Beyond this, we have limited equipment in the back of house that includes tilt steam kettles for preparing noodles, soups and sauces; a fryer; and rice cookers.
FE&S: What do you look for in your equipment?
JM: In terms of our grills, we needed a unit that could prepare food fast but also retain heat. Early on, we utilized a 60-inch grill with eight burners, but this cooked off too quickly. We also were running into a problem with excess ambient heat, which was tough on our grill cooks and forced them to wear thick gloves. About five years ago, we came upon the 72-inch grill with a chute in the center, which retains heat without giving off ambient heat.
FE&S: What are your plans over the next year?
JM: This segment has expanded in the last 10 years in a way similar to Mexican foods, and our format has worked well for us. We will have a total of 53 restaurants by the end of this year. We also are on track to have unprecedented growth in the next 2 years, with between 10 and 12 sites opening in 2014. Asian foods are one of the hottest and fastest-growing ethnic foods in America, and HuHot is disciplined to stay uniquely Asian.