When Safeco Field, the home of Major League Baseball's Seattle Mariners, was built in 1999, foodservice was more of a focus than in decades past. However, it wasn't on par with other ballpark amenities. The foodservice program was one of the first priorities when the 47,000-plus-seat stadium began a 4-year renovation project about 2 years ago.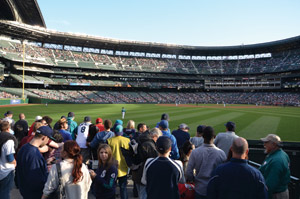 The 'Pen patio at Safeco Field allows fans to watch the game while ordering and eating food."Food wasn't considered as important as other aspects of the game in terms of fan relevance," says Eric Wooden, director of equipment purchasing for Stamford, Conn.-based Centerplate, the stadium's foodservice provider. "What we've always known is that food is a part of Mariner fans' identities."
A complete overhaul of The 'Pen, Safeco Field's main food area, was completed in 2011. Located in left and center field, adjacent to the home and visitor's bullpens, the bright, open area includes four destination concession stands, in addition to a cocktail lounge and open-air bar. A testament to the project's success is that The 'Pen was named among Seattle's most exciting restaurant openings in 2011 by Seattle Weekly newspaper.
"About 65 percent of the people who walk into the stadium find their way to the concessions area," Wooden says. "Due to the popularity of the concessions stands, we've opened this area up on non-game days to serve Seattle Seahawk fans watching the football game at CenturyLink Field across the street."
FE&S: What was the goal with the redesign of The 'Pen?
EW: In the early 2000s, stadium foodservice design was about putting the grill on the front counter so customers could see their food being prepared. That was great, but missing from this recipe was looking at food quality in greater detail. Food was just moved from the back to the front of house. Today, the focus is more on food quality and about putting more firepower in the back of these stands. Sometimes this involves exhibition cooking, but not always. At Safeco Field, we wanted to transform an area of the stadium that was underutilized and underperforming. We sought to design a space where food communicated the team's brand.
FE&S: What food items are available at The 'Pen?
EW: We partnered with Seattle chef Ethan Stowell, who created our burger stand, Hamburg + Frites. The menu includes a 6.5-ounce Northwest grass-fed beef patty topped with Tillamook cheddar and skin-on fries served with a garlic dipping sauce. He also helped create The 'Pen's La Crêperie, which serves authentic Parisian crepes that include either sweet or savory fillings. Chef Roberto Santibanez, a Mexico City native, headed the creation of our Mexican dishes, which feature tortugas or Mexican sandwiches made with braised chicken, beef or pork, in addition to hot dog nachos, fresh salsa and guacamole. These are sold at the Tortas or Edgar's Cantina. Also, chef Bill Pustari, notable for New Haven-style pizza, helped us develop the custom gas pizza oven that is the centerpiece of the Apizza stand. The thin-crust pies are made with locally sourced ingredients, including traditional cheese, tomatoes and pepperoni. This stand also offers a classic Caesar salad that includes a signature lemon-anchovy dressing and homemade croutons.
FE&S: Describe the concession stands and production.
EW: Unlike a typical stadium design that includes a grill stand comprised of a four-foot flat grill, two fryers and an attached dump station, ours is focused on each individual menu item. All food is created from fresh ingredients at the stands. We fry in a separate area from where burgers are produced. Meat is cooked on a conveyor broiler, but then a chargrill is used to melt the cheese. Fries are cooked in a separate area and are added to burgers across the counter. We utilize equipment that can cook quickly for faster service. Although we have holding equipment in all concession areas, the goal is to reduce the time food is kept in these containers. Product is stored short-term in the stands' reach-in coolers and freezers. Each stand has a staff of four people who pay attention to the food every step of the way.
Two of the biggest enemies of food quality are time and travel. When items are prepared in another area of the building, spills, breakage and deterioration can occur. We put enough firepower behind each counter to create fresh restaurant-quality food. Our separate main kitchen is on another level and used for producing our custom-blended coleslaw and slow-cooked proteins, which are delivered to the concession stands several times a day.
FE&S: How have offerings at The 'Pen evolved with the redesign?
EW: The 'Pen has retained its same footprint, but is now more cohesive in terms of the food offerings. In the past, only about half of the stands would cook food on site. The other areas would be loaded down with a variety of precooked items, such as fried empanadas, corn dogs and everything in between.
Now we have gone back to basics, offering a handful of items that are cooked to order and sell well.
FE&S: What were the main considerations when purchasing equipment for this project?
EW: In specifying our equipment, speed of service was a big aspect. In some cases, we really pushed the envelope. For example, we purchased the largest wood oven we could find for the pizza stand, trusting in our analytics that said it would be well received. The stands were designed with one menu in mind.
FE&S: What do you predict for the evolution of stadium foodservice?
EW: It will continue to be more about quality and not about a big show of mediocre food. People are more concerned about food origin, and we will continue to tie into that as well as renewable resources. When it comes down to it, people are looking for great food at a fair price.
---
Stadiums Score Points with Foodservice Sales
Case Study: Salt River Fields, Scottsdale, Ariz.
Q&A: Eric Wooden, director of equipment purchasing for Stamford, Conn.-based Centerplate discusses Safeco Field in Seattle