The Scooter's Coffeehouse catchphrase —"Amazing people serving amazing drinks amazingly fast" — sums up its business philosophy.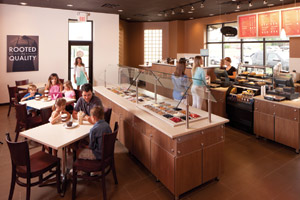 Scooter's endcap location ranges in size between 1,400 and 1,800 square feet. The décor aligns with a traditional warm coffeehouse theme. In addition to offering a coffeehouse menu, Scooter's also offers frozen yogurt. Founded by Don Eckles in 1998 and franchised three years later, Scooter's focuses on speed of service, customer service and quality food and beverages, but not necessarily in that order. "Our goal is to be the largest franchised coffeehouse," says Jay Baker, Scooters' chief operating officer. "What makes us unique is that we are a specialty coffeehouse that focuses on the drive-thru and fast service."
Based on the chain's continued growth and sales, this formula is working. Same-store sales increased 12 percent in 2012 compared with the prior year. Scooter's now has locations in seven states, mainly in the Midwest. Its markets are strongest in Omaha, the Kansas City metro area and Sioux Falls, S.D. Currently, franchisees operate 78 of the chain's 105 coffee shops.
The company's 40,000-square-foot Omaha headquarters includes a warehouse, bakery and training facility for franchisees. Scooter's handles distribution of all products, with the exception of milk, in house. "We are a one-stop shop for our franchisees," Baker says.
FE&S asked Baker about the details of Scooter's operations, including menu innovation, equipment needs and plans for the future, in addition to the challenges faced by coffeehouse chains today.
FE&S: Describe the Scooter's Coffeehouse concept.
JB: Our outlets have a uniform look because we want consistency in our brand. Although we focus on kiosks, our formats also include drive-thrus and sit down/drive-thru sites. Our location sizes range between 1,400 and 1,800 square feet for an endcap location, with approximately one-third of this space dedicated to the back of house. Our décor is a traditional warm coffeehouse theme, although with cleaner lines.
FE&S: What new developments are underway at the company?
JB: For us, we're always concerned about costs for our franchisees. In the fourth quarter of 2012, we brought the bakery in house because we realized this was an opportunity to lower costs and provide better products. We are now expanding its size from 1,000 to 2,000 square feet.
Because coffee customers are more of a morning crowd, we saw an opportunity to add additional sales in the afternoon by incorporating frozen yogurt to our offerings in 2011. Currently, 14 of our stores are these co-concept walk-in/drive-thru prototypes. Frozen yogurt flavors rotate and each store carries different flavors, but best-sellers include traditional chocolate and vanilla as well as birthday cake batter. This aspect of Scooter's is self-serve, with stores utilizing between six and eight frozen yogurt machines out front. There also is a self-serve toppings bar with fresh fruit, crushed candy, cookie crumbs, cookie dough balls, sprinkles, cereal and other items. We also provide squeeze bottles for customers to add fudge, caramel and other toppings. The barista will add whipped cream upon request.
FE&S: What are Scooter's best-selling and signature items?
JB: Our signature coffee drink is the Caramelicious. In addition to coffee and espresso-based drinks, we offer espresso-based smoothies, and fruit and espresso smoothies. We also bake tens of thousands of items a month in our on-site bakery. Popular sellers include muffins, pumpkin bread, banana nut bread, cinnamon rolls and cookies. Although we don't offer sandwiches, we do carry a breakfast burrito that we source from Burrito Kitchens, a Colorado food supplier.
FE&S: Have you introduced any new items?
JB: We try to cross over baked goods to our beverages, taking into consideration pairings that have the potential to be successful. For example, when our baker recently developed a new chocolate mint chip cookie line, the idea came to me to create a smoothie that incorporated it. That's how innovation happens here. Another pairing example is our recent introduction of espresso coffee cake.
FE&S: What does the production process entail?
JB: What's important to us is that we stick to a traditional method of preparing espresso. We grind per shot and hand tamp. It's a little more labor intensive, and there are more details to pay attention to. We utilize a traditional espresso machine that is not automatic. We want to remain hands-on because this is the authentic, pure way of making espresso. We believe this is what keeps the quality very high. Other key equipment and supplies include coffee brewers, smoothie blenders, hand tampers and push-button grinders that automatically dose the proper amount of coffee. Our bakery includes a floor mixer and rack oven.
FE&S: When purchasing equipment, what aspects are most important?
JB: Durability and reliability are what we look for in our equipment. Unfortunately, there are not many green options to choose from. However, we are currently testing a new espresso machine that is supposed to consume less power because it shuts down when idle to conserve energy. We are always looking for ways to decrease our power use, because this reduces our operating costs.
FE&S: Describe the state of the coffee industry.
JB: Increasing competition is the biggest challenge in this segment, but we've found it can be beneficial. For instance, when McDonald's began focusing on coffee a couple of years ago, it expanded the marketplace. I predict we will see consolidation in this segment, and we look towards that in our overall plan. Also, many people still primarily drink coffee at home, and we feel this is a potential market for us. Coffee drinkers seek consistency; this is why Starbucks has thousands of stores. We believe we can provide that consistency with a higher-quality product.
FE&S: What lies ahead for Scooter's?
JB: Approximately 70 percent of the volume in our sit-down/drive-thru stores is drive-thru traffic, and this is where we see the biggest opportunity. We are conservatively estimating the addition of 20 sites this year, with growth in the Dallas area. We also are looking to expand our pastry offerings to other retail outlets in our current markets.