Page 1 of 2
Thanks to a slowly improving economic environment, consumers and business travelers are hitting the road again — with a healthy appetite for hotel foodservice. With free breakfasts, gastropubs, fine dining, banquet service and more, hotel foodservice offers a little something for most travelers.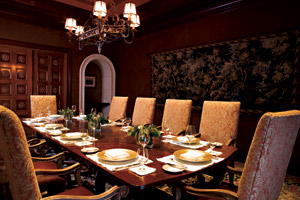 Along with a main dining room that seats 80, Addison has a private dining room that accommodates up to 50.Unlike most other operator segments, hotel foodservice is all encompassing; it can involve not only restaurants, but also room service and banquet operations. That diversity is proving to be beneficial to hotel foodservice, which is among the industry's fastest-growing segments and shows no signs of slowing down in coming years.
Lodging segment food and beverage sales totaled $30.1 billion in 2012, a 6 percent nominal increase from a year prior, according to Technomic, a Chicago-based foodservice market research firm. Technomic projects this segment will grow 6.5 percent in 2013, with hotel foodservice sales predicted to increase 2.2 percent annually on average through 2016.
An improving economic environment is driving this growth, as both business and leisure travel have picked up. In fact,
Technomic's most recent "Hotel Food & Beverage Consumer Trend Report" shows that 25 percent of consumers surveyed say they are traveling more often for leisure, and 33 percent are traveling more often for business, compared to recent years.
Roughly two-fifths of those responding to Technomic's survey said that a hotel's foodservice program plays an important role in their decisions for leisure and business travel. Convenience may be a big factor for hotel guests patronizing on-site restaurants, given the fact that nearly 9 in 10 consumers surveyed by Technomic report that they purchased or consumed food or beverage from an on-site hotel location. More than half of respondents who recently stayed overnight at a hotel indicate that they patronized a full-service restaurant, which is more than for any other on-site foodservice location.
A number of notable trends continue to impact the hotel foodservice segment, including the growing availability of room service and free breakfast; the prevalence of unique and upscale cuisine; and an increase in the use of action stations for banquets.
In its 2012 survey of more than 12,000 hotels and lodges, the Washington, D.C.-based American Hotel and Lodging Association (AHLA) found that 52 percent of participants offer room service, an increase from 44 percent in 2010. Upper-end and larger hotels were more likely to offer this service.
Room service is one area that offers growing potential for hotel restaurants, as this amenity is currently underutilized. Half of consumers Technomic polled said they rarely or never order room service, while about a quarter of consumers often order it.
Free breakfasts have become a popular addition to hotel foodservice programs. These can range from a simple continental offering that includes muffins, bagels, fruit and beverages to more elaborate buffets that include waffle stations, egg casseroles and a variety of meat sides, such as bacon, sausage and ham.
When choosing a hotel, consumers place a greater importance on complimentary breakfast offerings than on any other hotel attribute or amenity, according to Technomic. Although this is a loss leader for foodservice operations, it can be beneficial to help drive traffic to on-site hotel restaurants.
In 2012, the percentage of AHLA survey respondents claiming to provide complimentary breakfast service increased sharply, with 79 percent offering this amenity. Among the concepts providing free breakfast, 97 percent were midscale chains.
With the prevalence of more casual dining options, some upscale hotel restaurants are switching to a less formal ambiance in the front of house. But the lack of white tablecloths has not impacted the entrées. Menus at high-end hotel restaurants are more likely to be chef-driven with unique offerings that include local produce and seasonal ingredients, Technomic reports. More hotel bars are being positioned as gastropubs, with menus offering American or Asian food, including burgers and small plates.
Hotel banquet buffets have also undergone a transformation. Themed carts are a growing trend for hotel-based catering programs, according to Technomic. These not only increase mobility and flexibility for action stations, but also provide more guest interactivity and a level of visual excitement to on-site food preparation.