As the senior care business becomes more competitive, a growing number of providers are investing in their foodservice operations to provide an edge over their peers.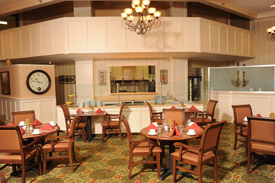 Senior care facilities are a growing and evolving segment in the foodservice industry. Today's residents have high expectations when it comes to food. Offering only a couple of meal choices won't satisfy most seniors. Rather, they seek communities with full-service restaurants and a variety of dining options.
Senior living retail sales (the amount residents spend) totaled close to $5.7 billion in 2012, an increase of approximately 5.5 percent from 2011, according to Technomic, a Chicago-based market research firm. Technomic expects sales in this area to increase another 5.6 percent this year. Food purchases for the senior living segment (the amount foodservice providers spend to feed residents) were projected to total almost $3.2 billion in 2012.
According to the Alexandria, Va.-based Assisted Living Federation of America (ALFA), the United States has an estimated 31,100 residential care communities, with a total of 971,900 residents. And the majority of those residents live in large or extra-large residential care communities. The average food cost per resident per day in senior living communities ranges between $5 and $7, ALFA reports.
ALFA describes assisted living as a long-term residence option that provides resident-centered care in a residential setting. It is designed for those who need extra help in their day-to-day lives but who do not require the 24-hour skilled care of a nursing home.
Assisted living residences are also called residential care communities, adult congregate living communities, continuing care retirement communities (CCRCs), personal care homes, retirement homes for adults or community residences.
"As our nation sees a growing population of seniors living longer lives and seeking more active lifestyles, senior living is booming," says Jamison Gosselin, ALFA's senior vice president of marketing and communications. "While today's seniors are living longer, many require services and support senior living communities offer."
Roughly 10,000 professionally managed senior living communities of 25 apartments or more, charging market rates, currently operate in the United States, according to ALFA. These facilities serve more than 1 million seniors. The 10 largest independent living providers comprise only 26 percent of the independent living market, while the 10 largest providers of assisted living companies comprise 25 percent of the assisted living market.
"Greater demand for senior living communities is spurring growth in new construction and investment in existing properties," Gosselin says. "Senior living companies are investing in long-term infrastructure as well as day-to-day products and services that further differentiate their communities from the many competing options available. And dining in senior living communities is one of the most important services offered to residents each day. One of many reasons seniors will choose a community is because of the food and menu options available."
In terms of foodservice equipment, senior living operations tend to be about three to five years behind the hospitality industry. "Equipment that has been popular in restaurants for many years is finally getting a second glance in senior living," says Brit Gala-Ploeckelmann, foodservice equipment consultant at Milwaukee-based Direct Supply Healthcare, which provides equipment and services to senior care operations. "More operations are incorporating combi and speed ovens."
Accelerated cooking capabilities, for example, can help meet the needs of short-term rehab residents, who have high expectations for food quality and service but tend not to mingle with other residents at mealtimes.
Limited budgets are a challenge in this segment, and the foodservice operations typically do not generate revenue. "Some operations rely on government funding and have to make do with very little disbursement," Gala-Ploeckelmann says. "To better plan for capital expenditures, these operators seek high-quality equipment at reasonable price points."
Energy efficiency also has become more important in terms of equipment. "This equates to huge savings," Gala-Ploeckelmann says.
In older, established senior living communities, independent restaurants still tend to be a rarity. This has made it difficult for these operations to compete with newer facilities that better accommodate seniors' ever-changing tastes.
---
Senior Design Trends
Many senior living communities offer robust menus of specials each day plus daily options for breakfast, lunch and dinner. These meals are available in dining rooms with restaurant-style service, which encourages a social atmosphere.
ALFA reports these trends in senior living dining service:
1. More focus is on from scratch cooking methods, which enable communities to control use of
ingredients such as sodium and high-fructose corn syrup.
2. Fast-casual bistro service formats similar to Panera Bread are prevalent. Senior living community dining services often take cues from the restaurant industry, and the fast-casual experience is of interest to seniors. Open-kitchen dining environments are also making an appearance in newly built communities.
3. More companies now use menu-planning systems to ensure a good rotation of options for residents as well as proper nutrition planning across all meals.
4. Many senior living communities are replacing salt on the table with special flavoring packets to
help reduce residents' sodium intake. Some senior living communities go as far as offering fresh and high-antioxidant options that address certain health issues often found in seniors.
5. Senior living communities now serve the parents of the baby boom generation who still enjoy
traditional comfort food items.
6. The debate continues in the senior living business about whether to self-operate or outsource dining service programs. Each option comes with its own pros and cons, but as senior living companies get larger, many opt to invest greater resources at the corporate level into professional dining service executives.
7. One fact that surprises many new residents and the public alike is that senior living communities serve wine, beer and spirits. With respect to wines, seniors enjoy bolder qualities due to the more powerful tastes; merlot and oak barrel-aged chardonnay are two popular wine options.
Key Equipment
Convection ovens
Combi ovens
Ranges
Steam kettles
Braising pans
Panini grills
Food processors
Steam tables
Refrigerators
Freezers
E&S Considerations
Flexibility: Because senior care foodservice operations cater to residents with various dietary needs, the kitchens and equipment need to adapt to different menus and eating occasions.
Food Safety: Foodborne illness is a big concern in the senior segment. Consequently, equipment should be easy to clean and maintain. Also, cooking and holding temperatures must be closely monitored.
Ease of Use: More often than not, these facilities utilize unskilled labor, so simple operation and automatic features are important factors with equipment specified for this segment.
---
Case Study: Ohio Presbyterian Retirement Services
Q&A: Daphne K. Gulick, Senior Director of Food Services, Masonic Village at Elizabethtown, Elizabethtown, Pa.