Although 90 years old, Ohio Presbyterian Retirement Services (OPRS), which serves 95,000 people in 38 counties, is a good example of an organization that is redefining its foodservice program for residents seeking more flexible dining options. The state's largest not-for-profit provider of continuing care retirement communities (CCRCs) and services, OPRS is renovating its kitchens by replacing tray lines and outdated service models with a restaurant-style design.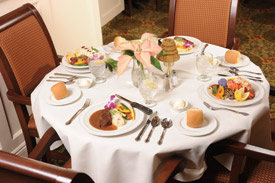 Rather than the two entrée choices previously offered, OPRS' updated à la carte menu provides six to eight options, in addition to daily specials."In the past, most of our kitchens were set up as strictly production-style operations," says John Andrews, OPRS corporate director of culinary and nutritional services. "A decade ago, we were producing just two to three entrees per meal that were distributed via tray line or small batches to each service area and dining room. Now we are focused on à la carte meals in our assisted living, healthcare and rehabilitation centers in addition to our independent living restaurants."
Stone Bridge Grille, a new dining option in the assisted living area of Rockynol, one of OPRS' CCRCs in Akron, is an example of the direction of the operation's foodservice program. Last year, both its kitchen and dining room received an overhaul, which included creating an 1,800-square-foot round display kitchen and back of house where cooked-to-order dishes are produced.
Rather than the two entrée choices previously offered, the new operation's à la carte menu provides six to eight options, in addition to daily specials. An added bonus is that the menu expansion has not increased food costs. "We've been tracking food costs for years, and there was a [slight increase] in the beginning, but as time goes on, it has [leveled off]," Andrews says.
Because Stone Bridge Grille's kitchen has no corners, equipment placement was a challenge. "We have load-bearing walls that couldn't be torn down, so this necessitated being creative in structuring the kitchen," says executive chef Brian Lippiatt. "Overall, we did a good job utilizing the space creatively."
As part of the renovation efforts, Stone Bridge Grille converted a dining room server's station into a small cooking area complete with a hood. This area includes a small grill system, four burners for sautéing, a panini grill and a hot line with cool cabinets underneath to store meats. "It took a lot of engineering to make this work, but the result is a very efficient cook's line," Lippiatt says. "We were fortunate to be able to avoid installing a separate hood system by routing duct work around load-bearing walls and connecting to the main kitchen hood system."
A highlight of the new kitchen design is a cook station that includes a steam table, cold deli prep table, panini grill, flattop grill and a rapid cook oven to accommodate the larger menu. This section was created by cutting a hole in the wall, which provided a pass-through window in an area that was previously the beverage center. Next to this line is an action station that includes induction cooking equipment.
A year ago, the restaurant added combi ovens, which have helped increase food quality and consistency. Another combi will replace one of two convection ovens this year. Smoker features on this equipment have helped expand the menu to include different flavor profiles for items like ribs and salmon. Combis also have been beneficial in communities that have been retrofitted with ventless equipment. A charbroiler has also been added to cook steaks.
"Eventually, we want to utilize a quick-chill system with retherming, which will help us increase the speed of production as well as save on labor costs," Lippiatt says.
OPRS aims to focus more on the culinary side of its operations, which can be a challenge due to the changing job descriptions and method of food preparation and delivery. "We find that the segment is much more food- and creativity-based, so getting the right people in place to meet these needs has been difficult," Andrews says. "Attracting talented people to this segment has not been easy, but these operations have come a long way in the eyes of culinary professionals."
OPRS' culinary and nutritional services operations are staffed primarily with executive chefs, along with an experienced operational and clinical support team. "Once chefs get into this side of the business, they don't want to leave because it provides an outlet for their creativity, management and leadership skills, along with a good quality of life," Andrews says.
In addition to the Stone Bridge Grille, Rockynol includes small serveries throughout the buildings to serve health care and rehabilitation residents. These include steam table units and hood systems. Staff use heated carts to transport food from the kitchen to the serveries. In the summer of 2013, OPRS will break ground on another wing in its health care center that will add another servery, bringing the total to six. This new servery will be a mini kitchen capable of handling an expanded menu that offers more cooked-to-order choices for residents.
Looking ahead, OPRS continues to adapt its operations to the growing trend of low-fat and healthy cooking methods, with the goal of utilizing equipment that can satisfy these needs. "Our operation is rapidly growing, with new assisted living and rehabilitation wings, and we are making changes to the campuses that better meet the needs of our residents and the community," Lippiatt says. "Full-service restaurants will be an important part of our senior living communities in the future."
The Golden Age of Senior Care Foodservice
Q&A: Daphne K. Gulick, Senior Director of Food Services, Masonic Village at Elizabethtown, Elizabethtown, Pa.