With consumers' maintaining healthy appetites for Mexican-inspired cuisine, fast-casual and quick-service operators continue to enhance their menus and expand their network of locations.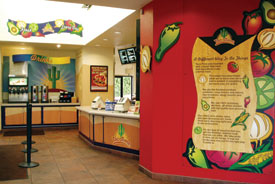 The popularity of Mexican food shows no signs of waning. Offering value for the dollar as well as variety and healthier options, tacos, burritos and quesadillas have become fixtures on American menus as Mexican restaurants have become entrenched in the U.S. landscape.
"There has been some revitalization in the category," says Bonnie Riggs, restaurant industry analyst at New York City-based research firm NPD Group. "While the full-service and casual-dining Mexican foodservice segments are declining, the overall category is up."
Much of the growth in Mexican foodservice is being driven by QSR operations, which make up 74 percent of the segment, and fast-casual dining, which comprises 19 percent, according to NPD Group.
Quick-service Mexican concept sales totaled $5.9 billion in 2011, an increase of 2 percent from 2010, according to data from Chicago-based foodservice consulting firm Technomic. Unit counts, which totaled 17,492 in 2011, were down 0.2 percent. Chains listed in Technomic's Top 500 report comprise 94 percent of limited-service restaurant sales and 34 percent of fast-service restaurant sales. Taco Bell, which had 2011 sales totaling $6.8 billion, makes up about half of Mexican LSR sales.
One recent success story is Chuy's, a 30-year-old Austin, Texas-based chain of 36 restaurants in 8 states that went public in July of last year. The chain's sales totaled $124 million in 2011, an increase of almost 30 percent from the prior year, according to Technomic. Each location is unique in terms of its d?©cor, but all share an eclectic atmosphere that is the eatery's hallmark. Menus highlight made-from-scratch Tex-Mex inspired dishes.
In recent years, the segment has expanded to include original concepts, such as Chipotle, where customers line up and choose the ingredients for super-sized burritos that are produced in front of them. Sales reached more than $2.2 billion in 2011, an increase of more than 23 percent compared to 2010. These results make Chipotle the second-largest Mexican restaurant chain from a sales perspective, trailing only Taco Bell, Technomic reports.
Naturally, Chipotle's success has forced Taco Bell and other similar chains to take notice. "QSRs are trying to compete with fast-casual concepts, some of which are growing at double-digit rates," Riggs says.
To position itself more in line with emerging fast-casual chains and concepts, fast-food giant Taco Bell recently upscaled its menu offerings. The new Cantina Menu includes creations by Lorena Garcia, the Venezuelan-born chef who appeared on the television series "Top Chef Masters." The Cantina Bowl includes a choice of chicken, steak or vegetables with black beans, guacamole and roasted-corn-and-pepper salsa on a bed of cilantro rice, all topped with cilantro dressing. The Cantina Burrito offers the same ingredients wrapped in a flour tortilla.
Due to the prevalence of tacos, burritos and quesadillas, a growing number of consumers no longer consider Mexican food to be ethnic cuisine. In Technomic's 2012 Ethnic Food and Beverage Consumer Trend Report, which surveyed 1,500 consumers aged 18 years or older, 76 percent of respondents said they consider Mexican cuisine to be mainstream, compared with 13 percent who said it is still an emerging segment. The majority of those surveyed, 74 percent, said they would occasionally order Mexican food at restaurants.
"This category hinges on fresh ingredients and quality food at reasonable prices," Riggs says.
Key Equipment
E&S Considerations
Size: In many cases, space is at a premium for Mexican concepts. Equipment with smaller footprints along with countertop alternatives, such as hot plates, can maximize limited back-of-house space.
Speed of Service: Customer expectations for fast food delivery are high in this segment. Equipment that enhances efficiency and speed of service, such as fryers that provide quick recovery, is key.
Versatility: Trends change quickly with Mexican menus, so the equipment must keep up with the demand and accommodate a variety of dishes.
Case Study: TacoTime Scottsdale, Ariz.
Q&A: Dave Syarto, Vice President of Operations Lime Fresh Mexican Grill