Although few people would compare Biloxi, Miss., to Las Vegas or even Atlantic City, the city sees its share of casino action. Since Mississippi legalized gambling in the early 90s, it has the 11th most casinos in the county, according to the World Casino Directory.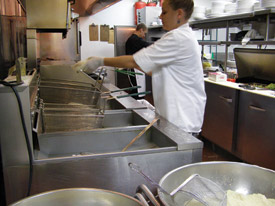 BT Steakhouse's deep fryers provide quick recovery and handle large fat capacities.The Gulf Coast town of Biloxi is home to a number of these operations, including the Boomtown Casino, part of Wyomissing, Pa.-based Penn National Gaming, which owns more than 20 casinos across the country and in Canada. And at the Boomtown Casino, National Gaming takes foodservice just as seriously as gaming.
Boomtown is a two-level casino with 1,000-plus slot machines, craps tables, blackjack and other gaming options. The facility includes the 270-seat Boomtown Buffet restaurant; the Grill, a 24-hour snack bar; Spurs, Stagecoach and Six Shooters — three bars on the casino floor; and a separate employee dining facility.
Four years after the casino reopened following damage from Hurricane Katrina in 2005, the operator determined that a more upscale restaurant was needed on the premises. "Our buffet is a destination for local and regional guests, but we saw the need for an upscale offering to accommodate customers looking for another option and that would appeal to our better players," says John Dill, Boomtown Casino's food and beverage director.
To expand its foodservice offerings, the casino invested $1 million to create BT Steakhouse, which sits in a former café space right off the casino floor. With sole access from inside the casino, the 95-seat traditional steakhouse restaurant includes a bar that seats 30, as well as private dining areas. "Before the hurricane, it was a family arcade center. Afterwards, it was renovated into a café, which was eventually shut down to make room for BT Steakhouse," Dill says. "The former kitchen was entirely renovated when the new restaurant was built."
Open five nights a week, from Wednesday to Sunday, BT Steakhouse's menu includes aged angus beef that is mostly cut on site, in addition to seafood from Biloxi's shores. Steak filets are the biggest sellers, along with prime rib, New York strip steaks, lobster and both crab cake and crab claw appetizers. The BT Steakhouse team reviews the menu every three months to see which items sell well and to make any necessary adjustments. Popular specials routinely become part of the everyday offerings.
The approximately 600-foot back of house includes a cookline, hot line, pantry station, server area, dish room and dry storage. The cookline includes a double-stack convection oven; a range with open burners for sautéing; two large-capacity, quick-recovery deep fryers; a steam table and a bain-marie.
Much of the action centers on the broiler, which utilizes 100,000 Btu to quickly sear meat and seafood. The broiler sits atop a refrigerated base, which keeps foods at arm's length during production.
Because culinary staff make all menu items from scratch, the kitchen includes an array of prep equipment, including mixers, slicers and food processors. A salad and dessert pantry area contains lettuce crispers and freezers for storing ice cream and chilling plates. Staff work at refrigerated prep tables throughout the kitchen and store food in walk-in coolers and freezers.
"Our kitchen is compact and well laid out," Dill says. "Speed of service is the focus, so it's not just ticket time, but actual cooking times, that are kept to the bare minimum due to our high-powered equipment."
Due to high-volume traffic, durability represents one of the most important considerations when specifying foodservice equipment for Boomtown Casino. "Our equipment has to hold up under rigorous use on a nightly basis at high-volume output that uses extremely hot temperatures," Dill says. "The deep fryers need to provide quick recovery and handle large fat capacities. We don't want to crowd our baskets to get the job done."
Since opening, BT Steakhouse has replaced a broiler with a unit that provides heavier output, and changed out ovens for finishing off dishes.
Because sanitation and maintenance remain a priority, Dill looks for equipment that is also easy to keep clean. "We spend a lot of time maintaining the overall sanitation of the kitchen, and we keep equipment in pristine shape," Dill says. "It needs to work and cater to our needs."
The only items not produced in BT Steakhouse's kitchen are its desserts, which come from the casino's on-site bakery. Staff also package these items for retail sale in the casino's general store and gift shop as well as at the Grill. Pastries and cakes will soon be available at the Boomtown Welcome Center on Beach Boulevard.
The bakery, formerly located in a small area inside the facility, was expanded to about 1,000 square feet during the casino renovation three years ago. The space also includes a new hood system along with a walk-in cooler and freezer, two double-rotating rack ovens, two double banks of steam convection ovens, two 60-quart mixers, a 20-quart mixer and a number of worktables.
"We take hundreds of cake and pie orders the week prior to Thanksgiving," Dill says. The bakery's best-selling item is the apple fritter, which is sold singly, and by the half dozen or dozen. Other popular items include donuts, homemade fudge and petit fours.
Distinguishing a casino operation can be a challenge in a state that has a competitive gaming market like Mississippi's. BT Steakhouse's menu emphasizes quality and perceived value, while the restaurant revolves around quick, efficient and personal service.
In this segment, speed of service impacts the operation's revenue. At BT Steakhouse, management monitors table turns so gamers can get back to the casino floor in a reasonable length of time. "About 80 percent of our business is from repeat customers, so our service staff knows many of our regular players by name," Dill says. "They are aware of who wants to eat quickly and get back on the floor and those who'd rather take their time with dinner." He estimates that 85 percent of the restaurant's customers are also visiting the casino to gamble.
In addition to speed of service, the steakhouse has to contend with big volume shifts, which can sometimes be a challenge. "If there is a special event, promotion or a holiday weekend, we may do 175 covers. Then the next night there may be bad weather or a community event, and we'll only have 50 covers," Dill says. "We are aware that there will be huge swings in volume, so we historically track daily covers. This way, we can get an idea of the forecasting and anticipate the crowds."
Volume shifts are especially important to monitor because the steakhouse's staff numbers are lean. Employees include a chef and four-person kitchen staff, plus a front-of-house manager, seven servers, a bartender and two server assistants.
When Dill first entered the gaming industry many years ago in Las Vegas, he was told he was no longer in the foodservice business and was instead part of the casino business.
"Our casino is small in comparison to operations in Las Vegas or Atlantic City, but we are proud of what we have to offer," Dill says. "We don't cut corners or rely on prepackaged items. Not many casino restaurants invest the labor or time to cut their own steaks. We feel our service, quality and the consistency of our products helps draw folks to the steakhouse."
---
Casinos Up the Ante with Sophisticated Foodservice Offerings
Q&A: James Johnson, regional director Comanche Red River Casino, Devol, Okla.
Q&A: Michael Doocey, executive director Wild Horse Pass and Lone Butte Casinos, Chandler, Ariz.