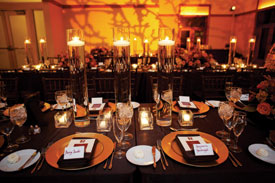 Simplicity is the new trend this fall and winter, according to Blue Plate Catering in Chicago.
"Since a lot of companies are skimping down on their budgets, especially on the décor side of things, they're exploring more cost-effective tabletop options," explains a statement from the design team.
"A tabletop full of votives or tall candles is a great way to save money, yet also make a statement. Another great idea for a cost-effective tabletop that also makes a statement is using greenery such as wheatgrass, twigs and vegetables like artichokes, instead of floral."