A small chain with big plans, Mama Fu's Asian House is set to sizzle in the burgeoning Asian fast-casual segment.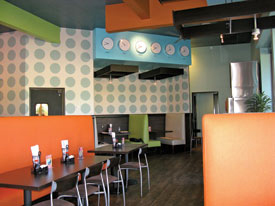 Mama Fu's, a 13-unit chain, was launched in 2004 as one of nine brands owned by Atlanta-based Raving Brands, which soon found it didn't have the wherewithal to grow it. As the brand began to falter, Randy Murphy, its Austin, Texas, franchisee, saw a chance to jump in and take it where Raving Brands couldn't. Through his Murphy Restaurant Group, he purchased Mama Fu's in 2008 and over the past three years has made moves to right the ship and reposition the concept for growth.
"Our goal was to take the brand, put infrastructure in place, button everything up — from supply and distribution, to marketing and branding, to prototype — and get it ready to start franchising again," Murphy says. "We firmly believed in this brand and more importantly in the Asian space. We knew the Asian segment was about to blow up and we've worked the past three years to put together a franchiseable vehicle within it."
With the economy down and access to capital dried up, Murphy says in hindsight his company's timing was good.
"During the first two years, when we were getting our act in gear and our model put together, nobody else was doing any development either," he says. With nine company-owned units and four "legacy franchisee" units operating as of early this summer, Mama Fu's is now on the cusp of what Murphy expects to be modest but steady growth and national expansion. As this article was being written, he said four new units were expected to open this year followed by another 15 in 2012.
Material Differences
Murphy's biggest step in getting Mama Fu's ready to grow was to focus on the prototype, now in its second iteration under his company's ownership. Phase one, completed in 2009, accomplished two important goals: "It made the prototype more in line with the brand itself, more customer-centric. It also significantly reduced start-up costs," Murphy says.
The 2009 prototype revision didn't shrink the then 3,000-sq.-ft. footprint, but it brought costs down in other ways. "We first said let's just make it better — better, more durable materials; better flow; better branding; more efficient; more customer-centric," he says. "We made a ton of changes. The original prototype incorporated things that were very expensive, such as granite tabletops that ran about $500 each. For a fast-casual restaurant, that just didn't make sense. We changed to a faux wood with a kind of PVC wrap to it. It looks better, is indestructible, much lighter and more durable."
Murphy's group also changed wall finishes and flooring. Expensive five-layer faux finish painted walls above and below the chair rails are now partially covered with a vinyl wood flooring material that doubles as paneling/wainscoting. Pricey and impractical quarry tile and carbonized bamboo floors were replaced with vinyl wood composite flooring that complements what's on the walls.
Equipment, too, was zeroed in on as a way to cut costs. Whereas the original prototype specified custom equipment, Murphy switched to standard versions of products such as reach-in coolers, pass-through shelves and stainless steel prep tables. Equipment and fixtures such as prep stations and sinks are now also cross-utilized to increase efficiency. "We have very little, if anything, anymore in our kitchen that's of custom size and build," Murphy says. "That's part of the reason we were able to reduce our opening costs and position ourselves better to begin franchising. If you were to break our cost savings on build-out between two main areas, construction materials and equipment, probably 15 percent to 20 percent was equipment and the balance was on the construction side. All told, we reduced unit opening costs from an average of $750,000 to an average of $500,000."
2.0: Space Optimization
Phase two of Mama Fu's prototype revision debuted earlier this year bringing with it new operating efficiencies. Specifically, better, more strategic use of space enabled a reduction in the prototype's footprint from 3,000 to 2,500 sq. ft. A relatively large chunk of space came out of the kitchen. "We realized we had a lot of extra space, a lot of squares in that kitchen that didn't need to be there," Murphy says.
Among changes made in the back of the house was to "go vertical," raising the interior deck of the kitchen to incorporate 7- to 8-ft.-high storage areas. "We also made the office a lot smaller," he says. "We'd just gotten into this habit of making a bigger office back there because that's the space we had, but clearly we didn't need an office that large."
The size of restrooms was also reduced slightly. "Between changes in the kitchen and the restrooms, we cut about 400 sq. ft.," says Murphy.
Space was also gained through slight reductions in the seating area, a move made possible by the chain's dramatic growth in off-premise sales. In 2008, when Murphy Restaurant Group bought the brand, takeout comprised 24 percent of sales. It's now 40 percent, a shift that necessitated both operations and seating changes to the prototype.
As a franchisee, Murphy said he was surprised at the number of requests he got for delivery, so he added it. When he bought the brand, he implemented it system-wide, which then led to being able to pursue more catering business.
"People expect Asian food to be mobile, so we naturally transitioned over to that," Murphy says. "Once we added delivery, it all came together. I don't think we ever realized off-premise would become almost half of our sales, so in our second prototype revision we made changes to better accommodate people waiting for orders, as well as the prepping of delivery and catering orders. We redesigned the point-of-sale area for better flow and also were able to take out some seats. This way, we're still at capacity at peak times simply because almost half of our business is never sitting in the restaurants."
Flex Casual: Best of Both Models
For customers who do choose to dine in, Mama Fu's offers a unique service model that Murphy characterizes as "flex casual." At lunch, when quicker service is desired, the units operate in traditional fast-casual mode. At night, they shift over to full-service with seating by a host/hostess and table service. It's a model Murphy implemented in Austin as a franchisee and one he says has been "wildly successful."
"I was a firm believer in the fact that most people want fast-casual during the day and full service at night. I implemented this in my units in Austin and, in looking at the numbers, realized that while I was doing the same volume as others in the group my revenue was higher. I had an $18-plus check average versus my counterparts' $14 average. The model resulted in bigger tickets and a stronger customer base at night because I attracted bigger parties, bigger family groups, etc. Once we took over the brand we implemented flex casual as our strategy for all units going forward."
Mama Fu's look and feel has been carefully designed to make both ends of the service spectrum work seamlessly and to provide a consistent customer experience, whether at lunch or dinner. Colors were chosen to create a neutral palette of dark, rich chocolates and subtle colors on the floors, lower wall areas and tabletops that show off the white china and colorful food. Upper walls and ceilings are where the aesthetic beauty comes in, Murphy says. "If you look up, that's where you'll see beautiful colors and architectural details. Contemporary music plays and plates, flatware (no disposables), chopsticks and napkins are pre-set on the tables so guests don't have to get their own. The atmosphere is comfortable but more upscale than most fast-casual restaurants."
Part of creating a subtle but strong level of comfort is what Murphy calls the "I get it" factor. In the second revision of the prototype, in particular, emphasis was placed on flow and overall customer experience as much as on operational space optimization. "The look and feel are the same, but it has to do with making sure that when customers walk in it's clear where they need to go and what they need to do. They'll always be greeted, but people like to feel like they know what's going on and be comfortable," he says.
Key to the concept's atmosphere is its open window to the kitchen, which Murphy says helps to create a contemporary Asian feel. Behind that window, in the heart of the house, are three primary kitchen stations: the "drahma" station, where the components of each meal are assembled; the wok station, where they're quickly cooked and sauced; and the pantry station, where salads, appetizers, fried items, kids' meals and desserts are prepared.
"Every dish we serve is made to order, whether it's as written on the menu or customized to the guests' request," Murphy says. "As such, the drahma station is critically important. All of the fresh vegetables and proteins for each dish are assembled there. They're then passed to the wok cooks."
A typical Mama Fu's wok station has six woks, which heat to 800 degrees F, and two stockpot burners, which hold boiling water used to blanch vegetables and noodles. All proteins and vegetables are fresh and cut in-house. One cook usually mans two wok rings and a stockpot. Once cooked, the items are plated and passed back through the line to the window, where white, brown or fried rice is added if needed, before the plates are picked up in the window for service to guests.
Murphy describes Mama Fu's menu as Americanized Asian. "We're not trying to be authentic Asian," he says. "Our food is very approachable, appealing to Americans, with fantastic unique flavors. We have a pre-set menu but everything's pretty customizable. We also have plenty of things that can be added on to build check averages and enhance the dining experience, such as soups salads, appetizers and desserts."
The concept's top-selling entrée is Pad Thai, offered with customers' choice of protein — as are most entrees. Other best sellers include Spicy General Fu's, Thai Cashew Stir Fry and Seared Ahi Tuna Steak served with wasabi mashed potatoes and Thai green beans. If it seems the menu has a strong Southeast Asian flavor, that's by design. When Murphy Restaurant Group acquired the brand one of the first moves made was to expand the menu in that direction. "Two or three years ago we recognized that Southeast Asian was a growing trend. Now, it's hitting full force and it's a strong part of our menu."
Among new items hitting Mama Fu's menu are Island Green Curry, Thai Masaman Curry, Pho (a beef broth soup), Mt. Fuji (an ice cream dessert that "smokes"), and Vietnamese Street Sandwiches served with crinkle-cut sweet potato fries. Murphy expects the sandwiches to help build lunch business, bolstering a current lunch special that makes five favorite menu items available in smaller portions at smaller prices.
While alcohol is sold, in the form of beer, wine and sake, it's not a big revenue generator — maybe 3 percent to 4 percent of total sales. Several varieties of tea — mostly served cold, given Mama Fu's current southern geographic reach — are brewed fresh.
Infrastructure in Place
With the new prototype working well, opening costs reduced and menu innovation continuing to draw in new fans, Murphy feels the time is right to pursue growth through franchising. "Going forward, that's our growth strategy. We'll probably add corporate stores at a rate of one or two per 50 to 100 franchise locations," he says. "With nine corporate stores already operating, we have a fantastic base with which to grow the brand and continue to develop it, whether it's through F&B or training or test marketing initiatives."
Mama Fu's also has the strong management team it needs to grow, as well as the sophisticated technology in place to do so smartly and profitably. Though small relative to other chains, the group has secured a supply and distribution deal through Tailor Made Distribution Services, a network of regional, non-competitive independent broadliners who work together to service chain business. "It's set up so that as we grow we can pick up participating distributors in other regions who will follow our set order guide and pricing. That's helping to dramatically reduce our operating costs."
A new technology and accounting infrastructure has been put in place, as well. "Everything we need from a financial standpoint to run our locations is now in place, from back-end systems to the daily reporting tools that are critical for management, to labor scheduling and fulfillment and procurement tools," Murphy says. "We try on a daily basis to run our business with software to make us smarter and more efficient," he notes. "If it can help us reduce costs or drive the top line, we'll put it in play."
One new high-tech application being rolled out this summer is a new video menu system for use by customers. Designed as a smart phone app, it enables customers to view an online video menu and see quick video clips of all of the different entrees on the menu.
Such commitment to enhancing the guest experience permeates Mama Fu's, and it's what Murphy is confident will, along with a fresh and innovative menu, propel the chain's growth. "Our mission is to have extraordinary service. We definitely come off as fast-casual, but when you come in you're going to have great service, great food, the price will be good and when you leave you'll say, 'Wow, that was a great value.' We try to hit all those important categories. We do it through atmosphere, service and food quality."
Key Players:
President & Chief Executive Officer: Randy Murphy
Chief Operating Officer: Steve MacManus
Franchise Ops Director: Cody Armand
Franchise Sales Director: David Boatright
Food Distributor(s): Tailor Made Distribution (currently Ben E. Keith Foods, Cheney Brothers, Merchants Foodservice)
Smallwares & Equipment: Beltram, Concept Services
Architect: ID Studio 4, Scott Windle, Irving, Texas
Design: Backlot Productions, Atlanta
---
Facts of Note:
Founded: 2004, under current ownership since 2008
Headquarters: Austin, Texas
Menu signature: Fresh, made-to-order Asian-inspired fare
Service model: "Flex Casual" (fast-casual lunch/full-service dinner)
Services: Dine-in, takeout, delivery, catering, online ordering
No. units: 13 (9 company owned, 4 franchised)
Annual Sales: $16.5 million projected for 2011
Off-Premises Sales: 40 percent of total
Key expansion markets: New Mexico, Texas, Oklahoma, Arkansas, Louisiana, Florida, North Carolina, Pennsylvania, Massachusetts, Washington, D.C.
Hours of operation: Lunch and dinner daily
Average customers/transactions per day: 285 customers/180 tickets
Average checks: $18.50 ($12 lunch; $24 dinner)
Average unit size: 2,500 sq. ft.; 75-85 seats
Total unit cost: $500,000+
Kitchen space: 700 sq. ft.
Total equipment investment/unit: $142,000