While many chains continue to downsize their footprints, 57-year-old Straw Hat Pizza takes the opposite route. A new prototype features bigger stores with a contemporary look and feel, a bigger, more diverse menu, and in-restaurant Tower 27 frozen yogurt stations — a whole new self-serve branded "concept within a concept" that's helping to drive incremental sales growth.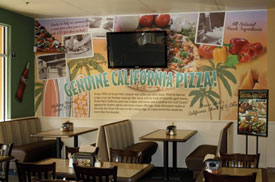 "We went from an average of 2,000 to 3,000 square feet in the old units to 4,000 to 5,000 square feet in the new prototype. And we completely re-did our décor," says president Jonathan Fornaci. "It's much more upscale, with earth tones and leather. At the same time, we kept to our core values, which are very family- and community-focused." All Straw Hats include a roughly 200-sq.-ft. arcade room for kids, and all new units have TVs throughout, both on the walls and at the booths."
Fornaci says that the new prototype has lower opening costs — $100,000 to $250,000 — compared to the old units, which ran $350,000 to $500,000. Some of the biggest savings have been realized in décor and equipment, which franchisees are encouraged to buy used.
On the menu, Straw Hat's signature pizzas are now joined by a "grill" menu, including burgers and other grilled sandwiches, steaks, seafood and made-to-order pasta dishes. The change has broadened the chain's appeal, boosting traffic and repeat visits. Tower 27, so far implemented in seven stores and being rolled out in all new units going forward, adds a fun, self-serve dessert option and builds sales between traditional meal periods. "Pizza is still 60 percent of our total revenue, and always will be our core and our signature, but the changes we're making are about offering diversity and different options for both adults and families."
Fast Facts
Year founded: 1954
Headquarters: San Ramon, Calif.
Menu specialties: California crust pizza, signature MasterPizzas, Hot Hat stuffed sandwiches, salad bar
Service model: Family-style casual dining, takeout, delivery
Units: 81 (99% franchised)
2010 sales: $55.4 million
2010 growth: Revenue grew by 20.3 percent, units by 13.5 percent
Projected 2011 growth: 15.2 percent revenue increase, 14.7 percent increase in units
Key expansion markets: Nevada, Montana, Texas, Illinois and D.C. metro area
Typical location: Freestanding restaurant or strip center/shopping center end cap
Average unit size: 4,000–5,000 sq. ft.
Average kitchen space: 850–1,200 square feet
Average covers per day: 162 to 204, depending if the unit has a lunch buffet
Average check: $18.30
Total equipment investment per unit: $94,000–$132,000
Total unit cost: $211,000–$392,000, including $35,000 franchise fee
Key Players
President: Jonathan Fornaci
Vice President of Operations: Allen Strege
Smallwares & Equipment Dealer: East Bay Restaurant Supply
Food Distributors: Roma Foods, Food Services of America
Marketing: Duke Marketing