Paul Klein, a longtime foodservice equipment and supplies dealer, passed away on January 15, 2023. The past owner of Atlanta Fixtures, Klein was 90 years old. Klein owned the company for close to 60 years.
Edward Don & Company acquired certain assets of Atlanta Fixture Co. in November of 2017. At the time of the sale, Atlanta Fixture had reported annual sales of $57.95 million, making it the 28th largest foodservice equipment and supplies dealer in the country, per FE&S' 2017 Distribution Giants Study. FE&S recognized Atlanta Fixture with its Dealer of the Year Award in 1997.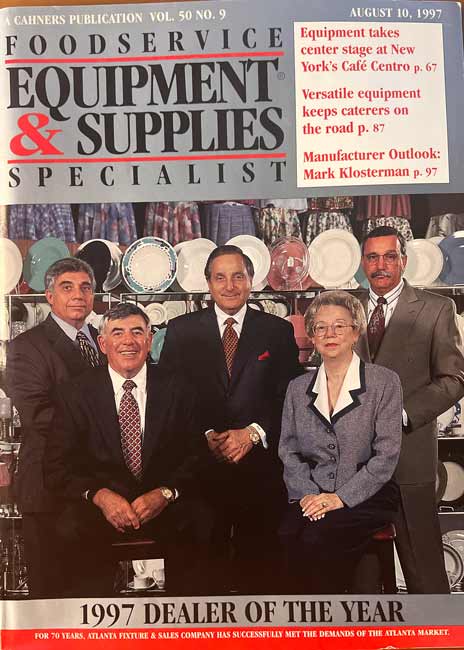 FE&S recognized Atlanta Fixture with its Dealer of the Year Award in 1997.Klein was very active within the dealer community, playing prominent roles with buying groups ABC and IFED as well as Supply America.
As news of Klein's passing spread, members of the dealer community shared fond remembrances.
"I have a special place in my heart for Paul as he gave me an opportunity and said, 'just do your job,'" says Chuck Day, now the owner of Manning Brothers, another Georgia-based dealer. "He was always there to support you."
Adds Brad Pierce, president of Florida-based Restaurant Equipment World, "I never really interacted with him for years, then one day we got to chatting and everything changed in an instant. From that day forward, I'd see him across the room and before I knew it he'd be breaking through the crowds with a big grin on his face and I knew a great conversation was ahead of me. Once you were in his inner circle, Paul would give you the shirt off his back. He was a smart guy and in so many ways was ahead of his time in embracing technology."
Klein is survived by his daughter, Dana Klein. An obituary is available here. Memorial donations may be made to alz.org or a charity of your choice.