Sales of foodservice equipment and supplies will increase by 11.3% in 2022, per projections from the Manufacturers' Agents Association for the Foodservice Industry.
In releasing this data, MAFSI struck a cautionary tone in describing the current operating environment. "The Foodservice E&S supply/demand relationship is still out of balance as waves of COVID-19 and its variants continue to play havoc with normal order fulfillment parameters, particularly regarding pricing and availability. This imbalance is exacerbated by advance ordering, in an attempt to beat price increases and doubling up of stock orders to lock in delivery positions effected by long lead times," the association says in a release. "As manufacturing capabilities expand, backlogs will gradually decrease and order rates will return to historic industry growth rates, likely between 2% to 5% per annum. Only time will tell how long this de-escalation will take to unwind and whether pricing will hold as demand normalizes."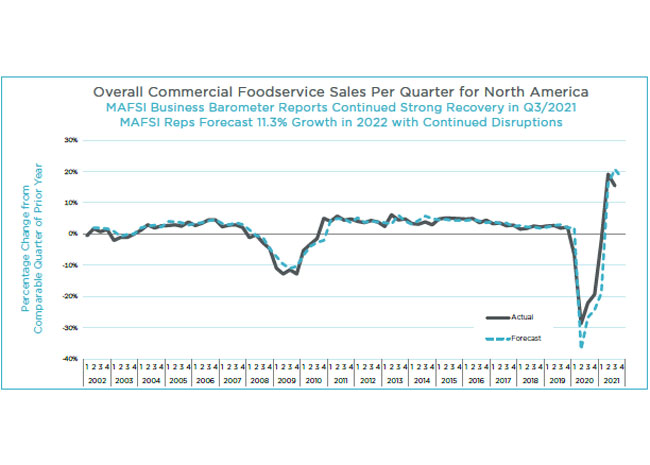 Chart courtesy of MAFSI
For the third quarter of 2021, sales of foodservice equipment and supplies increased 15.4%, per MAFSI's Commercial Foodservice Business Barometer. While solid, this growth was less than the 20.7% increase reps had projected. It was also less than the 19.1% growth in sales experienced during the second quarter of 2021.
Looking at third-quarter sales by product category, tabletop led the way with a 19.4% increase, followed by equipment at 15.7%, supply items at 13.2% and furnishings at 8.0%. Geographically, sales in the Midwest increased 17.5%, followed by a 15.9% growth in both the West and Northeast at 15.9% and 14.9% in the South. Canada posted a 10.6% sales increase.
At the time of the survey, MAFSI members projected a 17.9% sales increase for the fourth quarter of 2021 compared to the same period in 2020. In addition, 60% of reps report increased quoting levels while 48% see increased activity among foodservice consultants.