As consumers continue to embrace the concept of eating local and supporting area businesses these trends continue to make their way to college foodservice operations across the country.
The menu at Pitt Eats' Wicked Pie concept includes locally sourced items.Take, for example, Pitt Eats at the University of Pittsburgh. Working in conjunction with Chartwells Higher Education, the Pitt Eats team developed two of its own foodservice concepts, PA Taco Co. and Wicked Pie, to replace nationally branded restaurants that had previously operated on campus.
"The switch from national to internal concepts allows us to provide more inclusive offerings and flexibility with the menu," says Quintin Eason, Pitt Eats vice president of operations. "These concepts also allow us to play with recipes and menu items that better match the needs and trends that today's college students want."
Each concept draws on local traditions and tastes to create a unique flavor profile. Wicked Pie's menu features local produce, sausage, and allergen-friendly ingredients. Staff makes the 12-inch pizzas to order. The pies cook in 90 seconds in a rapid-cook oven. "Pizza is a staple if you're a college student, but quick-service pizza has always been limited," says Pitt Eats Chef Danielle Gallaway "Items had to be made well ahead of time, pre-cooked and reheated. Our new oven allows us to make the pizzas when they're ordered so they're fresher and we can offer a greater variety of ingredients to create better-tasting pizzas."
The oven at Pitt Eats Wicked Pie concept churns out pizzas in 90 seconds.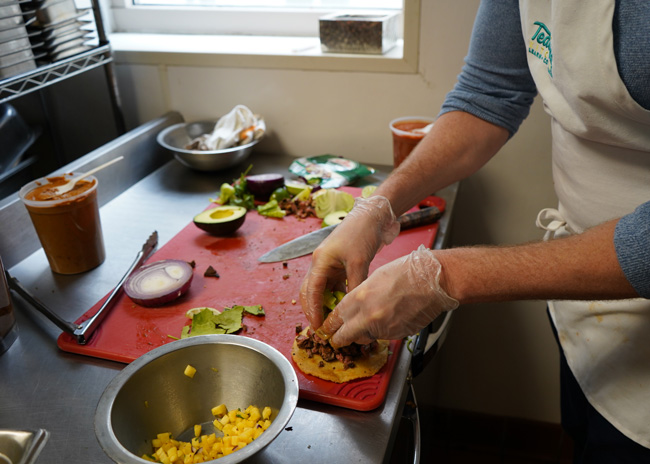 Scratch made tacos are on the menu at Pitt Eats' PA Taco Co. concept.The PA Taco Co. menu includes scratch-made corn tortillas, local halal-certified beef, vegan and allergy-friendly items. "The taco is probably the most familiar, if not most popular of all street foods," says Gallaway. "Its versatility lets you experiment with so many combinations that you can sauce and season however you prefer. Add to that it's portable, and you create a simple, savory meal that fits in the palm of your hand."
The debut of the pizza and taco concepts come on the heels of Pitt Eats having rolled out Smokeland BBQ earlier this year. In contrast to the other concepts which are more traditional restaurants, though, Smokeland also includes a smoker and a food truck.