Red Lobster is casting its net with the hope of snagging a new CEO. That is because casual dining chain's current CEO, Kim Lopdrup, has announced his plans to retire. Lopdrup intends to remain in his role until Red Lobster names a successor.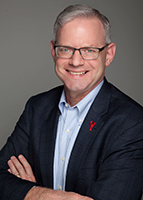 Kim Lopdrup"The pandemic is finally winding down, and Red Lobster has emerged with the best menu we've ever had, vastly-improved off-premises systems, a stronger business model and over 10 million members in our loyalty program, My Red Lobster Rewards. We have great initiatives in the pipeline and a terrific leadership team in place," Lopdrup says in a company release.
Lopdrup has led the seafood restaurant chain for 14 years, first joining Red Lobster when multiconcept operator Darden Restaurants owned it. He oversaw the transition from Darden's ownership to an independent company in 2014.
"The COVID-19 pandemic was the greatest challenge Red Lobster has ever faced. We had to make rapid pivots to keep everyone safe and meet our guests' needs for safe, convenient off-premises experiences with Rapid Red curbside pickup, delivery and the introduction of Family Feasts," Lopdrup says. "We tripled our off-premises sales and then gradually reopened dining rooms as COVID-19 faded. We have hired about 20,000 employees since the beginning of January."