Stone Culinary Center at Wilkes Community College expands the culinary arts and baking and pastry programs.
Wilkes Community College (WCC), located in the foothills of the Blue Ridge Mountains and the Brushy Mountains in Wilkesboro, N.C., offers students associates degrees in culinary and baking and pastry arts programs. Until last summer the programs were housed in a building constructed in the late 1970s. "The kitchen wasn't, any longer, modern or designed for the number of students participating in the programs," says Morgan Francis, senior vice president of administration and chief financial officer at WCC.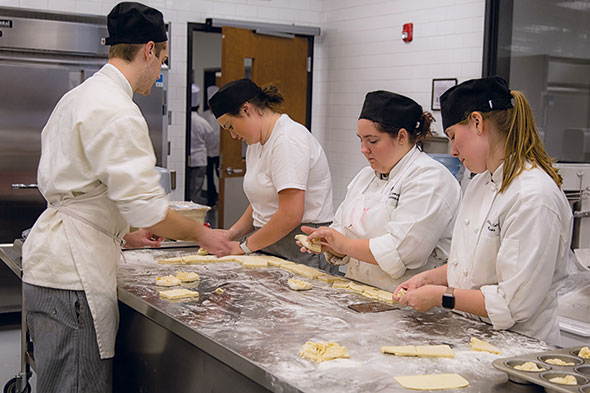 Students practice the delicacies of baking. Photos by Monty Combs

A new 8,000-square-foot building, which opened in July 2019, now houses the culinary and baking and pastry arts programs. The old building was repurposed to expand Wilkes Early College High School, which resides on the WCC campus, and provide cafeteria space for those 300-plus students. The new state-of-the-art facility offers college students and instructors an entirely new learning environment.
"Providing instruction in this exceptional environment helps our instructors prepare students for employment in a variety of hospitality settings," says Kristen Macemore, dean of business and public service technologies at WCC. "Training on modern equipment gives our students a leg up for higher-level positions when entering the field. Our culinary and baking and pastry arts programs have stood out in our community college system for years, but the transition takes us to a new level."
Chefs Celena Nilo and Chuck Wallace stand in front of the day's agenda on the white board behind them.
In addition to serving college students as a hands-on educational venue, the new facility also allows the college to serve the community in a variety of ways. "We've expanded our noncredit course offerings for adults as well as summer youth enrichment programs, offering summer camps and institutes where young adults can explore the creative fields of culinary and baking and pastry arts," Macemore says.
During the school year, guests can dine in the 32-seat dining room for Global Cuisine Thursday, a sit-down lunch prepared by students. Customers pay just $16 per person for a three- to five-course lunch. Guests also can purchase baked goods at sales held throughout the school year.
Floor-to-ceiling windows allow natural light to brighten interior spaces. The windows on the left allow guests to see the kitchens in action.
Food Storage and Preparation
When food deliveries arrive at the back door, delivery drivers transport them to a walk-in cooler and walk-in freezer, as well as dry storage. "The storage area is partitioned off from the rest of the building to allow for secure deliveries during and after school hours," says the project's foodservice design consultant, Jennifer Murphy, FCSI, LEED AP, project manager at Camacho. A set of double doors provides entrance and exit passage from the building's exterior to the storage area. Another set of double doors separates storage from the classrooms.
Three separate kitchens allow instructors to teach students various skills. The equipment lineup enables students to prepare myriad menu items during each course. Anyone walking through the facility has an unobstructed view of the students working in the space via windows in the hallway. That setup was important to Kimrey Jordan, the college's executive chef, who worked closely with the project team before retiring last year. He brought many ideas to the kitchen design from his visits to culinary schools in France, Spain and Italy. Students also joined him on those trips at times.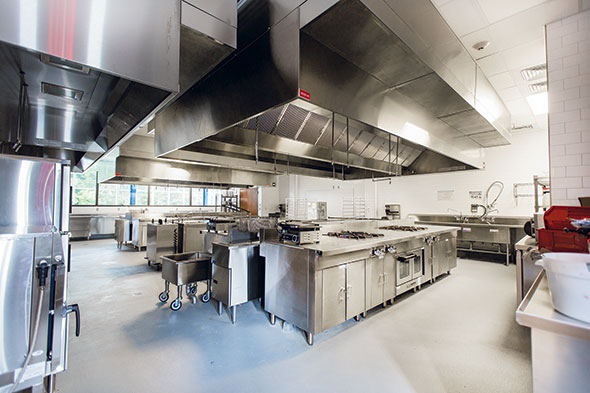 A full array of equipment helps students gain valuable experience in the classroom labs so they are prepared to work in myriad venues after they graduate.
The cold lab contains workspace and equipment for the production of garde manger and confections. This space, which can be kept at 60 degrees F and low humidity, features two central island counters with built-in pan racks and storage. Equipment stands with seven-quart mixers and induction warmers flank the cold lab. Students and instructors use a chocolate tempering machine to mix and heat chocolate to the proper temperature for molding candies, coating or dipping. "Two induction warmers and the tempering machine give students the experience of cooking with electricity rather than gas, which is used in the hot lab, and to reduce the amount of heat produced in the lab," Murphy says.
"We're also using marble slabs for tempering, which is an advantage," says Chuck Wallace, BS, executive chef, baking and pastry lead instructor at WCC.
Following a European model, much of the equipment sits on curbs. "There are no open spaces for food and dirt to get in between the equipment," Murphy says. "Some equipment is welded together. Overall, the equipment is easily cleanable and looks professional."
A large dough sheeter, proofer and 30-quart mixers sit against the wall that offers views into the classroom. Enclosed storage, prep and washing sinks are on either side of the room.
An oven room between the bake lab and hot lab contains a large three-deck, steam-injected stone artisan bread oven and a double-stacked convection oven to allow both labs to access the equipment and help keep heat out of the bake lab.
"In addition to the chocolate and confections, we put a lot into the baking program and produce bread, cookies, strudel, croissants and puffed pastries," Wallace says. "We have a new deck oven, which is a different and smaller model than we had for many years, and we're figuring out how to make it work to get the results we want." Designers also designated space for students to place the bread and pastries when removed from the oven.
The Hot Lab
"I wanted each student to have a workspace next to the burners rather than at a table across from them," Jordan says. The new kitchen features two island a la carte cooking stations and a production cooking line on the west wall of the lab. Closed storage under the workstations holds utensils so students can easily access them rather than traveling across the kitchen to a mass storage area.
Students learn the art of sauteing and grilling.
"One workstation in each lab also meets American Disability Act requirements," Murphy says.
The two a la carte cooking stations each contain a fryer, two ranges (each with six open burners), a plancha, grill and countertop workspace. Eight students can work at each station. "To give them a more built-in appearance, the modular cooking units are stationed around a low wall with an overshelf," Murphy says. "These resemble island cooking suites and give the look without the cost."
The production cooking line allows students to prepare larger quantities of food on a six-burner range, a wok station, a braising pan, a double-stacked steamer, griddles and countertop space. A combi oven gives students experience using this equipment to make prime rib, lamb and vegetables, according to Celena Nilo, AAS, executive chef, culinary arts lead instructor.
Each lab contains a three-compartment sink. A centralized wait station and dishwashing area are accessible through the main corridor adjacent to the dining area. The area contains a ventless door dishmachine for washing serviceware used duringa la carte meals.
A student learns to saute.
The mixology station sits in the dining area. It contains an undercounter refrigerator, ice dispenser and tea brewer. Students don't serve drinks with alcohol, but they get barista experience by mixing juices and various liquids into mocktails.
Additional kitchen features include a blast chiller, which allows students to freeze foods in 30 minutes in contrast to the many hours the former ice baths required. Instructors move mobile interactive display screens throughout the building to facilitate instruction. Near the back of the building sits a library for storing recipe books from all over the world, as well as a computer workstation where students conduct research. Outside the facility, raised planter beds allow instructors and students to grow fresh herbs and vegetables for the culinary program.
Wilkes Community College's robust culinary program offers more than many other colleges, which will no doubt attract students looking for a full culinary experience.
About the Project
Wilkes Community College: The Wilkes Campus in Wilkesboro, N.C., comprises 17 buildings; it was founded in October 1964.
Stone Culinary Center: A new culinary school with an associate degree program. Summer courses include programs and classes for adults and youth. The new building includes a cold prep lab, a hot kitchen and baking lab, a pastry kitchen and a dining area open to the community.
Opened: July 2019; classes started in August 2019
Size: 8,000 sq. ft.
Seats: 32. One table is forever reserved in memory of Bob Hege, a trustee of the college and a champion for the culinary school project, who died in January 2018.
Hours: Vary by course, but the center is open Monday through Friday
Menus: Global cuisine
Staff/restaurant crew: Two full-time instructors; three adjunct instructors, plus students
Students in labs: No more than 21 per lab section
Covers/transactions: 32 each Thursday for a multiple-course lunch
Average check: $16 per person prix fixe for a 3- to 5-course lunch; $2 to $8 for bake sale items
Total project cost: $2.5 million, including construction costs and exhaust hoods
Equipment investment: $380,000
Website: wilkescc.edu
Key Players
Owner: Wilkes Community College
President: Dr. Jeff Cox
Senior vice president of administration/chief financial officer: Morgan Francis
Vice president of institutional advancement, Wilkes Community College and executive director, WCC Foundation: Allison Phillips
Dean, business and public service technologies: Kristen Macemore
Executive chef: Kimrey Jordan, retired
Executive chef, culinary arts lead instructor: Celena Nilo, AAS
Executive chef, baking and pastry lead instructor: Chuck Wallace, BS
Architect: LS3P Associates, Charlotte, N.C.; W. Scott Baker, vice president, principal and project leader, higher education projects
Foodservice design consultant: Camacho, Charlotte, N.C.; Jennifer Murphy, FCSI, LEED AP, project manager
Equipment dealer: America's Food Equipment, Inman, S.C.