Duality is a modular pop-up kitchen that can offer operators the flexibility to provide foodservice across a variety of environments. This concept was on full display at HX: The Hotel Experience, which took place during November in New York City.
Joseph Schumaker, FCSI, founder and CEO of FoodSpaceThe fully customizable piece allows operators to prep, cook and serve more food in less space, and support growth of foodservice in nontraditional spaces like airport lounges, grocery stores, corporate and residential buildings, outdoor venues and small-scale catering setups. The modular solution features six components that operators can arrange into dozens of configurations. At the end of service, the pieces fit back together in the shape of a circle or doughnut with a recognizable yin-yang at the center made up of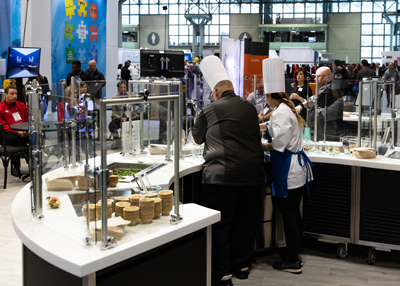 Duality pop-upthe cashier/condiment and handwashing stations that can be set up separately from the main piece.
Duality was conceptualized by Joseph Schumaker, FCSI, founder and CEO of FoodSpace.