Everyone in the foodservice industry understands the critical importance of following proper food safety and sanitation procedures in any type of food facility. News outlets often share stories of the dangers and consequences of foodborne illnesses for customers and for the establishments they patronize. Yet food safety inspections conducted by local and state health departments continually turn up a potpourri of results, from near perfect to horrifyingly dirty.
This is particularly surprising given that information on the proper way to clean and sanitize everything from the largest freezer to the most compact condiment stand is readily available from myriad sources. The National Restaurant Association, through its Education Foundation, not only provides such information but even offers its ServSafe certification program to ensure that every restaurant worker has the knowledge needed to carry out his or her duties safely and to guarantee an environment safe for customers to dine in.
What makes some restaurants and institutions better than others at the painstaking process of cleaning and sanitizing their kitchens and dining rooms? What are some of the best practices for ensuring the safety of customers and not incurring the wrath of health departments?
Have a Plan
Operators should set a cleaning schedule for the most heavily used areas and pieces of equipment in the kitchen, according to Parts Town, a foodservice equipment parts supplier in Addison, Ill. Some examples: boil out fryers once a week, thoroughly clean storage areas every six months, scrub down walls and ceilings monthly — biweekly is better — and wash out and sanitize equipment such as ovens and reach-in coolers on a weekly basis.
Diligent operators include as much detail as possible in those schedules, right down to the day of the week or the hour of the day. Marlow's Tavern, a chain of upscale gastropubs in the Atlanta area, uses a spreadsheet to track every piece of kitchen equipment.
"If [an item] is blacked out on a particular day, that's when we clean it," explains Ben Krawiecki, research and development/purchasing manager for Marlow's. "Cleaning and sanitation are two different things. For instance, we will strain and clean the fryer filters, but on deep-cleaning days, we're separating one fryer from the others and giving it a much more in-depth job, inside and out. Monday will be the left fryer, Tuesday the middle fryer, and so on."
In addition, the kitchens have a line check sheet with every item each station uses. Krawiecki says the last — and most important — item on the list are the sanitation buckets. "Not only are the buckets verified, but the solutions inside them as well," he adds. "The buckets are also marked with a time stamp, just like food. The stamp expires every four hours, which is when we have to change the sanitizing solution."
At the University of Illinois at Urbana-Champaign, University Housing Dining Services takes the cleaning schedule a step further by having employees take responsibility of specific areas for a week at a time. These workers, who are designated food sanitation laborers, sweep and mop, remove trash, run the dishmachines and clean all of the back-of-the-house equipment.
"We have a master cleaning schedule for each unit," says Kathy Adams, culinary training coordinator. "Then we have the labor assigned to an area: the pot and pan room, the chophouse, etcetera. Each day there are very specific things they need to accomplish, such as taking down the hood vents and cleaning them, cleaning the oven, boiling out the fryer. A supervisor checks to make sure things are done correctly. A lot of this is done weekly, but heavily used items get daily treatment."
The foodservice team at The Ohio State University Wexner Medical Center in Columbus, Ohio, designates people to handle certain tasks to help ensure that cleaning gets done in a timely and thorough manner. "For example, in our cafeteria, which serves 5,000 people a day, we have a single person whose job is to take care of the front of the house, cleaning tables as often as possible," says Mike Folino, associate director of nutrition services at Wexner Medical Center. "Having that assigned is a critical piece of the sanitation plan. Not only is it easier and more effective than expecting people to do tasks when they see a need, it also gives a sense of pride and ownership to that person."
Although foodservice staff are usually responsible for cleaning and sanitation, sometimes outsourcing certain cleaning tasks makes more sense. Folino says that his staff clean everything in the kitchens except exhaust hoods, which an outside firm handles. The hospital also subcontracts the cleaning of carpets, ceilings, walls and ice machines throughout the medical center as well as in foodservice spaces.
Monitor Yourselves
So, let's say a foodservice operator has the checklists in place and employees have been assigned to complete those tasks. How do operators know that the work is being done properly — or at all? A poor health department inspection (or, worse, reports of foodborne illnesses from an establishment) is not the best way to be informed. Smart operators stay proactive by checking up on themselves regularly.
At Wexner Medical Center, the nutrition services department conducts periodic audits of its operations. Even though managers conduct visual overviews of the facilities daily, Folino says the audits are more in-depth. "We always try to have someone come in from a different area — kitchen staff auditing the cafeteria, for instance — so that we're cross-checking each other. We always want to think of ourselves as being inspection-ready."
At The Skinny Pancake, a chain of 10 crepe restaurants in Vermont, employees from one location will go to another to inspect other units in the system. Not only does this allow the company to self-monitor, it also builds camaraderie within the organization, according to Michael Cyr, director of marketing for The Skinny Pancake.
Marlow's Tavern employees go through a similar process, using a one-sheet checklist to conduct 10-minute inspections of the restaurants and their kitchens. The run-throughs catch and correct errors and, according to Krawiecki, have the added benefit of giving employees confidence. "One of the key takeaways from this is that employees can see the things they do well," he explains. "It gives them confidence to know they are doing things right and they are then more comfortable when a health inspector walks in." Marlow's managers also spot-check employees, quizzing them on everything from cleaning stoves and sanitizing cutting boards to monitoring the temperature of foods on the prep line.
But Marlow's doesn't rely solely on its own people. The company also uses an outside service to periodically examine the operation, rate its cleanliness, and dispense advice on what managers and hourly employees could do better.
Monitoring equipment represents an important element of food safety, says Doug Davis, director of child nutrition for the Burlington School District in Burlington, Vt. "We keep temperature logs for our refrigerators and freezer," he says, "but we also have electronic monitoring for our walk-ins because you can see a breakdown coming. As compressors or anything else begin to fail, you will see temperatures start ratcheting up and you can take action."
Controlling the foodservice environment in little ways can also help maintain safety and sanitation. At the Burlington School District, as in many institutions and restaurants, staff receive uniforms that they don when they come to work and take off before they leave, "so we know nothing comes in from the outside," Davis notes.
Don't Fear the Inspector
One of the most nerve-wracking events in a foodservice facility is a visit from the department of health. But operators shouldn't necessarily view inspections in an adversarial light. Health inspections themselves can serve as beneficial learning experiences and the department can be an excellent resource for foodservice operators.
"The health department provides consultation to new food businesses and establishments seeking to expand activities," says Elizabeth Wirsing, food and lodging program chief for the Vermont Department of Health. "And for those conducting renovation projects, to support compliance with regulations and food safety best practices. We also provide food safety education."
Still, there is no substitute for being organized and in touch with all aspects of the operation. "We see better demonstration of compliance with food safety requirements when establishments have procedures in place that are documented and can be observed being implemented," Wirsing explains. "Active managerial control of foodborne risk factors is key."
Conversely, operators can learn a lot from a helpful health inspector, says Krawiecki. "We should use health inspectors as more of a resource. They are not someone coming to 'get us' but someone who can show us ways to do something better or learn something we missed."
In the case of Marlow's, the restaurant staff found out that the health department frowns on the use of single-use sanitation wipes currently available on the market. "We were using these wipes that companies are pushing for our tabletop sanitation in the front of the house," Krawiecki says. "They were approved almost everywhere and we thought it was great: a no-brainer. The health inspector comes in and tells us they are not approved by the Georgia Department of Health. The only approved methods here are to use a clean cloth with sanitizer solution followed by a dry towel, sanitizer spray wiped with a disposable towel, or spray sanitizer and air dry."
University Housing Dining Services at the University of Illinois changed its procedure for storing bags of pizza sauce after an inspector noted that staff working the pizza line weren't chilling the sauce properly when it was placed on the line, Adams says. So instead of storing the sealed bags at room temperature, staff now refrigerate them.
Wexner's Folino notes that he recently discovered that his operation needed to have a protocol in place for cleaning up vomit. "The inspector was checking everything and she asked where our vomit cleanup kit was," he says. "We didn't know what that was. The things we learn as regulations change."
But health departments aren't the only resource operators can turn to. Vendors can also provide guidance. Burlington's Davis says the new contract he negotiated with his primary distributor includes a continuing education component. "We pay for it, but they provide us with the space and they provide the books and the test materials so that we have access to everything we need," he says. "Sometimes in a rural area such as ours it's difficult to get someone to provide classes that are affordable to schools."
---
Center Stage Handwashing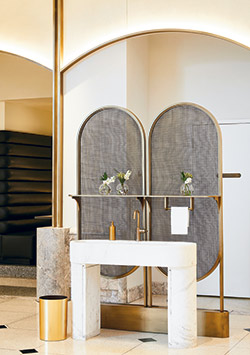 At Aster Hall, the upscale food court on Chicago's Magnificent Mile, diners find a common feature in a not-so-common location: A pair of oval hand-washing sinks sit just in front of the dining space. The quirky design element has a very real purpose: to promote food safety and sanitation to customers as well as staff. Stephen Stoll, executive operations director for Hogsalt, the restaurant company that operates Aster Hall, explains that the sinks are "an extension of the back of the house" that solve a common problem in multiuse buildings.
"In the space we are in [fifth floor of 900 North Michigan Ave.], we're a decent distance away from the restrooms," says Stoll. "To wash your hands, you would have to walk to the common bathrooms on the fifth floor or go up to the sixth floor. Not only food preparers, but diners, should have high standards for cleanliness and food safety. This extends those standards to the front of the house."
Customers in the 14-concept food court order and pay for their meals at a kiosk. Diners pick up their orders at one of two hubs before exiting to the dining room. The hand sinks occupy the space between the pickup areas and the dining space. With their marble pedestals, brass faucets and bronze screen backdrop, the sinks blend in well with Aster Hall's posh decor.
The sinks are not unique to Aster Hall; Hogsalt has done the same thing in the past at some of its quick-serve restaurants, such as Green Street Smoked Meats on Chicago's Near West Side. But the ones at 900 North Michigan are certainly the most prominent example.
"The customer feedback we get is, honestly, mostly curiosity," says Stoll. "They ask, why did you do this? But once they learn the why, everyone is really receptive to it."