Ernest Hemingway once spoke of change as coming about in two ways: "gradually, then suddenly."
A pomegranate granita infused with a THC tincture. But we're not talking about bankruptcy, as he was then; we are talking about pot.
Indeed, the cannabis conversation continues. Every day, it seems, there's a whirlwind of new education and proposed legislation aimed at decriminalizing the possession of cannabis while also changing the myths and stigmas associated with its use.
Cannabis is also big business. The U.S. cannabis industry could reach a whopping $75 billion in sales by 2030, according to estimates from research firm Cowen & Co.
In the food and foodservice industry, specifically, experts predict cannabis and CBD will continue to have an impact. The National Restaurant Association's What's Hot culinary forecast for 2019 cites CBD and cannabis-infused food and beverages as the year's overall top two trends.
The tide has certainly turned when it comes to cannabis legalization and use. In the U.S., medical marijuana with active THC is legal in 33 states plus Washington, D.C., as of June 2019, according to workplace safety and compliance services provider DISA Global Solutions. Due in part to the 2014 and 2018 Farm Bill, hemp is now legal for industrial production nationwide.
That most recent change has perhaps opened the floodgates for CBD, a non-psychoactive compound made from hemp, to become legal for use in an additional five states, according to DISA. The collective market for CBD sales in the U.S. will surpass $20 billion by 2024, according to projections from a study by BDS Analytics and Arcview Market Research. This forecast includes CBD products sold through licensed dispensaries, pharmaceuticals and general market retail, from cafes and smoke shops to grocery stores, pharmacies and mass merchants.
Recreational marijuana use continues to see increased legalization. It is currently legal in Washington, D.C., and in 10 states: Alaska, California, Colorado, Maine, Massachusetts, Michigan, Nevada, Oregon, Vermont and Washington.
In late June, the governor of Illinois, J.B. Pritzker, signed legislation making Illinois the 11th state to legalize recreational marijuana, effective Jan. 1, 2020. Recreational use is now legal in Michigan as well. A handful of other states are also considering legislation to relax laws on cannabis and bipartisan lawmakers have proposed federal legislation for national cannabis legalization, according to cannabisMD, an online platform for cannabis/CBD education. Last year, Canada became the second nation after Uruguay in 2013 to legalize marijuana on a federal level.
As more states set legal precedents, the stigma around marijuana fades. That also turns the tide for more chefs, food makers, restaurateurs and others in the foodservice world who are becoming "canna-curious," which is now a term.
All of this means it's time to learn the basics around the terminology and trends as it relates to cannabis cooking and kitchens.
Cannabis 101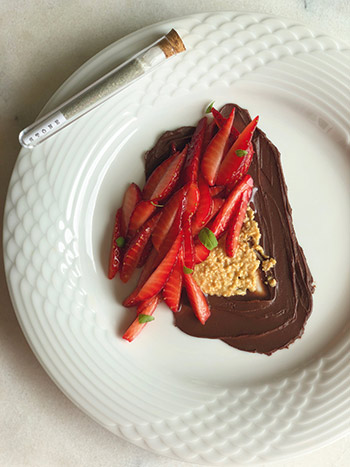 Concoctions created by Altered Plates include an infused chocolate ganache with peanut butter and strawberries More THC-infused products are on the market today than ever before, from sweet and savory edibles to vape pens and capsules.
Cannabis is arguably one of the oldest cultivated crops in the world. It has been used for both medicinal purposes and recreational purposes, including in cuisines, for thousands of years spanning multiple continents. In North America, some Native American tribes have historically considered cannabis a sacred herb and used it in ceremonies as well as for medicinal purposes.
According to the Bonn Institute of Molecular Psychiatry, the human body has receptors for cannabinoids, part of the endocannabinoid system, which regulates appetite, pain sensation, mood and memory. THC acts on these cannabinoid receptors, which are defined by two types: CB1, expressed mainly in the brain and central nervous system as well as in the lungs, liver and kidneys, and CB2, found in the immune system. Studies show that both THC cannabis and non-THC cannabis (CBD) can have positive effects on these receptors.
The medical marijuana community brought forward the notion that cannabis could be important for treating a handful of diseases. Many cancer patients rely on cannabis when they start losing their appetite after undergoing chemotherapy. It's also common among those who suffer from chronic pain.
A pomegranate CBD sour beverage The growing body of research and education around medical marijuana and its uses has trickled into the recreational cannabis community. It's also reflected in the range of products now available legally in some states without the need of a medical marijuana card.
Once mostly smoked in hash form by rolling and smoking joints or lighting up bongs and bowls, cannabis now seems to be more frequently consumed in a distillate, wax or powder form that users can inhale via vape pens or vaporizers. Edibles offer another option in the form of tinctures, candies and pills.
There are also a number of different strains on the market now, from heavier psychedelic ones to those meant to specifically assist with creativity, anxiety and stress reduction or to enhance sleep.
Cannabis Consumption Lounges
The tricky thing about cannabis legalization is that, while it may be legal to consume the product in a particular state, most states do not allow consumption anywhere outside of the home.
Yet as cannabis becomes more widely used, many of those who use it want to do so outside of the home. Most states and municipalities, even where cannabis is legal, however, prohibit consumption in public places.
Mussels and chimichurri paired with In The Pines, a sativa-dominant strain of cannabisOnce relegated to underground chefs, caterers and private dinner party hosts, cannabis' entry into the commercial foodservice space, albeit slow, seems to be due mostly to advocates in the food and hospitality sector. Political advocates are, of course, also strong proponents of cannabis education and welcome the passage of laws that allow new business licenses to serve the products.
The cafe or bar serving cannabis has just started to appear in the form of consumption lounges, typically in the back of dispensaries — retail outlets that sell both recreational and medical marijuana. In January, West Hollywood, Calif., became the first municipality in California to legalize marijuana. Several businesses, including restaurants and cafes, now hold licenses to serve the product, although final approval to move forward is still pending at the state level.
Budberry Founder and CEO Jon Locarni is one of those business owners who earned a West Hollywood license to open a cannabis store, consumption lounge and cafe with baked goods during the day and cannabis-infused beverages during the evening.
Chef Holden Jagger, with sister and chief mixologist Rachel Burkons, founders of Altered Plates, a cannabis consulting, events and product development company in Los Angeles, also earned a West Hollywood cannabis license. They intend to name their 3,500-square-foot social lounge and restaurant space Chroma and feature CBD and cannabis-infused food and nonalcoholic beverages.
Rachel Burkons and Holden Jagger, co-founders of Altered Plates, plan to feature cannabis- and CBD-infused food when they open their 3,500-square-foot social lounge and restaurant space in West Hollywood, Calif.
"This is still a new growth area and at this point, knowledge is scarce," says Jagger, who notes the irony of potentially allowing smoking (or vaping) in restaurants and bars after years of pushing cigarettes out of those four walls. "Cannabis is truly pairing driven and is often treated like wine," he says. "The idea is to push the regulations to create a safe space where people can enjoy the product."
Even celebrities intend to get in the cannabis game. For example, former boxer Mike Tyson has plans to open a cannabis-friendly resort in California.
Cooking with Cannabis
While the legislative pieces continue to shake out the business structure, the idea of cooking with cannabis continues to take shape. There are clearly special considerations that chefs must take when working with a controlled substance.
Part of cooking with cannabis requires education on the different ratios of potential THC-laced food or beverages. A bit like cooking to food-safe temperatures, cannabis brings with it a whole extra learning element.
To use in cooking, Jagger says, cannabis needs to first be heated to activate the psychotropic characteristics of THC (decarboxylation). THC can be extracted in other, more industrial ways, most notably "winterizing," which involves dissolving the extract in ethanol and freezing the mixture at sub-zero temperatures before removing the waxes, or through distillation methods that use liquid butane or propane solvent.
And then there are the measurements (ratios) of THC grams to food or flour that need to be taken into consideration for serving, especially if serving a multicourse meal. Also worth noting: THC-laced beverages tend to metabolize faster than THC in food. Too-high temperatures during cooking can also destroy the psychoactive and nutritional properties of cannabis and CBD.
Guests enjoy a cannabis-infused dinner.
Venice, Calif.-based Bull&Dragon chef Aaron Ziegler, a self-described long-time canna chef, hosts cannabis dinners three nights a week at his home. He doesn't charge for the dinners but accepts donations to educate and entertain cannabis enthusiasts in a safe, private setting.
Ziegler describes his dinners as precisely micro-infused, meaning the first course starts with as little as 3 milligrams of THC, then courses build to an "arc" and conclude with little to no use of THC in the final course.
Having cooked with cannabis for a decade, Ziegler is skilled at it. He even extracts his own THC using a commercial-grade distiller. The equipment for this type of on-site distillation is large, hard to find and expensive, so many cannabis chefs instead choose to make their own cannabis-infused butters or oils. One approach involves using decarbonized flowers, which a chef heats in a 250-degree-F oven for a couple hours and then grinds into a powder before blending with oils or butter. THC naturally binds well with fat molecules, so many cannabis chefs go this route.
Chefs and food makers can also purchase premade cannabis oil or butter, but just like any other high-quality ingredient, Jagger stresses that it's important to know your source.
Storage is another consideration as the product degrades over time, which causes the THC to degrade as well, according to Ziegler. "You want to store any distillate in the refrigerator and out of sunlight, but I wouldn't keep it around for six months," he says.
As it stands, there is no set HAACP plan for CBD or cannabis products or guidelines for serving them in a safe manner. "We are working with a substance that can be potentially dangerous, so I believe we need more regulation around serving and the infusions we purchase," says Ziegler. He has learned to pay close attention to his guests during dinners, not unlike a bartender scanning the field for anyone who has been overserved.
Chefs and restaurateurs are increasingly curious about cannabis-centered cuisine and concepts. "I think we will eventually see a seamless, hospitality-driven experience that has food and cannabis as the main focus," says Jagger.
CBD: The Legal Gateway to Cannabis
CBD, the non-psychotropic compound extracted from the cannabis plant has been touted as of late for its relaxing, sleep-inducing, pain- and inflammation-reducing side effects.
On the retail side, CBD is available in the form of distillates for vape pens, powders and capsules, or as a medium-chain triglyceride (MCT) oil infusion, typically sold in droplet form as a tincture or as an ingredient in foods and beverages. Some startups sell CBD edibles and even canned, naturally flavored seltzers.
The Agricultural Improvement Act of 2018 removed hemp from the Controlled Substances Act, clearing the way for the cultivation, production and commercial activity of the product in the U.S. CBD consumption is legal in 44 states, but some cities have taken a more prohibitive approach when it comes to its use in food and beverages served or sold to the public. Most states have not made recreational use legal. Some cities have taken a more aggressive approach when it comes to allowing its use in food and beverage served or sold to the public. Chef Brendan McGill in Seattle, for example, offered a CBD-infused latte at Café Hitchcock for about six weeks in 2018, but says he was told to stop using CBD by the liquor control board.
In New York, a recent crackdown on CBD caused several restaurants, bars, cafes and hotels to pull back on their sale of CBD-infused food and beverages, while health departments there continue to hash out (get it?) all the details of the regulations.
Other cities, however, seem to be more relaxed about serving CBD-infused food and beverage in a commercial setting. At pastry-shop-meets-diner-meets-cocktail-bar Monarch & the Milkweed in Burlington, Vt., chef-owner Andrew LeStourgeon serves CBD-infused truffles and other goodies.
Another example comes from Datassential, which notes Austin-based juice chain JuiceLand offers CBD oil as an extra add-in and features hemp seeds, proteins, and oils in drinks, while LA's Prank Bar features terpene cocktails (for the taste, not the THC). Also, health and wellness-focused chain LYFE Kitchen offers CBD oil made from non-GMO hemp plants out of Kentucky as an optional nutritional boost for its line of smoothies.
And in Chicago, Fairgrounds Coffee & Tea offers the 10 milligram Uncanny's Barista Blend Water, which is a soluble CBD, as an add-in to any drink (hot, cold, alcoholic or non-alcoholic) and also serves Cannabliss Kombucha on tap. "In our constant pursuit of continuous evolution and commitment to health-based beverages, we think CBD has a great impact in that area," says Fairgrounds owner Michael Schultz. "In looking at people who have been fighting with pain or illness, the ability to offer this as part of our beverages, as we do with the use of turmeric and ginger and other benefits of the elixirs on our menu, CBD is the natural next step."
---
A Cannabis Kitchen Trip
While few, if any, currently exist, a commercial cannabis kitchen would likely resemble any other kitchen, with a few important tweaks and additions. Here, cannabis chef Holden Jagger, one of the eight business owners granted temporary licenses to open consumption lounges in West Hollywood, Calif., shares what he would include if designing a cannabis kitchen.
Infusion spaces: A separate workspace to safely make cannabis- and CBD-infused butters and oils for use in dishes and drinks
Temperature-controlled equipment: Cryovac machines and immersion circulators for infusing foods with cannabis oil, powder or distillate at low temperatures to prevent destroying the psychotropic and nutritional characteristics; mixers or blenders that have the option to apply heat or cool to prevent oxidation when blending cannabis with oils; dehydrators or precise-temperature ovens for low-heat cooking of cannabis for THC extraction
Small-scale equipment: Residential and countertop distillers, hydroponic growing systems and infusion machines to grow, extract and infuse cannabis and CBD in a small space
Supplies: Droppers for adding tinctures to dishes and drinks; strainers for infused oils; jars and other tightly sealed containers for flowers/buds, extractions, tinctures and butters
HVAC: Enhanced fire suppression and ventilation equipment for heating cannabis on-site during decarboxylation
---
Glossary of Cannabis Terms
Buds/Flowers: The portion of the cannabis plants which are dried and sold
Cannabis: The common name for the plant cannabis sativa and products derived from these plants
Cannabinoid: A chemical compound in the cannabis plant, with THC and CBD being the most well-known by-products
CBD: A nonpsychoactive chemical compound Concentrate: Cannabis-derived extracts with very high levels of THC.
Edibles: Orally consumed cannabis products such as baked goods, candies, gummies Hash: The extracted resin of the cannabis plant, which can be smoked, added to a vaporizer or cooked into foods and oils
Hemp: A breed of the cannabis plant with almost nonexistent THC levels Indica: Cannabis varieties known for their relaxing, sleep-inducing effects
Marijuana: The dried leaves and flowering tops of the pistillate hemp plant that yield THC and are typically smoked for their intoxicating effect
MMJ: The term for medical marijuana Oils: The cannabis plant produces many oils: THC-infusd cannabis oil and hash oil, and non-THC hemp seed and CBD oil. All of them are appropriate for cooking
Sativa: Cannabis varieties known for producing an uplifting and energizing effect Terpenes: This term refers to the flavor and aromatic compounds in cannabis.
THC: Tetrahydrocannabinol, the chemical compound primarily responsible for cannabis' psychoactive properties Tinctures: Liquid cannabis concentrates extracted using alcohol
Trichomes: Crystal-like resin glands that cover the buds of the cannabis plant
Source: Datassential