If today's foodservice consumer craves one thing above all else, it has to be convenience. And businesses from various industries continue to take notice as they make foodservice part of their value proposition. Take, for example, retailers Lululemon and Crate and Barrel.
On the surface, both retailers would seem to be fairly different. One remains a fixture in the fashion arena. The other is renowned for its home goods. But both have recently turned heads by adding foodservice as an amenity in their locations.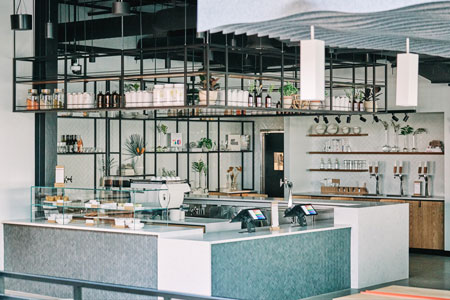 Earlier this month, Lululemon opened what the chain refers to as its first experiential store. The 2-story, 20,000-square-foot space in Chicago's fashionable Lincoln Park neighborhood includes space for community gatherings, fitness classes and a new area dubbed Fuel Space. This last area offers seasonal food, smoothies, a full coffee bar, beer and wine.
Fuel Space plays a bigger role in Lululemon's overall goal of becoming a community hub that brings people together. After customers shop for the latest fashion-driven workout gear and maybe even take a fitness or nutrition class, they can connect with seemingly like-minded individuals over a cup of coffee or smoothie in Fuel Space. Lululemon calls this three-pronged approach ¾ sweating, growing and connecting together ¾ the sweatlife, something it undoubtedly hopes will allow the chain to develop deeper and even stronger relationships with an already dedicated client base.
Around the same time Lululemon opened Fuel Space, Crate and Barrel took the wraps off of The Table at Crate, the home furnishings retailer's new restaurant in the Chicago suburb of Oak Brook.
The Table at Crate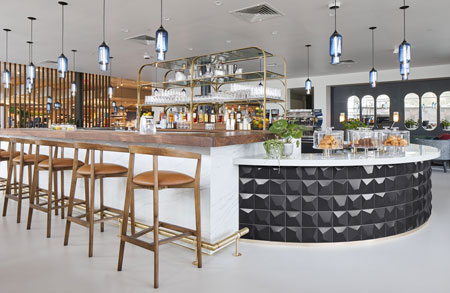 The Table at Crate represents a collaboration between Crate and Barrel and Cornerstone Restaurant Group, a Chicago-based multiconcept operator. James Beard-nominated chef Bill Kim leads the kitchen for The Table at Crate. It marks a first for both companies: Crate and Barrel's first full-service restaurant and Cornerstone's first venture into the retail space.
Like Fuel Space, The Table at Crate integrates the dining and retail experience, this time across two levels of indoor and outdoor areas, connecting people with food in an area punctuated with a timeless design. The Table at Crate provides Crate and Barrel another opportunity to showcase some of its latest products.
Further blending restaurant and retail, guests can extend their experience by sipping a signature cocktail while strolling through the adjacent Crate and Barrel store. As part of its partnership with Cornerstone Restaurant Group, Crate and Barrel is exploring various on-site interactive programming options, such as chef demos, cookbook dinners and other special events for customers to draw inspiration.
The Larger Trend
The development of Fuel Space and The Table at Crate represent the continuation of the larger trend that combines foodservice and retail. Larger retailers such as Target and Walmart have long hosted branded concepts within its stores. In fact, over the years some Target locations have had a Pizza Hut, Starbucks and even its own movie theater-like concession stand within its stores. And many Walmart locations feature a Subway restaurant inside the store.
And it's a trend that most industry observers don't expect to end anytime soon. "Millennials are smart and have an enhanced ability to multitask. And they are only going to want that more," said Joseph Schumaker, president and CEO of FoodSpace, a California-based foodservice consulting firm. Schumaker made his comments during FE&S' 2019 Consultants Roundtable Webcast. "If humans are going to keep walking into stores, then stores are going to continue to diversify themselves."
The driving force behind this, oddly enough, does not come from the world of brick and mortar retail. "This is sort of the Amazon effect," said Schumaker. "The consumer mindset is 'I can order anything I want and get it in a day or two.' Consumers don't want to go to two or three places to get what they need. And it's impacting foodservice."
Retail continues to shape a variety of noncommercial operations, too. Take, for example, Ohio University's Jefferson Marketplace. The winner of FE&S' 2019 Facility Design Project of the Year Award, this operation houses a deli, a cafe and a market, which includes groceries, packaged and bulk foods and convenience items. For corporate feeding, micromarkets, some which operate without staff, continue to grow in popularity, too. These give operators the chance to put a unique spin on their food offerings and amp up the convenience by locating these markets in smaller spaces, often closer to their target audiences.
When designing for an environment that features both retail and traditional foodservice, flexibility remains the most critical trait. "People say you can't design a restaurant without the menu. But that line of thought might be outdated," said Brett Daniel, BIM manager and project manager for Atlanta-based Camacho Associates. Daniel also made his comments during FE&S' 2019 Consultants Roundtable Webcast. "Today successful operators change their menus often to remain fresh and relevant in the eyes of the customers. You have to plan for versatility without having to spend a lot to revamp your kitchen. With the cookline, we stick to the basics. With the secondary offerings, we select display equipment that can go from refrigerated to ambient. Rarely, will we go with single use equipment."