Jefferson Marketplace's stand-out features include a one-stop shop for customers, this dining operation transformed an outdated all-you-care-to-eat dining hall into a multifaceted retail and grocery operation with an educational component.
Facts of Note
Jefferson Marketplace opened: Jan. 27, 2017
Jefferson Hall re-opened: Aug. 18, 2017
Scope of project: Complete renovation of outdated Jefferson dining hall into new multiconcept marketplace in the East Green building. Concepts include: Brick City Deli, The Ohio Café, Steeped & Stirred, Marketplace, Juiced, Veggie Butcher and Culinary Studio
Size: 16,000 sq. ft.
Seats: 51 in Brick City Deli; 12 in Steeped & Stirred; 36 in Culinary Studio
Total annual sales: $11 million
Daily transactions/covers: 1,025
Hours: 7 a.m. to 10 p.m., Monday through Thursday; 7 a.m. to 8 p.m., Friday and Saturday; 11 a.m. to 10 p.m., Sunday
Jefferson Marketplace specialties: Fresh-baked goods from the Culinary Support Kitchen bakery; fresh-made deli sandwiches featuring branded meats and cheeses; fresh-squeezed fruit and vegetable juices; a large variety of produce, bulk foods, flowers/greeting cards, as well as an extended line of grocery and retail items
Staff: 3 managers, 6 full-time employees and 175 student employees
Total Jefferson Hall project cost: $39 million
Total Jefferson Marketplace project cost: $8.8 million
Equipment investment: $1.5 million
Website: ohio.edu/food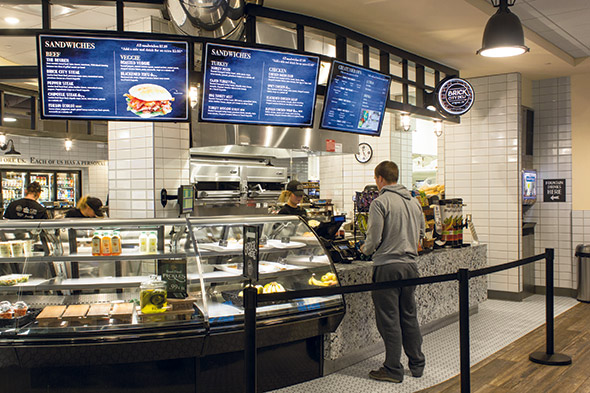 Customers at Brick City Deli may access the deli's selection of meats and cheeses at three points within the marketplace — by placing a sandwich order at the deli, by ordering sliced-to-order meats and cheeses or by selecting a premade sandwich. Photo courtesy of Ohio University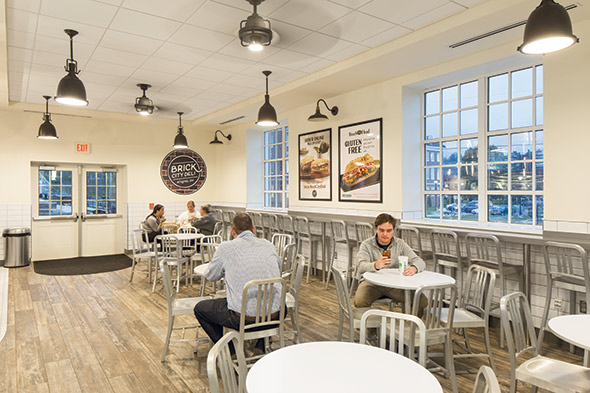 Brick City Deli seats 51
Financial Highlights
Revenues: $12,468,450
Labor Expense: $2,430,340
Food Expense: $3,638,384
All Other Expenses: $409,734
Total Expenses: $6,478,458
Net: $5,989,992
Transactions:
• Grocery Market: 343,613
• The Ohio Café: 28,458
• Brick City Deli: 35,546
• Steeped & Stirred: 30,188
• Total Transactions: 469,464
Average Check:
• Market: $14.65
• Ohio Café: $4.00
• Brick City Deli: $9.17
• Steeped & Stirred: $4.14
• Overall Average Check: $12.55
The Market features 14 aisles of food and products.
Jefferson Marketplace at Ohio University Team
Owner: Ohio University Culinary Services
Associate Vice President Auxiliaries: Gwyn Scott
Director of Culinary Services/ Assistant Professor: Rich Neumann, MS, FMP
Associate Director, Auxiliaries Operations: Kent Scott, FMP
General Manager, Jefferson Marketplace: Don Jackson
Production Manager: Sally Smathers
Assistant Director Auxiliaries Marketing and Communications: Mark Brunton
Architect: AECOM, Columbus, Ohio: Mike Russell, AIA, LEED AP, vice president, architecture; and Chris Shrodes, AIA, senior project manager, portfolio delivery leader buildings + places
Interior Designer: Hanbury Evan Wright Vlattas + Company, Norfolk, Va.: Matthew Lee; Ohio University Auxiliaries Marketing and Communications team (branding and marketing); and Ricca Design Studios Interior Design: Chelle Maestas
Foodservice Consultants: Ricca Design Studios, Greenwood Village, Colo.: Leonard D. Condenzio, FCSI, CEO; Phillip Landgraf, principal, Charlotte, N.C.; and Kerri Ingraham, project director, Boston
Equipment Dealer: TriMark SS Kemp, Cleveland: Thomas Brannon and Roland Loney Jr.
Construction: Corna Kokosing Construction Co. and Elford Inc. (CKE), Columbus, Ohio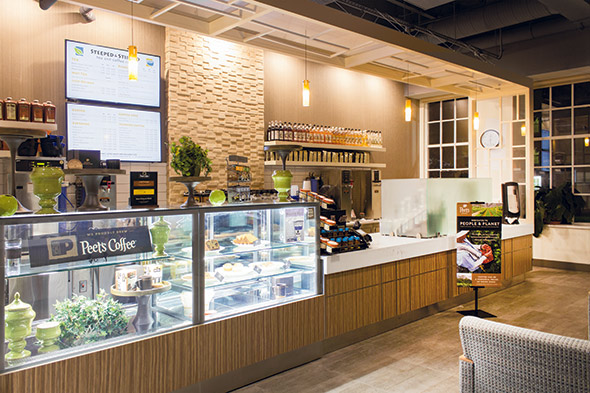 Steeped & Stirred offers a wide selection of coffee and tea beverages as well as pastries.
Why it Won: The Judges' Comments
Jefferson Market is a one-stop shop for customers.
The project's nontraditional design contains both a market and a foodservice operation in one facility. In other words, grocery and prepared food areas — reflective of the approach that Whole Foods takes — meet college foodservice. These blend well.
The design deals well with complex issues, such as customers entering through two different sides of the building.
The fact that this was a renovation only makes the project even more complex.
Designers effectively minimized the back of the house. For example, the walls of the walk-in coolers contain retail doors, providing another self-serve option for guests. Behind the products for guests, there's plenty of storage for the operation.
The project's design strategically places two concepts on the perimeter and attracts customers from both on and off campus.
The facility features a produce butchering station where customers select vegetables and staff clean and cut these items.
The educational food experience in the demonstration kitchen is profoundly beautiful and is a good example of multiuse.
Looking at conservation, the operators went back to using smaller bowls and plates. This helps with energy efficiency and supports customers' good nutrition choices.
The design incorporates a lot of aspects that are on-trend in today's college and retail dining segments and blends them into an operation that functions well.
Bringing in $8.8 million in revenue is impressive, as is the three-year return on investment.
There is a notable level of collaboration with other university departments, including the office of sustainability and the Scripps College of Communication and the Patton College of Education, to provide professional-quality lighting, audio-visual recording devices and broadcast knowledge across the intercampus network.
A highlight of Jefferson Marketplace is The Culinary Studio, a state-of-the-art demonstration kitchen designated for culinary arts education.
The Ohio Café offers beverages and pastries to take out or consume inside the Jefferson Marketplace.
Project Objectives
Educate both students and the surrounding community about food and nutrition. The residential area, while hosting a population of about 3,000 people, was a food desert, lacking any conveniently located grocery or convenience store. Serving an underserved area became the focus of the project.
Engage the northeast corner of campus and offer amenities for the large off-campus population adjacent to this location.
Offer more fresh and locally sourced menu items and ingredients.
Improve the retail offerings for the growing international student population, many of whom live near Jefferson Marketplace.
Create a space to invite in members of the community to showcase local and organic food products and diversify food offerings to students.
Explore an intriguing opportunity to tie in other elements of the university, The Scripps College of Communication and the Patton College of Education, to provide professional quality lighting, audio-visual recording devices and broadcast knowledge across the intercampus network.
Jefferson Marketplace's Juiced offers customers healthy refreshments.
Customers select whole fruits and vegetables, which they take to the Veggie Butcher counter where a staff member washes the items, processes or cuts them to the customer's specifications, weighs them and tags the items for purchase.
Project Goals
Goal No. 1: Transform an outdated all-you-care-to-eat dining hall that had been closed and neglected for five years into a state-of-the-art, multifaceted retail and grocery operation with an educational component.
Goal No. 2: Offer a unique marketplace-style operation with small retail food venues that emphasize fresh, local, sustainable and international food offerings.
The operation meets these first two goals in several ways. The Culinary Services staff partners with the on-campus farm run by students as part of their course work and sells produce from the farm. Also, a Uniquely Ohio grocery section exclusively features products produced in Ohio.
Jefferson Marketplace also sells ready-to-eat salads, sandwiches, yogurt parfaits, power bowls and several heat-and-serve entrees made at the university's Central Food Facility (CFF).
The operation offers healthy menu options, both in bulk and to go. Specialty blended juices with high nutritional values are available as a snack or meal replacement. Raw nuts, dried fruits, oatmeal and other foods are available for bulk purchasing, which results in price and waste reductions.
To diversify offerings and incorporate more of an international flair, the marketplace carries Chef Hari's line of authentic Indian cuisine along with several other international food items and offers international entrees in the hot buffet area. In addition, Brick City Deli features freshly made sandwiches using Boar's Head Deli Meats.
Goal No. 3: Attract off-campus students, as well as faculty and staff, to this corner of campus.
Campus-operated retail foodservice and grocery items and a place to eat are provided for students, faculty and staff at McCracken and Glidden Halls, two large academic classroom buildings across the street from Jefferson Marketplace; the adjacent River Park Apartment Complex that houses thousands of off-campus students, Greek housing; and several thousand people who walk past the marketplace daily.
The Zen tea house/coffee shop named Steeped & Stirred offers an intimate setting for studying or decompressing.
Goal No. 4: Partner with academics to create a unique learning environment for students.
The Culinary Studio functions in partnership with the Scripps College of Communication, the Patton College of Education and WOUB Public Media. The Scripps College of Communication holds classes in the Culinary Studio and gains experience filming food demonstrations and creating food demonstration videos much like those created by Food Network.
In addition, Culinary Services presents Chef's Table food demonstrations where students, faculty and staff learn new cooking techniques and taste what is prepared.
What Makes Jefferson Market Unique?
Those involved in the project agree that these traits make the facility stand out:
It fulfills a deep need in the community while becoming a showpiece for the campus and becoming profitable.
One would not expect to find this design on a college campus. The design not only allows Dining Services to sell and serve a variety of products to meet the needs of its customer base, but it captures the sustainability element as well. The Culinary Studio's design is functional and also supports the educational mission of the university, specifically the Scripts College of Education and the Patton College of Education.
The space continues to inspire others within the college and university space. Dining Services has hosted staff members from multiple universities who get ideas from Jefferson Marketplace, including representatives from Virginia Tech, Penn State (twice) and the University of Georgia.
Project Challenges and Solutions
Some of the challenges the project team faced during this renovation and how it solved them:
The original space, an old residential dining hall, was extremely long and narrow with a dozen 24-inch concrete support pillars that had to be incorporated into the design. Five of the pillars became marketing tools with blackboard paint and a natural wood appearance that provide greater visual appeal. Another pillar is actually hidden between two reach-in cooler spaces.
The infrastructure within Jefferson Hall, located above the marketplace, presented several challenges related to structural conflicts with HVAC duct routing and plumbing penetration. Detailed 3-D modeling and coordination with the mechanical, electrical and plumbing (MEP) engineers early-on provided resolutions.
During the phased construction it was necessary to provide continuous service to student customers. As a result, during the fall semester, the staff operated out of a much smaller, temporary market that was quickly constructed the prior summer.
The challenge to decide upon the balance of ready-to-eat options to grocery items was resolved after multiple in-depth discussions about space configuration, profitability and guest experiences.
For the convenience of students and staff walking through the market, Jefferson Markeplace needed multiple entrances. As a result, the design team had to consider the flow of people and placement and quantity of storage spaces, cashiers and other necessities, such as shopping carts, on both ends of the marketplace.
Green Initiatives
The building received LEED Silver Certification from the U.S. Green Building Council.
Collaborations with the Ohio University Office of Sustainability resulted in practices such as self-serve meals and smaller plates and bowls for portion sizes, helping to reduce food waste.
The central production kitchen, vegetable preparation kitchen, and bakery at CFF contribute to reductions in food and labor costs, food waste and food production costs.
Compostable napkins and takeout containers used at all campus culinary locations help maximize the use of the campus composting vessel and further the campus-wide sustainability initiative.
A rack compressor system enhances refrigerant management. The refrigeration units use parallel variable speed auto adjusting. Rather than one to one, one to three was implemented to adjust to the demand of the system, which keeps energy costs low but still adequately maintains temperatures.
A centralized CO2 tank supports efficiencies and safety.
Since the Renovation
Based on past sales and future sales projections, the renovation costs will be recouped in a total of 34 months — less than three years from opening. "We are more than pleased with the results and can without a doubt say that the project was well worth it," says Rich Neumann, MS, FMP, director of Culinary Services and assistant professor at Ohio University.
Fiscal Year 2016 was the last year for the old Jefferson Market. Total revenues were $1,808,398. In 2018, the first full year Culinary Services operated the facility, revenues for Jefferson Marketplace hit $6,369,900. During the same time period, FY16 vs. FY18, customer transactions increased from 34,813 to 214,791. The average check increased from $11.10 to $14.73.
Culinary Services budgeted $4,207,240 in revenue for FY18 and came in with $6,369,900. The first full year of operation exceeded revenue projections by more than $2 million, or 51 percent.
In addition, food and labor costs remain well controlled. Going from a grocery-only-type operation to one that includes a deli, juice bar, two cafe concepts, a culinary studio, a hot bar and a salad bar, food and labor cost wages are well within budgeted expectations. For FY18 food cost was 29.1 percent and labor cost was 18.4 percent. Through December of FY19 food cost is 28.1 percent and labor cost is 17.1 percent.
Selling produce from the Ohio Farm along with the Uniquely Ohio grocery section, which Culinary Services expanded to two other markets on campus, the use of CFF to produce many ready-to-eat items and continued work with the Office of Sustainability helped Culinary Services exceed its goals of offering a sustainable operation with local food selections.