This polished-casual concept's recipe for success includes targeting underserved markets and accommodating guests with food allergies.
Headquartered in Westford, Mass., polished-casual concept 110 Grill opened its first two locations in 2015, then waited until a full year to open its third.
While that's a solid start, no one would expect the operation to be on track for roughly 30 restaurants, all company owned, across New England by the end of 2019. That's 110 Grill's exact scenario, though, thanks to its offering of high-quality dishes, often classics with a twist, along with a focus on underserved markets and underserved people.
The restaurant's outdoor patio extends the idea of different spaces for different occasions.
Opportunistic Opening
110 Grill actually got its start at another polished-casual operation where co-founder and Chief Operating Officer Ryan Dion served as manager.
There, Dion met his partner, real estate developer Robert Walker. The two clicked, discussed going into business together and eventually identified an opportunity that was a perfect match for their combined skill set. "There was an existing restaurant called 110 Grill in Chelmsford, Mass. It was a similar modern-American concept at the time that we saw to have great potential with some updates to the space, menu and operations," Dion says.
Dion and Walker took over the restaurant in September 2014, opening their own version of 110 Grill about six months later. During that period, the two redesigned the restaurant to make it approachable and welcoming to all sorts of guests, from a businessperson dining on steak during a power lunch to a guy in shorts, sandals and a T-shirt getting a craft beer and a cheeseburger.
To that end, 110 Grill locations feature five different seating areas and various design elements that appeal to different types of people in different situations. With a color palette defined by reds and browns, one of 110 Grill's signature elements is a custom millworked horseshoe-shaped bar with an impressive display of liquor and wine bottles at its center. The lounge, filled with hardwood high-top tables and booths, surrounds the bar.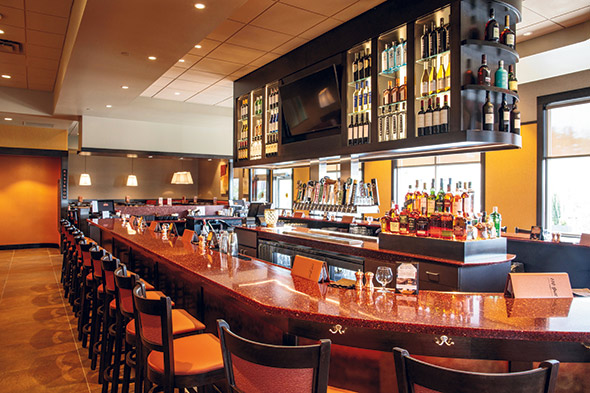 To achieve its upscale-casual feel, 110 Grill invests heavily in custom millworked pieces, such as the horseshoe bar and bar shelving.
Outfitted with televisions and warm lighting, this combined space brings a sense of energy and fun to the restaurant.
The restaurant's outdoor patio provides a similar relaxed and fun environment. Featuring fire pits, tiki torches and hard and soft seating, the patio serves as a natural gathering space for guests and maintains its appeal through the cooler fall months.
The restaurant's interior includes more formal areas. The main room features hardwood booths and tables, including round six-tops, along with a view into the open kitchen. 110 Grill also offers a private dining area for up to 50 people with sliding glass doors that can transition the private dining space to general seating on Friday and Saturday nights when the restaurant is at its busiest.
Serving the Underserved
Offering a comfortable and inviting place for businessmen and beach bums alike is only one part of 110 Grill's success. Of the two major strategic factors, one was planned from the beginning, while the other was discovered early in the concept's development.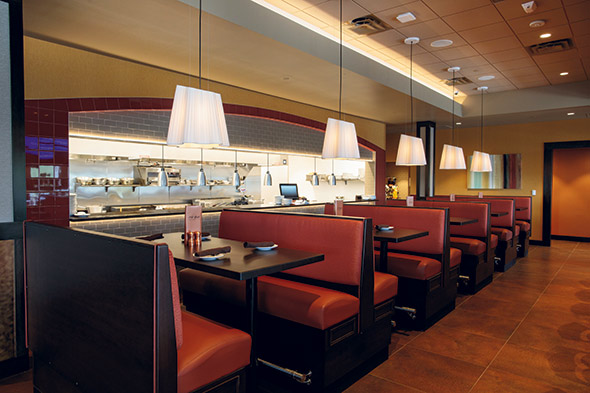 The restaurant's fully open kitchen not only adds energy to the space, but it also helps build confidence in the cleanliness of the operation and its allergy-safe menu offerings.
According to Dion, the year break between new openings was a planned hiatus. The company, he said, took that time to focus on honing its operations, menu, marketing, etc. When 110 Grill started opening new restaurants again, it soon found a new type of market where it could thrive.
"We debuted our fourth 110 Grill in the small town of Hopkinton, Mass., which was not home to many restaurants at the time, and we saw that as an opportunity to invigorate the local dining scene," Dion says. "110 Grill Hopkinton has been successful since its opening in 2016 and inspired us to seek out similar areas where we could bring something new and accommodating for all diners to the table."
While the chain has restaurants in second-tier markets like Syracuse, N.Y., and Worcester, Mass., 110 Grill continues to target smaller, underserved towns. These include places with a population of less than 30,000, such as Saugus, Mass. (population 28,251), Athol, Mass. (11,711) and Lebanon, N.H. (13,522).
This focus on the underserved includes not just markets but also people. While simple trial and error led to 110 Grill's small-market strategy, from its founding the chain set out to serve those with food allergies and gluten sensitivities. In this realm, 110 Grill goes beyond a gluten-free pizza crust or even a dedicated section of its menu. According to Dion, the chain can prepare 100 percent of its food offerings gluten free, and it can accommodate various other food allergies, thanks to 110 Grill's operational practices.
These offerings remain a key driver of the company's growth: Gluten-free and allergen-free offerings today make up 22 percent of 110 Grill's sales, and the chain has been recognized for its work in these areas.
Kitchen on Display
Of course, to offer a menu that is both flexible for allergy sufferers and high quality enough for a polished-casual operation, 110 Grill has put extensive work into its kitchen design and practices.
As noted, 110 Grill features a fully open kitchen. This not only provides energy and theater to the restaurant, but it also reassures guests (including those with food allergies) that their orders are being prepared the right way, according to Elliott Williams, the chain's director of culinary. "In today's world, everyone wants to see what is going on behind the scenes and how their food is being prepared," he says. "We want to give our guests the opportunity to see that we don't have anything to hide. At any point in time, I'd be more than happy to walk our guests through the kitchen, even on the busiest Saturday night, to see how clean and organized we keep it."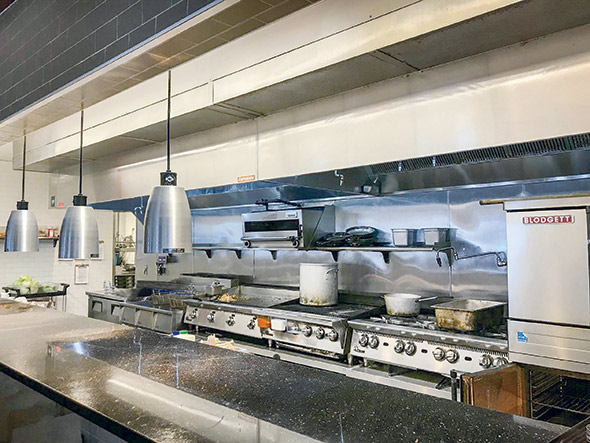 The flow of work in 110 Grill sends food from the hot line against the back wall to the front middle assembly station.
Other than condiments and breads, 110 Grill operates a scratch kitchen. Much of this scratch work takes place in the back of the house; staff execute the basic slicing and dicing of ingredients. This area includes worktables, sinks and various smallwares, including slicers and mixers. The hot side of prep work occurs in the open production kitchen in the mornings before the lunch shift begins.
Depending on location, this kitchen runs between 25 and 37 feet long, with customers able to see almost all of that space. The hot equipment sits against the production area's back wall, while the cold side faces the dining area. All food flows to the assembly station in the middle of the cold line.
This kitchen begins on the far left with the pantry station, where staffers produce salads, desserts and a few appetizers such as the spinach dip bread bowl and the chef's plate, described as "a medley of red pepper hummus, walnut-encrusted goat cheese, blue cheese, grapes, fig jam, pepperoni, pickles and cucumbers, with an artichoke, tomato and feta salad, accompanied by ciabatta and naan."
On the cold side, the pantry includes a salad table with two dozen 1/6 size pans on top and three refrigerated drawers below for holding backup ingredients. The hot side, just past the end of the hood, has only a freezer that holds ice cream for desserts.
Following the pantry is the restaurant's fry station. On the back wall the chain has three two-basket fryers. Here, the culinary staff put the chain's allergy protocol to work. "Our very first fryer is shellfish only," says Williams. "Calamari and shrimp are the only items that go in there. Our middle fryer is the jack-of-all-trades. That's where our chicken and [fried] fish go, but no shellfish. Our third and last fryer is for french fries only. If anyone has any shellfish allergy, they can feel completely safe eating our french fries."
Food coming out of the fryers moves to the cold line on molded fiber trays, which absorb some grease before staff plate the food. Staff use metal bowls to toss items like wings with sauce.
The cold side of the pantry station has another cold table with toppings, sauces and garnishes for fried foods. Used by staffers at the assembly station as well, this table also includes lettuce, sliced tomato and other ingredients for burgers and sandwiches.
The assembly station itself consists of a worktable with plates and undercounter shelving, which hold buns.
Behind the assembly table, on the hot side, sits the restaurant's grill station, which includes a chargrill and a flattop. These pieces sit above undercounter refrigerated drawers holding various proteins. At this location, staffers make everything from the Cajun salmon burger to the chimichurri steak to the grilled chicken cordon bleu sandwich.
110 Grill's allergy protocol comes into play again at the grill station. Both the grill and the flattop are zoned to handle only specific proteins. To accommodate those with a gluten sensitivity, no bread touches the flattop, while culinary staff cook seafood in cast-iron skillets on the chargrill.
The grill itself is also designed with allergies in mind. Instead of using just a few large grates, 110 Grill's grill comes with 4-inch-wide grates. If someone has an unusual allergy, Williams says, "we can remove the grate, clean it and sanitize it in the middle of the shift," then use that grate to cook the order.
Following the grill station comes 110 Grill's saute station. This space includes an eight-burner range above a refrigerated unit. Kitchen team members working the saute station prepare dishes like pulled pork mac and cheese, short rib risotto and linguine with shrimp and clams.
Next to the range resides a double-stack convection oven, where staff make pizzas, flatbreads, meatloaf and other baked goods. In keeping with its approach to food sensitivities, 110 Grill's food safety protocol reserves the top two racks of the top oven for gluten free items, and staff use a pizza screen when making gluten-free pizzas. Opposite the ovens and range, on the cold side, is another cold table, holding toppings and ingredients for various dishes.
The final piece in the kitchen sits perpendicular to the hot and cold lines. It consists of a prep table with built-in steam wells for soups, as well as work space dedicated for prepping and producing gluten- and allergy-free foods. "This is a gluten-free prep space with purple cutting boards, knives, etc. We set up an entire station solely for gluten free," Williams says.
Growing by Staying Small
Looking ahead, 110 Grill plans to stick with its commitment to serving guests with food allergies, as well as its small market strategy. While it doesn't have a targeted average income for the communities where it opens, the chain does prioritize good real estate, specifically malls and busy intersections.
The chain will also stick with a company-owned approach, at least for the time being, says Dion. While franchising could help it grow faster, it also requires giving up some level of control that the company just isn't comfortable with at this time. The stores it does open will still be located in the Northeast, as the company continues to fill in Massachusetts and make a stronger push into New York State. This region, after all, has plenty of smaller communities that could use an upscale-casual dining option.
"There are a lot of cities and towns that could use an approachable, quality restaurant," says Dion. "A lot of restaurants around here choose to go to the same areas. We chose a different approach. We went to the underserved areas, which is working out great for us so far. People want a great restaurant in their town so they don't always have to travel. That's been a guide for us."
---
110 Grill at a Glance
Headquarters: Westford, Mass.
Owners: Ryan Dion and Robert Walker
Concept: Upscale casual
Segment: Modern American
Architect: Julianna Hoch
Kitchen supplier: United Restaurant Equipment
Kitchen design: United Restaurant Equipment
Interior design: JD LaGrasse & Associates
Unit count: 22 restaurant locations
Size: 5,800 sq. ft.; 180 seats
Average check: $25 - $30 per person
Real estate: Freestanding, inline and endcap
Design highlights: Signature horseshoe bar, large bar lounge, open kitchen, dining room, private dining room and outdoor patio