Any chain that's been around for more than 30 years will likely go through some ups and downs. Saladworks is no exception.
Founded in New Jersey in 1986, Saladworks was a pioneer among healthy eating concepts. When the burger wars were the biggest thing going in the '80s, the chain was offering its guests fresh, made-to-order salads. The company's vision proved compelling enough that it reached nearly 100 stores by the beginning of this decade.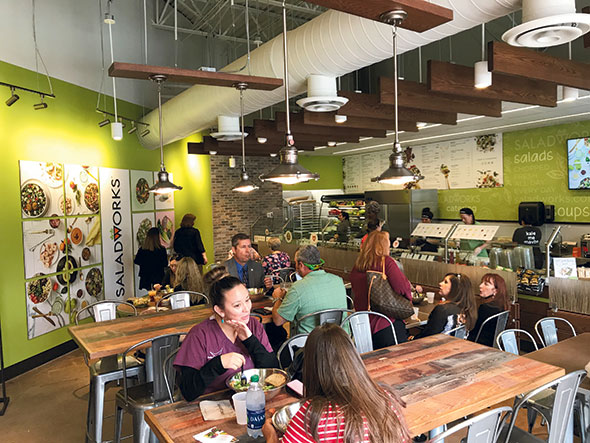 The dining area dropped from 75 seats to 40 in Saladworks' new design; research showing a reduction in the amount of time guests stay at the restaurant supported the reduced seating approach.
Shortly thereafter, though, Saladworks fell on hard times, precipitated by a nasty legal battle between the company's founder and a key investor. In 2015, Saladworks entered bankruptcy and was bought by private equity firm Centre Lane Partners. A few months later, Patrick Sugrue joined the firm as president and CEO.
Sugrue's decision to join Saladworks was driven by the belief that it could offer what many other concepts simply couldn't. "There is a lot of indulgent food up and down the street. There aren't many options where I can get just the right mix of ingredients and the proportions I want to create a meal that meets my dietary preferences and philosophies, that's delicious, and made right there for me. I saw this as a really well-grounded concept from the consumer relevance perspective," he says.
Building on a Foundation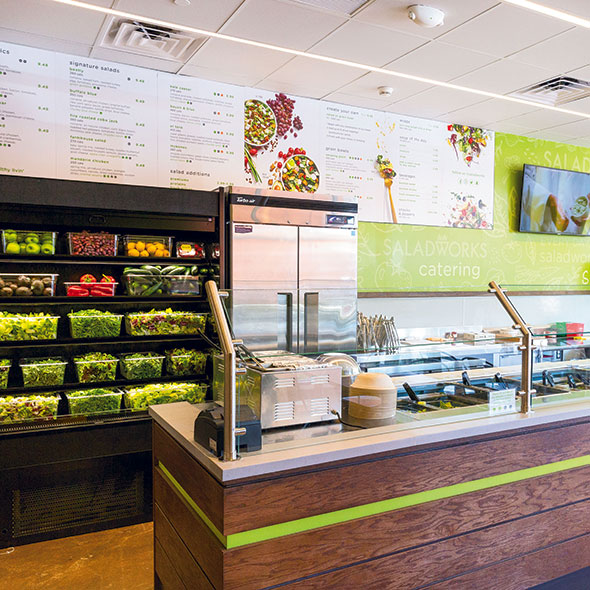 The introduction of a display produce cooler helps eliminate the requirement for a walk-in and reinforces the fresh and healthy aspects of the Saladworks brand.While Saladworks had the framework for success, it had plenty of operational challenges to work through, including a too-expensive front-of-the-house design. In a project that began before Sugrue joined the firm, it rolled out a new interior design meant to lower build-out costs and provide guests with a more relaxing, comfortable experience in the summer of 2016.
The chain's graphic identity and ambience went from a brighter "ice cream store" appearance, Sugrue says, to something more natural, defined by greens and browns. Key features include more wood elements, such as queue walls, divider walls and the face of the ordering counter; an acid-washed concrete floor; and a green vinyl wall covering touting brand messages.
Developing this new design was only step one in Saladworks' turnaround, Sugrue says. "While we were doing the design work on the brand and the store layout, we invested aggressively in marketing to jump-start sales. Frankly, we said let's reinvest the incremental sales and flow-through profit into our remodel. We did and now about three-quarters of the system has been remodeled."
This strategy, says Sugrue, put Saladworks in a position to start recruiting franchisees once again, leading to even more changes. "We have been very productive in the last year selling franchises, and we've been opening new company stores to try and prepare for that, to create the capability to design, build and site restaurants. That gave us the opportunity to not just change the look and feel through remodels, but to really rethink the service flow."
This rethinking of the service flow, along with reevaluating everything from storage to production to prep to customer behavior, has allowed the company to dramatically cut its store size, with a standard unit now measuring 1,800 square feet compared with 2,400 square feet in the past.
All-New Assembly
Like many other fast-casual concepts, Saladworks has guests walk down the assembly line to pick out exactly what they want in their meal. While that hasn't changed, how the food is handled from a labor perspective has.
Instead of having one staffer fill a bowl with lettuce, another add veggie toppings and another protein and dressing, a single employee makes a guest's entire order, handing it off only for checkout, then rotating back to the next guest in line. This rotational service model, says Sugrue, allows for more personal interactions between guests and employees, and provides the opportunity for upselling.
Stock salad tables pushed against a wood facade replace the former custom deli-style case.What's more, this approach has dramatically improved speed of service and throughput. "In some of the places we've implemented this, we've been able to get 135 and peaked at 150 people transactions per hour. That's almost double some of our best operators in the old service methodology," Sugrue says.
Implementing this change wasn't just a matter of training or introducing new processes. To make the rotational service model work, the chain redesigned and lengthened its entire food assembly line to provide space for more staffers during peak hours, says Jena Henderson, Saladworks' vice president of growth.
The typical Saladworks restaurant has a vertical assembly line, which runs along one of the side walls. The start of the line actually sits toward the back wall, with a queue wall allowing the line to wrap around instead of drifting into the dining areas.
The new assembly line starts with a set of warmers holding bases like pasta and quinoa for grain bowls, one of the chain's newer offerings designed with colder months and frequent guests in mind. Past these warmers comes the first of three six-foot salad tables, this one holding lettuce. Past this sits another salad table with ingredients organized by type: standard salad vegetables like carrots and tomatoes, followed by more adventurous ingredients like roasted Brussels sprouts and peppers, then cheese and proteins, then dressings held in squeeze bottles.
These salad tables represent a major change in the chain's equipment lineup. Previously, ingredients other than bases were held in a 10-foot custom deli-style case with no undercounter storage. The new setup spreads out the ingredients (bases included) along 18 feet of tables, allowing more employees to work the line during peak hours.
Supporting the rotational service model was just one benefit of this change. By moving away from a custom unit to stock salad tables, the company realized considerable savings. What's more, the change makes better use of space by allowing the company to store backup ingredients immediately below the assembly line. Notably, these backups are held in the same size drop-in pans as the ingredients above.
This approach allows for quick restocking as part of the normal flow of work, says Sugrue. "If we don't have enough cherry tomatoes, I reach directly under, pull out a new bin, swap it out and pour what's left of the old bin on top. We've got first-in, first-out rotation of ingredients, and the person who is standing there does it without slowing down the line. We really don't have a function of refilling because we create our par levels to fill that refrigerated case."
After the salad tables comes the POS station, which is accompanied by a reach-in cooler for grab-and-go drinks, marking the end of the customer-facing assembly line.
The equipment lineup on the back wall, behind the assembly line, has been rethought as well. Directly across from the bases, this section starts with a dramatic new addition, a refrigerated produce case that stores and displays freshly prepped veggies. This is both a space saver and a brand statement, says Henderson. "From an efficiency standpoint, we need to make sure we maximize all the space in the store for storage and prep. Also, we are a fresh product concept. We serve fresh and healthy ingredients to consumers all day long, and this really says that in an understated way."
Following the produce cooler is an upright reach-in for additional storage, then a long work surface with a mix of undercounter shelving and refrigeration. Next comes a hand sink and then a small table holding multiple warmers for soup.
The addition of the work surface and storage to this back line marks a major change for Saladworks, which previously used cabinets to store disposables and other items in that space. The change to a work surface with undercounter refrigeration allowed Saladworks to move many of its prep functions to the front of the house. This not only serves as a freshness cue, but it also supports the rotational service model: When the queue starts to grow, a prep worker can quickly step in to help.
These units also save space, notes Henderson. More prep room in front means the back requires less. Combined with the addition of the produce cooler and salad table refrigeration, Saladworks now addresses much of its cold storage needs in the front of the house. Many of the newer Saladworks stores won't even need a walk-in cooler, Henderson says. "We really don't feel like we have lost any space, and certainly having reach-in refrigeration versus a custom walk-in cooler/freezer refrigeration box is a substantial savings for our franchisees."
A walk-in wasn't the only piece cut from Saladworks' equipment package. In the older design, the chain relied on a steam-jacketed kettle to make its pastas, along with a standard oven for roasting vegetables, bacon and more. Both were located in the back of the house. These items have been swapped out in favor of a single ventless combi oven. This reduced build-out costs by eliminating the need for a steam hood and all the associated ventilation work, says Henderson, as well as saved space by simply going from two pieces to one.
The chain saved even more room by making full use of vertical space, Henderson says. "Our shelving goes up as high to the ceiling as it possibly can. If that means we need a step ladder in the back to get to it, then so be it."
Saladworks also made cuts to its dining area. The chain went from wood to metal seats and now has fewer of them, going from as many as 75 seats to around 40 in its new design.
Although this isn't off-trend, the chain was surprised by the customer behavior that allowed it to reduce seating. While off-premise consumption continues to drive down the size of dining areas, Saladworks knew its dine-in guest numbers weren't declining. "We did a time and motion study to see how things played out," Henderson says. "What we found is the duration of a guest visit had declined dramatically in just five years since we last had research on that topic. It went from a 27-minute duration to about a 14-minute duration." Shorter guest stays, then, have reduced the chain's seating needs.
That's not to say off-premise isn't a part of Saladworks' plans. The chain tweaked its dining area with the addition of a "good to go" section for to-go orders. That option is proving so popular that shelving is already being added in some stores where it has been introduced.
With this new design, the chain has made other changes to the dining room meant to accommodate busy lifestyles. It's added bar seating at the window, targeting solo diners; beefed up its Wi-Fi; and added USB charging outlets. "There is enough technology and enough opportunity for a quick in and out that services the customer on the go, but enough comfort that gives people the opportunity to come plug their phone in it and get a little work done and have a nice, wonderful salad," says Henderson.
Growth Plans
Saladworks won't restrict this new design and process to only those stores with dedicated seating areas. In addition to operating stand-alone stores, Saladworks has several nontraditional locations, including at airports and universities, that will use this design and production approach.
The same applies to the chain's newest nontraditional venture: grocery store locations. In just 150 square feet, says Sugrue, these restaurants can offer a full Saladworks menu, thanks in part to the facilities' shared prep and storage areas.
Nontraditional stores will play a major role in Saladworks' future growth, predicts Sugrue, accounting for 50 percent of new openings. That's plenty of locations, considering the chain's forecast for growth in the coming years. According to Sugrue, Saladworks should add 17 stores in 2019, 36 in 2020 and up to 50 in 2021. Those figures, he adds, show Saladworks approach to rebuilding its brand — starting with a redesigned interior and aggressive marketing — is finally paying off.
"You had to lay the groundwork before you could get this kind of growth," Sugrue says. "What's encouraging is that the groundwork is paying off. Our pipeline is very full, our sold but not yet operating numbers have grown dramatically, and now the new store counts are really starting to hit."
Saladworks at a Glance
Chain Headquarters: Conshohocken, Pa.
Year Founded: 1986
Signature Menu Items: salads, soups, grain bowls, wraps
Number of Units: 94
Unit Size: 1,800 square feet (65 percent FOH, 35 percent BOH)
Seats per Unit: 40
Location Type: Stand-alone, inline, endcap
Total System Sales: $71.7 million for 2018
Average Sales: $875,000
Unit Growth Projections: 3 percent sales growth in 2019 (17 new stores opening)
Check Average: $13.94
Equipment Package Cost: $110,000