Addition by subtraction is a real thing. Just ask Cousins Subs.
A decade ago, this Milwaukee-based fast-casual sandwich chain had in excess of 100 stores in more than a dozen states. Today, it's down to 92 locations, all but one of which are in Wisconsin.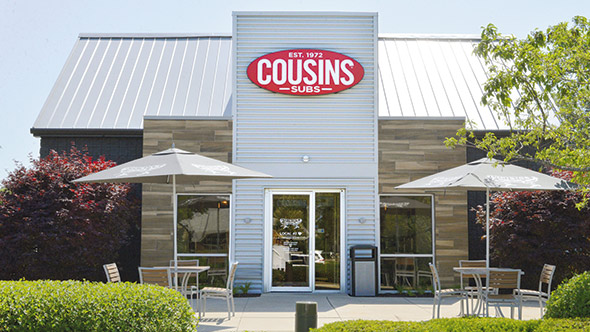 Someone glancing at those numbers might say that Cousins is in trouble. But its leadership and recent initiatives say just the opposite.
The smaller store count was part of a planned retraction designed to strengthen the company and its entire system, leaders say. That retraction, along with work on the menu, kitchen, interior design and overall branding, has taken Cousins from its status as a struggling brand to a company that's now on the verge of a major expansion.
Hindsight
Cousins Subs was founded in 1972 by (of course) a pair of cousins, Bill Specht and Jim Sheppard. Originally from New Jersey, the two saw an opportunity to bring an authentic East Coast sub shop to the Midwest.
The chain thrived in Wisconsin — with its tagline "Better Bread. Better Subs" — and did so well that it eventually began franchising.
The company wasn't as methodical as it probably should have been with its growth, though, says Vice President of Marketing Justin McCoy, and was too quick to form partnerships. The result: several one-off franchised locations sprinkled around the country. With such low density in these markets, it was difficult for corporate to keep close tabs on all of its stores. Meanwhile, the far-flung restaurants had trouble building brand awareness among customers.
Cousins' situation came to a head seven years ago, when the company decided it needed to retrench. Led by Bill's daughter Christine Specht, the chain's president and CEO, the company reevaluated practically everything about itself.
This included taking a hard look at its franchised stores and underperforming units, McCoy says. "One of the things we had to do was find out who was really committed to the brand. We went through a planned retraction where we set the vision of what we wanted to do moving forward and then worked with our partners at that time to find out if they were on board with that."
The Move Forward
The vision for the brand included bringing all of its stores up to date with the design and atmosphere today's consumers expect from a fast-casual restaurant. Some locations, McCoy notes, hadn't been remodeled in 30 years, so a change was definitely past due.
"When you have tired and older concepts, there are a lot of people who love your product but they are grabbing it to go. That sets up a situation where it's difficult for you to be successful during evenings and weekends. If you want to take out your family, you want to go and sit down somewhere," says McCoy.
The new Cousins design moved from the primary colors usually associated with QSRs to more relaxing and inviting earth tones. Main dining room flooring now consists of a wood-style tile, while seating includes upholstered booths in brown and gray.
The chain's new look moves away from QSR tones to more relaxing colors with the goal of creating an environment that encourages guests to stay and enjoy their meal.
The new design also does more to connect the brand to its home and history — and to what executives feel makes it special as a brand: Milwaukee's rich industrial heritage. The new design honors that with features like a corrugated metal half-wall for the ordering area and open ceilings with exposed ductwork.
Cousins' art package focuses on brand highlights, communicating its family-owned roots and the fact that staff slice meat on-site at each store. One wall showcases the original Cousins logo — featuring two cartoon chefs hoisting an enormous sub.
The exterior matches its interior appearance, notes McCoy. Though landlords occasionally limit exterior components, the prototype uses wood elements similar to those found inside, along with a vertical feature that boosts store visibility.
New Look, New Kitchen
The interior changes also had an impact on how the kitchen operates. While staff previously assembled sandwiches behind a wall, the production lines in the new prototype remain visible to customers, giving them full view of the quality ingredients and processes.
In the previous design, staff assembled sandwiches in the back of the house. Now, they're made up front to showcase the freshness of Cousins' products and processes.
Not surprisingly, this led to upgraded finishes in the area. The space features a higher-end floor tile, while a white subway tile adorns the walls.
The food production process begins, of course, with the customer order. While guests at many fast-casual chains build their orders first and then pay, at Cousins, customers place their orders and pay at the start of the process, before sandwich assembly.
Guests pick up their sandwiches at the open counter space next to the register. And the new design features an addition behind the counter: a soft-serve/shake mixer, which staff use to create shakes.
In freestanding stores with a drive-thru, a dedicated fountain machine sits nearby. Dine-in guests can grab a bottled soda from an upright reach-in cooler or create their own fountain concoction from a touch-screen soda machine.
The hot line begins past the drive-thru area with the fry dump. This dump sits on top of an undercounter freezer — a new addition to the revamped kitchen, following a menu revitalization that added cheese curds. While storing french fries in a refrigerator was fine, cheese curds simply taste better when cooked from a frozen state, explains Joe Ferguson, vice president of development. The chain now holds both in an undercounter freezer.
A two-basket fryer unit follows the dump station. Staff use the same vat for fries and cheese curds since the operator found no flavor transfer between the two when they cook in the same vat.
A flattop grill comes next in the equipment lineup, which staff use primarily for making cheesesteaks and other grilled sandwiches. While not a new piece of equipment, it reflects a recommitment to quality. According to Ferguson, prior to the revitalization, about half the chain's restaurants cooked these items on a flattop, while the other half used a microwave to reheat precooked meats. "We incentivized the franchisees [to change to fresh-made]. We put a program in place to upgrade a number of our existing locations," says Ferguson. Today, about 90 percent of Cousins restaurants have a flattop. (Zoning or structural issues are the main reason some could not make the switch.)
A two-foot sandwich table follows the flattop. Wells on top store sauteed items such as onions and peppers, while raw chicken and steak are stored below in drawers. Next comes a worktable with two heater/warmer units that bring frozen meatballs and marinara sauce up to temperature and hold them safely. Staff use a small microwave above the worktable to heat precooked pulled pork as well as ingredients for limited-time offerings. A hand sink follows the worktable and marks the end of the back line.
The kitchen's cold production line sits directly across from the hand sink. The line begins with a deli slicer, which the chain uses for meats, cheeses and produce. While the slicer sat in the back of the house in older designs, the new prototype positions it up front. This not only showcases freshness and authenticity, says Ferguson, "it helps because our employees aren't always in the back slicing when guests come into the store. They're able to be in that location and greet the guests."
After the slicer comes the first of two sandwich tables on which staff make cold sandwiches. Wells on top of the table hold meats, cheeses and veggies, with backups below. In each store with a drive-thru, another sandwich table serves drive-thru orders only; in stores without drive-thrus, staff use both tables for dine-in and to-go orders. At the end of each sandwich table sits a small work surface that staff use to wrap sandwiches. Fresh sandwich bread is held below the work surface.
Following the second sandwich table's wrap station comes another small work surface holding two or three cooker warmers filled with soup or chili.
While that marks the end of the front-of-the-house kitchen, some work takes place in the back of the house where staff can access a produce sink for cleaning veggies, dry storage, and a walk-in cooler/freezer combo.
The back also houses one to two proofers and ovens per restaurant, depending on the unit's volume. Once or twice a day, staff in this area make bread and bake cookies (both of which are shipped frozen to stores).
Key Performance Indicator
Cousins could measure the success of these changes to its design, food, kitchen and branding in a variety of ways. But by the most important metrics, McCoy says, the rebrand was a clear success. Despite cutting its store count significantly, the company maintained its sales numbers system-wide. In short, fewer stores now sell just as much, resulting in higher average unit volume.
That metric — along with others, no doubt — put the company in the position to start an ambitious franchise push starting about two years ago. In that time, the company has signed several franchise deals, including a 40-store agreement covering much of the Chicago area. In fact, the chain's one non-Wisconsin store just opened in downtown Chicago in January thanks to that agreement.
Seeing news about scores of franchise locations signed for multiple states might remind some of the chain's earlier franchising missteps. But, McCoy explains, the company is much more deliberate with this round of franchise growth.
Cousins is focusing on the Midwest, in particular Illinois, Indiana, Minnesota, Missouri, Michigan, Iowa, Ohio and Kentucky. By sticking close to its home base, the company intends to build its brand and support its franchisees more effectively.
Even in these states, growth won't be willy-nilly. According to McCoy, the company worked with a consulting firm to identify the characteristics of those places where its stores are most successful. "We've been able to lay that data over all the states where we're looking to grow. We've actually identified all the areas [in those states]."
The company plans to be more selective about its franchise partners as well. Instead of signing single-store agreements with people "looking to buy themselves a job," Cousins is looking to partner with experienced multi-unit operators. Those are the franchisees, McCoy says, that have proven most successful within the Cousins' system and industry wide.
But most important to the chain's success, perhaps, is its commitment to continuing evolution. From store environment to branding to product consistency, many of the reasons for the rebrand boiled down to not evolving to meet customer expectations. The chain, McCoy says, won't be caught in the addition through subtraction position again.
"Our goal is to be ahead of the industry as much as we can and be a leader, not a follower," McCoy says. "We're being very aggressive and looking at continuing to evolve the brand. We want to offer the services, the product and the environment that our guests are looking for, and we want to be a leader in that."
Key Players
President and CEO: Christine Specht
Chief Financial Officer: Jason Westhoff
VP of Marketing: Justin McCoy
VP of Development: Joe Ferguson
Franchise Sales Director: J.J. Palmert
Interior Designer: L&P Architecture
Kitchen Design Consultant and Equipment Dealer: The Boelter Companies, West Waukesha, Wis.
Facts of Note
Chain Headquarters: Menomonee Falls, Wis.
Year Founded: 1972
Signature Menu Items: Fresh-baked bread; deli-fresh and grilled-to-order subs; cheesesteaks made with either all-white meat chicken or USDA choice steak; Wisconsin cheese curds; shakes and root beer floats
Number of Units: 92
Unit Size: Ideally between 1,800 and 2,400 square feet
Seats per Unit (Prototype): 35-50
Location Type: End-cap with drive-thru
Equipment Package Cost: $35,000 - $125,000
Unit Growth Projections: Over next 5 years, looking to average 15 units per year
Check Average: $12.60