A ground beef taco made with American cheese and a parmesan-dusted shell probably wouldn't qualify as authentic to most people. But for Jimboy's Tacos it's as authentic as it gets. That's the same taco that founder Jim "a.k.a. Jimboy" Knudsen first served out of a trailer in Lake Tahoe, Nev., 65 years ago.
"We don't consider ourselves authentic Mexican food," says Robert Andersen, CEO of Jimboy's North America. "Jimboy just set out to make great-tasting tacos."
According to Andersen, this great-tasting taco developed a following. Customers included the cast and crew of the western-themed television series "Bonanza," which filmed nearby, and even members of Hollywood's Rat Pack.
That taco got so popular, in fact, that it became the foundation of a mini taco empire, with Knudsen's daughter and grandson now serving on the leadership team. Jimboy's now counts 40-plus units in California and Nevada. Even today the original taco accounts for about two-thirds of Jimboy's sales.
While the chain's own take on the taco remains successful, more recently this unusual offering has presented an identity problem for Jimboy's. Take the chain's legacy interior design, for example. According to Andersen, Jimboy's previous prototype had a "Mayan, Indiana Jones-type theme" that didn't quite connect with customers. Mexican design elements in a restaurant that doesn't really serve Mexican food doesn't make sense, after all.
"We were finding it very difficult to connect to the history of the company where it makes sense to the guest when they came into the restaurant," says Andersen. Hired in 2015, one of Andersen's first initiatives as CEO was to bring in a branding company to help reconnect Jimboy's to its roots and define the chain in a time when most guests are familiar with traditional Mexican and Tex-Mex tacos.
This effort fell into place when a member of the brand team really defined Jimboy's signature taco, Andersen says. "We've always struggled with what we call this. One of the guys who was working on the project said, 'hey, this is the original American taco.' It's kind of a play on our personality and Jimboy's personality in the marketplace."
With The Original American Taco tagline helping to crystalize Jimboy's identity, the chain has rolled out a new prototype offering guests an energetic, slightly retro dining experience, as well as a new, more efficient kitchen design that improves the return on investment for franchise partners.
Perfect Imperfect
The first of these new prototype stores opened in summer 2018 in Huntington Beach, Calif. With Jimboy's now embracing its roots, the location is truer to the chain's food and celebrates its heritage.
The new design has a retro aesthetic that is intentionally a bit unpolished. "We like to say it's a perfect imperfect design," says Andersen. "We didn't want to create an environment that is symmetrical and sterile and completely the same with every restaurant you walk into ... The trailer was really an imperfect environment. [Knudsen] just painted Jimboy's on the front of it. We're trying to carry forward that theme, that it doesn't have to be perfect to be great."
That first imperfect trailer, in fact, makes an appearance in the new design. The ordering counter, for instance, has a white covering designed to look like the outside of the trailer, with rivets and even faux wear and tear toward the bottom. The front of the counter includes brand messages like The Original American Taco and Tacos Made in the USA.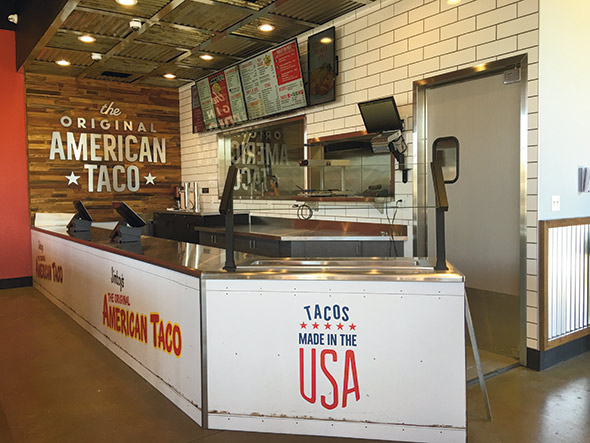 The design of Jimboy's ordering counter reflects the trailer where the first Jimboy's tacos were made.
The Original American Taco message also appears on a nearby feature wall covered with real wood. The planks, notes Andersen, come in different thicknesses, creating the asymmetry Jimboy's seeks. The large Tacos sign, lit with Edison-style bulbs, adds additional asymmetry with several letters set askew.
The new prototype's celebration of Jimboy's heritage goes beyond subtle nods, though. One wall has a stylized timeline of Jimboy's stenciled in dark red on a red background. On another, Jimboy himself appears on a vinyl wall covering, standing in front of that first taco trailer.
Smaller Menu, Smoother Kitchen
While Jimboy's new prototype embraces imperfection, the design's new kitchen brings the food production process as close to perfect as possible.
From an operational perspective, Andersen says the goal of the redesign was to improve the kitchen's flow to increase throughput and speed up food delivery. Jimboy's achieved this in part by cutting out some menu items. The chain's menu had expanded over the years. Removing some of the lower-selling offerings that didn't fit well into the kitchen's flow helped improve operations, says Andersen.
Another key to the kitchen redesign was shifting how Jimboy's makes both burritos and tacos. In the previous kitchen, both were heated on a single flattop grill. "Everything we've done has been to increase capacity and throughput on the grill. As the grill goes, we go," says Andersen.
Producing these two core menu items on the same piece of equipment posed problems, however. During production, each item flowed in opposite directions on the assembly line. In addition, they required different temperatures on the grill, meaning each needed a dedicated space that limited the utility of that surface area.
Jimboy's solved both problems with a single big change: the addition of a burrito press to its kitchen, on what is essentially the cold line. The production area now employs a horizontal kitchen design, with a walkway/workspace separating the hot and cold sides.
The hot line sits against the back wall. While the exact design of this space can shift depending on the restaurant's footprint, it will often start with the fry station on the far left. This space contains two fryers and a fry dump station. Here staffers make items such as tortilla chips and french fries. An undercounter freezer, just a 180 degree turn away, stores cold items such as the french fries.
The restaurant's gas-fired flattop grill follows the fry station. At 60 inches, the grill size did not change with the new prototype. In addition to using the grill for taco assembly, team members also cook some proteins to order here, including chicken, shrimp and steak. Undercounter refrigerated drawers that sit below the grill hold these ingredients.
After the grill come two small burners, which staff use primarily to cook ground beef in small batches. These burners are part of another change to the operation's kitchen. Previously, this spot contained two large burners, which were used to prep items like refried beans and rice.
A small hot holding unit stores the cooked beef. Next comes a custom made hot/cold table for storing essentially prepped taco ingredients destined for the grill, including meats and cheese. A nearby hot holding cabinet stores backups of items such as beans and rice.
With this new setup, then, tacos start at the hot/cold table, which sits on the far right side of the line. At this table staff add beef and other ingredients. The tacos then move their way to the grill at the middle of the line, where staff heat the soft tortillas with meat and cheese. After heating, staff put the ingredient-filled tortillas in a wrapper and fold them into a taco shape before they harden into shells. Team members then turn around 180 degrees to hand them to staffers on the other main assembly line. There, a staffer at a cold table adds produce, guacamole, sour cream and other cold ingredients, wraps it up and places it on the expo counter.
A second hot/cold custom table sits on the far left. This table keeps all the necessary ingredients for burritos, including meats, rice and beans and cheeses. At this station, a staffer fills a tortilla with toppings, then passes it to the center of the line, which holds the new burrito press. Staffers use the press to heat up burritos and add a bit of charring to assembled burritos.
Previously, burritos were heated on the grill, though at a different temperature from the tacos. The addition of the press eliminated the need for different temperature zones on the grill, freeing up space for tacos during peak hours. It also improved the flow of work in the kitchen, Andersen says.
"Introducing that burrito press took pressure off the grill. The flow of the restaurant changed because of the need for the burrito. Now burritos come across from the hot table to the press to out. It doesn't interfere with the grill or the grill person at all. That was the biggest difference maker in the whole thing," says Andersen.
While the burrito press marks the end of the production kitchen's workflow, the chain makes use of a prep area as well. This space includes the two large burners for making stock pot-sized batches of beans and rice and worktables for slicing produce.
This space also includes the restaurant's storage areas, with shelving for dry items, a walk-in cooler for meat and produce and a reach-in freezer for storing french fries and a handful of other frozen items.
Growth, Fast and Flexible
With the first of these new stores open several months now, Andersen is comfortable declaring the redesign a success based on the responses from employees, customers and franchisees. For employees, says Andersen, the redesign was meant to provide a place that operates smoothly and serves as a high-energy environment. The feedback from team members on these fronts has been positive, he says.
Guests have also reacted well to the new prototype, as proven by the numbers: Customer frequency and traffic have increased, resulting in improved sales at stores with this new design.
And, finally, the franchisees appear happy, too. So far, the return on investment for franchise partners has been excellent, and some are now building or remodeling multiple stores based on this new prototype.
Combined, these factors all helped 2018 become the best year in Jimboy's history. Sales increased by about 25 percent, while the chain opened 6 new stores. This year Jimboy's expects to open 7 to 10 new restaurants, remodel 15 to 20 locations and realize a system-wide sales increase of about one-third.
Some of this growth will be in Jimboy's established markets, filling in spaces in its own backyard, says Andersen. Jimboy's isn't limiting itself to its home base, though. It is currently speaking with potential franchise partners in cities like Dallas and Phoenix. Any deals it signs in new markets, though, would have to be for 10-plus restaurants. That's the number needed to build enough of a presence for the concept to make a dent, Andersen adds.
The concept's flexibility makes such a large store commitment easier, Andersen feels. Jimboy's current stores range from 800 to 2,200 square feet and include drive-thru-only, inline, endcap and freestanding restaurants. It even at one point operated a pair of Jimboy's food trucks, which have since been sold.
If Jimboy's hits its goals it will no doubt be due to this flexibility, along with a new design that runs more smoothly and holds true to the chain's strengths.
Key Players
CEO: Bob Andersen
Chief Financial Officer: Erik Freeman
Chief Development Officer: James Freeman
President: Karen Knudson Freeman
Director of Marketing: Dina Guillen
Director of Operations: Todd Swiderski
Interior Designer: Micah Wimberley, Culture Farm
Architect: Herman Jack Ajamanian, Kobra Design
Kitchen Design Consultant: Trey Hoang, Avanti Restaurant Solutions
Equipment Dealer: Avanti Restaurant Solutions
Facts of Note
Chain Headquarters: Folsom, Calif.
Year Founded: 1954
Signature Menu Items: The Original Ground Beef Taco, Grilled Burritos, Taquito Burrito
Number of Units: 43
Prototype Unit Size: 2,000 square feet
Prototype FOH/BOH Split: 60% FOH; 40% BOH
Seats per Unit in Prototype: 50
Types of Locations: inline, endcap, freestanding, nontraditional
Total System Sales: Approximately $35 million
Unit Growth Projections: Jimboy's Tacos plans to open 20 more locations by 2019, and have 100 locations by 2020.
Check Average: $10
Equipment Package Cost: $100,000