As Americans age, senior living continues to evolve into big business. Right along with that, dining services keep playing a more prominent role in the growth and reputation of facilities. Here, two senior-living professionals explain how their facilities continue to adapt to foodservice's evolving role in this segment.
Evolving Menus and Improving Service
High expectations come with the transition to senior living today in every aspect from the quality of care to the food. "People are conscious of their well-being and are concerned about aging and health," says Eric Eisenberg, CEC, CCA. He serves as director of Dining Services at Pacific Retirement Services' Rogue Valley Manor in Medford, Ore. Pacific Retirement Services owns and operates 13 Life Plan Communities, plus 29 additional affiliate sites. The total annual budget for Rogue Valley Manor is $10 million.
Rogue Valley Manor provides live cooking action at breakfast, lunch and dinner. Photo courtesy of Rogue Valley Manor
Rogue Valley Manor residents purchase meal plans; the staff serve 1,000 residents, which totals approximately 3,000 meals per day. Dining options include a 300-seat buffet restaurant and catering facility, a 280-seat dining room, a 100-seat full-service sit-down restaurant and a 65-seat quick-service restaurant. Residents can also order a room-service menu. Staff deliver trays to about 100 residents daily at specific mealtimes. Staff includes 220 full-time equivalents; Rogue Valley Manor also works with Living Opportunities to employ individuals with developmental delays.
"Once [residents] are here, dining becomes an important focus of their daily routine," Eisenberg says. "We serve four generations of people, from their 60s to 100s, and it's our job to develop relationships with them and let them know we are aware of their health needs and genuinely care about their well-being. Our job is much more than just serving food."
Robert Darrah, CHC, CDM, CFPP, agrees. He is the director of Dining Services for Legacy Retirement
Communities in Lincoln, Neb.
The fine-dining environment at Legacy Retirement Communities includes white tablecloths, fine china and silver, and leather-bound menus. Photo courtesy of Legacy Retirement CommunitiesLegacy Retirement Communities houses 720 residents on 4 campuses. The communities range from 230 units down to 32 units in an Alzheimer's area. Each location has four dining options including a large dining room, a private dining room for up to 16 guests, a coffee shop and a garden room. In total, the facilities serve 58,000 meals monthly. The annual budget is $21 million, which includes catering for 26 events.
The 275-person staff breaks down into 60 full-time employees and 215 part-time employees. One unique chef offering is the Culinary Classics series, where chefs recreate menu items from now-closed local restaurants.
"Our residents, and an increasing number of seniors, are sophisticated diners," Darrah says. "They want us to listen to them, and they no longer want premade, processed products out of a box. They want to feel pampered, have a hand in their menu selections and feel that they are going to a different restaurant every night when they eat here."
Darrah and his team work hard to stay ahead of the curve and offer menu options that appeal to Baby Boomers who expect fresh, innovative entrees. "They expect us to keep up with trends, like sushi; nouveau cuisine; locally sourced, farm-to-fork and grass-fed, and additive- and antibiotic-free foods; grass-raised meats, and grab-and-go items," he says. The dining services team has also introduced more flexible and longer dining hours. Residents can eat dinner between 4:30 p.m. to 7 p.m. compared to 6 p.m. before. All dining is fine-dining style.
Display cooking at breakfast and special events, where Legacy residents can invite guests, has become popular. Residents also like the facility's approach to cooking transparency; they watch staff prepare menu items though an eight-foot window.
Rogue Valley Manor also offers display cooking in Manor dining room during breakfast, lunch and dinner.
"Food brings them back to memories of smells and taste, and I think there's more we can do with food for these patients." —Robert Darrah, Legacy Retirement CommunitiesOffering retail services is becoming a more important part of the service portfolio for senior living. Rogue Valley Manor's quick-service bistro offers a small cooked-to-order menu in addition to grab-and-go menu items, coffee drinks and other beverages for staff and residents. For employees, Time Out Café features a full buffet-style menu, including salads, pizzas, sandwiches and grilled entrees.
Darrah relies on benchmarking services through the Association for Healthcare Foodservice to keep financials in line at Legacy Retirement Communities. "You must know your numbers and be able to tell the administrators and owners the cost per resident day," he says. "If you're self-op and want to remain that way, you also must show how profitable you can be and that being contract managed is more expensive."
Hand in hand with benchmarking, Darrah works to control costs and quality standards by developing a strong supplier relationship. "Our loyalty contributes to our pricing versus if we cherry-picked with multiple suppliers."
The Labor Dilemma
In an attempt to elevate the dining program, Eisenberg sought to establish a culture of service when he joined Rogue Valley Manor in October 2017. He felt it was imperative to deliver on the administration's expectation that he would elevate the level of the dining program.
"The quality of food was very good, but staff were stretched thin and they weren't being held accountable for standards," Eisenberg says. "Establishing staff meetings, opening up communication and online training for staff, and showing staff we care about them has had a positive impact on reducing turnover among front-of-house staff and prep staff and cooks because the staff is more engaged.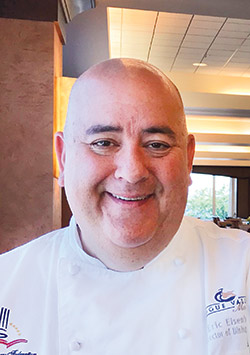 "Once they are here, dining becomes an important focus of their daily routine." —Eric Eisenberg, Rogue Valley ManorLegacy Retirement Communities hires skilled culinarians, something that helps the facility maintain a competitive advantage among retirement communities, says Darrah. "In order to develop a reputation as one of the top retirement communities in the Midwest, we have executive chefs, executive sous chefs and sous chefs in each of our four facilities," he says. "We do 90 percent from-scratch cooking, develop all of our menus in-house and do recipe development on-site at the facilities. Our hands aren't tied by a corporate menu cycle, and we change our menus seasonally every three months. And we aren't under pressure to offer preprocessed menu items and microwave TV-style dinners."
The facility's strength in the retirement community, strong food culture and competitive wages contribute to maintaining a consistent workforce, says Darrah. He does not currently face labor shortage or high turnover issues.
Pacific Retirement Services faces some labor issues in certain parts of the country. The labor pool in Medford, Ore., for example, is noticeably thin. The absence of a culinary school in the area limits labor sources. The operation depends on high school students, who Eisenbeerg often hires as food servers but who tend to have erratic schedules.
Future Visions
While acute care moves in the direction of menu standardization, Eisenberg believes long-term care and continuous care retirement communities should build dining venues resembling marketplaces that offer flexibility with shopping, takeout and dining options. He sees technology playing a role as well, primarily for ordering menu items, making table reservations, providing electronic customer service feedback, and other applications that commercial retail restaurants and grocery stores use now.
Eisenberg's dream is to design an Eataly-style environment in the future, where residents could connect more with food preparation. He envisions a hub where fresh items from Rogue Valley's gardens would support meal kits for residents who live in private homes on the campus.
"Residents are entitled to one meal a day with their meal plan," Eisenberg says. "To take advantage of meal credit, they have to eat in a dining room. We offer takeout, but that food is already prepared. We also deliver trays to those in need. But I'd like to develop kits containing packages with proteins and vegetables that they can heat in their kitchens on their own timeline." His view is that this would be one more service that would help his team build more trusting relationships with residents so they'll feel more comfortable with dining services when they transition into more assisted living.
Due to the healthcare industry's growing emphasis on food as medicine, Eisenberg is implementing a new menu management program as part of a suite of information technology products. This new suite will provide detailed nutrition information about foods containing sodium and antioxidants and the benefits of each. That's in addition to allergen information. He also hopes to hire more dietitians to help residents with special diets.
At Legacy, Darrah expects to launch pub-style foodservice in the very near future. The menu will include burgers and fries, garden salads, and chips. "This is part of a nationwide trend in which facilities are being converted to become multifunctional spaces," he says.
Residents will place orders with staff, who will transmit the orders from their tablets to the kitchen. Darrah sees more application of this technology to other parts of the operation as well.
Darrah will also introduce more grab-and-go items into the coffee shops during the coming year to enhance residents' dining options. High-speed ovens and induction cooking may also be part of the future at Legacy, although he also wants to foster chefs' passion for the art of cooking.
In addition, Darrah's team will continue to develop menus for Legacy's Alzheimer's units. "Food brings them back to memories of smells and taste, and I think there's more we can do with food for these patients," he says.