Smart Care Equipment Solutions purchased Alpro Service Company. Alpro provides kitchen equipment maintenance and repair services in the New York City tri-state area. Founded in 1947, Alpro Service employs 38 people, including 18 field technicians.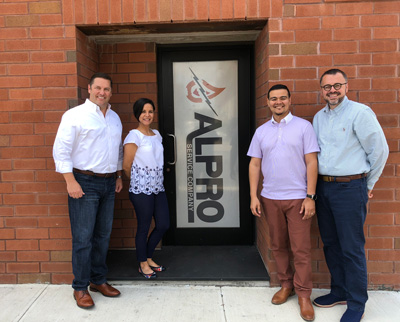 (From left) Brandan Helzer, vice president of business development, Smart Care; Arelis Cordero, financial controller, Alpro; Adalberto Rodriguez, director of operations, Alpro; and Gyner Ozgul, vice president of operations, Smart Care.
"Our vision is to be the premier service company in America," said Bill Emory, chief executive officer of Smart Care. "In addition to driving organic growth, we are committed to joining forces with the best equipment care companies in the industry. Alpro has a terrific team and shares our commitment to delivering a great customer experience and providing growth opportunities for our people."
This represents Smart Care's second acquisition in less than 30 days. Earlier in June Smart Care acquired Remco. Both deals come roughly eight months after Ecolab sold Smart Care to a Boston-based private equity firm. "The Smart Care team is executing the strategic plan that management and the private equity sponsor created at the start of our relationship," Emory added. "We have accomplished a great deal in a short period of time. Over the next several months we will be implementing additional strategic initiatives to help deliver our vision and continue our transformation."
Based in Minnesota, Smart Care services foodservice customers across 50 states.