This comfort food specialist relies on a franchisee-friendly kitchen and simple operations to fuel growth.
When Executive Chef and Co-Founder Michael Blum was first developing I Heart Mac & Cheese in 2015, his aspirations for the concept were simple. He was shooting for just one or two restaurants in and around Fort Lauderdale, Fla., according to President and Chief Development Officer Daniel Collins.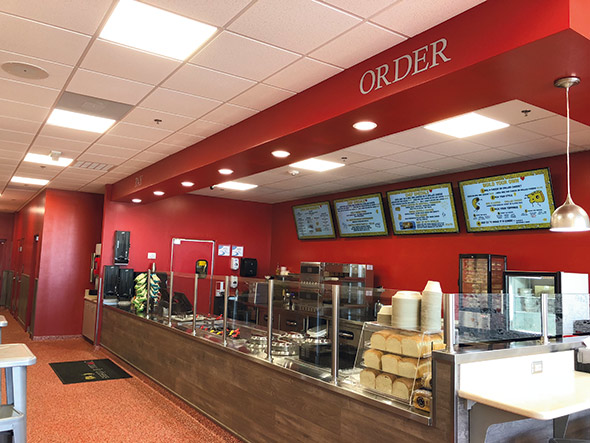 The production line follows the co-creation model; just two team members can handle the area in off-peak periods.
Now, almost two years after that first store opened, the concept operates 6 locations in 3 states and expects to hit the 20-restaurant mark by the end of 2018. The long-term vision expands that to hundreds of locations, maybe more.
How did I Heart Mac & Cheese go from humble indie to a chain with big goals so quickly? New partners, new employees and a conscious effort to change the operation — along with the kitchen — make the concept expansion and franchisee friendly.
From Side to Entree
A fast-casual concept, I Heart Mac & Cheese "takes mac and cheese from a side dish to make it a center-of-the-plate meal," says Collins. Its mac and cheese specialties include a lobster mac and cheese, buffalo chicken, a Philly cheesesteak variation and The Cuban with ham, pork, Gruyere and dill pickles. With comfort food as the theme, guests can also order these dishes as grilled cheese sandwiches.
While the core concept remains the same since it was first developed, its transformation into a scalable operation began even before the first restaurant opened its doors. That's when Chairman and CEO Stephen Giordanella joined the operation.
At that time, the first restaurant was being built with a fast-casual dining area accompanied by a casual-dining-style kitchen. It was Giordanella who recognized that with some changes, the concept could go from an independent operation to a thriving chain.
"[Blum] was roasting the short rib, roasting the pork for 16 hours," Collins recalls. "He was doing everything himself. That product already exists. There's not only no need to do it that way, but there's no way to make that a franchise because you need a chef to do it. To bulletproof it as a concept, you need to make it as simple as possible."
The first round of bulletproofing changed the kitchen drastically. Instead of cooking its proteins in house, I Heart Mac & Cheese turned to a broadline distributor to provide precooked, boil-in-bag proteins, including short ribs and pulled pork. This simplification allowed the company to go to an all-electric kitchen, making it an attractive investment to franchisees.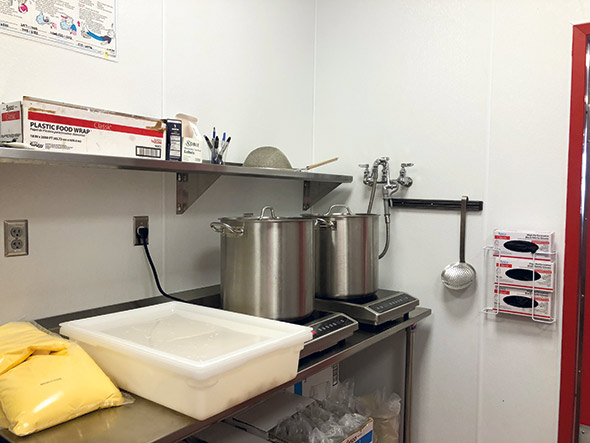 The chain relies on induction burners to rethermalize boil-in-bag proteins. Until the recent addition of a kettle, these burners were also used to make cheese sauce and boil pasta.
"There [are] no hoods, gas lines, fryers, grease traps. It's just plug-in electric equipment, which is amazingly simple," says Collins.
Since joining the company in January, Collins and his team, including new Director of Training Carol Smith, have further refined the kitchen to improve efficiency, safety and product yield.
Simple Made Simpler
Collins quickly noted that I Heart Mac & Cheese was "a victim of its own simplicity." The concept required little actual cooking beyond roasting the pork, with finished dishes requiring staff do little more than scoop ingredients into a bowl. This simplicity meant the restaurant operated smoothly enough that it was leaving some efficiency and operational gains on the table.
Much of Collins' work the past few months has focused on realizing these gains, starting with its back-of-the-house kitchen.
One of the most significant changes was the elimination of the chain's reach-in cooler and freezer units, replacing them with a walk-in cooler. I Heart Mac & Cheese, Collins found, simply doesn't need a freezer since staff place everything in the cooler for defrosting almost immediately after receiving items.
An upright reach-in alone, however, isn't big enough to hold all the chain's product, largely due to the several pans of pasta and meats that staff prep and then store for later use, hence the adoption of a walk-in. While this adds expense, the restaurant makes up for it in operational efficiency and labor.
Another change in the making has to do with how the chain performs its prep work. Until recently, I Heart Mac & Cheese made its cheese sauce in-house using a double boiler on a stock pot-sized induction burner. Now, the chain gets its cheese sauce made to spec by a food vendor.
Staff also used the induction burners to boil pasta. This presented its own set of challenges. When pasta was finished to the chain's preferred al dente, staff would remove it from the pot with a strainer. Since this process took a few minutes, the noodles removed at the end were overcooked. What's more, staff weren't able to get all the noodles, leading to wasted food and higher food costs.
To rectify all this, Collins and his team switched to an electric steam-jacketed kettle with a tilting function and a draining pan at the bottom. With this unit, staff can remove all the pasta at once with no food waste.
While the staff no longer use induction burners to cook cheese sauce and noodles, induction still plays a big role in I Heart Mac & Cheese's back of the house. With its reliance on boil-in-bag proteins, the chain uses a single induction burner to rethermalize everything from short ribs to pulled pork to meatballs to ground beef.
Staff then move these items to a nearby prep table, where tasks like chopping the rib meat into one-inch cubes and pulling pork take place. Staff then place those items in pans and move them to the front of the house.
Cold prep also happens at this table, particularly cutting vegetables, though the company has been eliminating this sort of work in favor of prepared products. By purchasing presliced cheese, for instance, the company eliminated the need for a slicer, reducing equipment costs.
The upfront production line is more extensive than the kitchen in back.
I Heart Mac & Cheese guests can order from its list of specialties or build their own bowl or sandwich. At the start of the line, diners tell a staffer what they'd like. That staffer then either retrieves the bread for a sandwich from a small countertop display or fills a fiberboard bowl with noodles or lettuce.
I Heart Mac & Cheese's production line starts with guests either ordering a sandwich, salad or pasta bowl.
The chain stores noodles and lettuce in a cold table capable of holding two full-sized pans. One pan holds regular pasta, the other pan divides to hold a half pan for whole-wheat pasta and a half for lettuce. The chain also offers gluten-free pasta but demand is low enough that staff simply pull that out when necessary.
Following this cold table sits a unit with four drop-in induction soup wells: two for the chain's cheese sauce, one for marinara and one for tomato bisque soup.
If making a mac and cheese dish, the staffer at the induction wells pours the noodles from the fiberboard bowl into a metal bowl, mixes in the cheese sauce, then pours the noodles and cheese back into the fiberboard bowl. Collins acknowledges that pouring the noodles from bowl to bowl adds 15 to 20 seconds to the production time, but feels this is best for the customers and the operation.
Previously, noodles were scooped directly into the stainless bowl; in some cases, their volume wouldn't fill up the fiberboard bowl. Staffers would then have to create a mini serving of noodles and cheese to add to that fiberboard bowl, throwing off the rhythm of the production line and skewing food costs with the now correct amount of pasta but too much cheese.
"[The fiberboard bowl] is what we're using to see if the bowl is full. It's right in our hands. Why don't we just use it to begin with?" asked Collins.
After sending the noodles and cheese back down the line, staffers add ingredients from either the cold table or hot table. For sandwiches and salads, team members then turn around to the back line and place them on the belt of one of two conveyor ovens.
In the previous design, these ovens sat next to one another. Collins and his team, though, noticed staffers had little room for the final steps, such as adding seven swirls of cheese sauce to each dish for presentation and bagging to-go orders. The new I Heart Mac & Cheese production line stacks these ovens, freeing up space for these tasks.
Stacking the impinger ovens provides staff more room to put the finishing touches on each dish and bag carry-out orders.
Another new addition is the display terminal at the end of the oven line. Previously staffers would simply call out the actual dish for guests to retrieve; they can now call guests by name — a personal touch that fits with the brand.
In addition to the ovens, the back line has a hot holding cabinet for storing hot items, while the chain keeps cold items in undercounter refrigeration and drawers below the cold tables.
Front of the House
I Heart Mac & Cheese intentionally keeps its equipment package and operations simple. Its dining area also has few frills, with a simple epoxy floor, a dropped ceiling and aluminum tables and chairs.
The dining area's signature design elements, though, give the restaurant a "farmhouse chic" appearance. Wood paneling sits on the bottom half of walls and the face of the counter, while some one- and two-level wooden shelving hold items like old milk bottles and small milk jugs.
The restaurant's decor includes other dairy cues, too. Custom wallpaper, designed in part by Chef Blum's wife, features sketches of cows, wheels and chunks of cheese, and red hearts.
A Complementary Brand
In the coming months, I Heart Mac & Cheese plans to add company-owned and franchised stores, with ideal partners existing multi-unit franchisees who've maxed out their current concepts in their territories.
Given its size — 1,500 to 2,000 square feet — the operation fits into real estate that other restaurants simply can't make work.
I Heart Mac & Cheese is also a good fit for several types of markets, Collins says. Suburbs with some office space are ideal, he says, providing customers for both lunch and dinner dayparts. The chain also targets areas near universities and has signed leases near Auburn University, Syracuse University, the University of Alabama, University of Florida and more.
As it expands into these areas, the operators will no doubt benefit from the simplicity of I Heart Mac & Cheese's operation and its kitchen.
Key Players
Executive Chef: Michael Blum
President and Chief Development Officer: Dan Collins, CFE
Director of Training: Carol Smith
Kitchen Design and Equipment Dealer: D.E.I. Food Service Equipment & Design, Felix Rodriguez
Facts of Note
Chain Headquarters: Boca Raton, Fla.
Year Founded: 2016
Signature Menu Items: The Cuban, which consists of a mac and cheese base topped with mojo-marinated pulled pork, ham, Gruyere cheese and dill pickles; and Lobster & White Truffle, which consists of a mac and cheese base topped with Maine lobster, Muenster cheese, lobster cream and white truffle oil
Number of Units: 6 with 14 more in different stages of development
Unit Size: 1,500 to 2,000 square feet (40 percent front of house, 60 percent back of house)
Seats per Unit: 45-50
Location Type: Inline, endcap, campus food court
Growth Projections: 20 units open by end of 2018
Check Average: Approximately $12
Equipment Package Cost (Furniture, Fixtures and Equipment): $75,000-$82,000