As food trends shift like lightning, operators have to do all they can to keep up with menu innovations and remain adaptable to industry twists and turns. That's where flexible foodservice design comes into play.
To make things even more complex, no one-size-fits-all solution exists when it comes to a purely flexible kitchen. Sure, operators can elect to use universally flexible types of equipment like combi ovens, flattops and even hearth ovens that can cook multiple types of foods. But every segment has unique differences and operators with varying needs, all of which makes flexible specialization increasingly important.
Hospitals and Universities
This flexible station at Kansas State University's Kramer Dining Hall can support everything from a foodservice platform to hosting cooking classes, chef demonstrations, even transform into a retail platform.The healthcare and university segments have been on an explosive growth trajectory in the last few years as students, patients and staff alike demand better-quality food with more choices. People now choose to eat at all different times of the day and night, instead of during traditional meal periods as was the case in the past.
That said, Tarah Schroeder, FCSI, LEED AP, senior principal at Greenwood Village, Colo.-based Ricca Design Studios, relies on similar philosophies when designing for flexibility at university and healthcare facilities. Because both can run short on labor, Schroeder focuses on building in more retail options, even in the form of segregating parts of a servery to keep them open while the rest of a space closes.
But the buck doesn't stop there. Though this represents a common design practice in these segments, Schroeder takes the extra step of building in flexibility at each of these retail stations. That means adding more prep space, refrigeration and extra seating around a station so that staff members don't have to run to the back of the main kitchen early in the morning or late at night to get what they need after most of the lights have been turned off. The area simply transforms into a version of a microrestaurant or pop-up site.
Schroeder designed a retail/late-night station at Kansas State University with pizza making and holding capabilities on one side of the servery and a grill on the other side. Sliding walls allow the area to continue functioning after the rest of the servery closes for the day. A self-serve beverage station in the late-night area, as well as a separate prep area and walk-in cooler, enable staff to operate the late-night area in a self-sufficient manner. The setup functions much like a satellite kitchen. [More on KSU foodservice: Kramer Dining was the Facility Design Project of the Month last June.]
The indoor Boston Public Market features more than 20 unique food and beverage vendors. Higher education and healthcare settings are tapping into this food hall approach to dining, which significantly changes equipment specifications.
"Everyone always says it's important to design for menus, which it is, but these buildings will last 30 to 40 years, so the menu might not be the same even in a few years," Schroeder says. "We try to take a more process-based approach and assume there will be a changing menu at each station."
Flexible equipment comes into play here; Schroeder considers how griddles and even hearth ovens can cook much more than just pizzas. She's also a fan of food holding wells and stations that can flip from hot to cold with the press of a button. It's still a balance, however. As more consumers prefer authentic food, especially when it comes to ethnic dishes, it might be necessary to spec a wok with a little extra ventilation now, even if that makes things more complex when a switch occurs later, Schroeder says.
Building in the infrastructure for technology is also incredibly important in the healthcare and university segments, Schroeder says. This becomes especially important as these facilities increasingly move toward more of a food hall setup, where customers can pay separately at each station.
"It seems people like three different ways of ordering — in person, on a kiosk and online or via an app," says Schroeder. Sometimes clients won't know exactly which programs they want to go with, or they know they'll be going with online ordering in the near future but haven't done so yet. Having enough data drops spread throughout the facility, therefore, is a must." She prefers to start the conversation about infrastructure early in the process and notes that even while operators often prefer Wi-Fi setups, it's expensive to build in internet hardwire connections after a project is complete. "Technology is becoming a more complex issue so it's important to have those conversations with the IT department early in the design process," she says.
In some cases, Schroeder opts for more counter space in designs to make room for separate pickup areas to service online and kiosk ordering platforms.
K-12 Schools
School foodservice has changed dramatically in recent years, especially as more operators take a scratch-cooking approach to meet changing Department of Agriculture guidelines and other mandates.
"Maybe 10 or 15 year ago, schools were given these shoebox kitchens without much prep space, but now they are serving more fresh fruit and vegetables, so we have to design for a lot of flexibility in prep spaces," says Eric Norman, FCSI, vice president, Clevenger Associates, Mid-West Division in Dubuque, Iowa.
That means being able to quickly change out chopping boards and tools and wipe-down stations to switch from cutting certain types of produce with minimal disruption. Some of these tables even have "troughs" for collecting scraps quickly and composting later.
Serving lines in K-12 school kitchens have also become much more complex. Norman says he prefers things like hot-cold wells that can switch back and forth, and hot- or cold-holding rolling units that staff can wheel in and out of a walk-in or other cook area and bring to the line for service right out of the unit.
Combi ovens, as one would guess, have become more common in school foodservice because they can cook a variety of foods in larger quantities. And tilt skillets or tilt braise pans — in place of additional flattops — serve a variety of functions from boiling water for pasta to even making pancakes.
At the middle and high school levels, Norman focuses on giving clients greater serving flexibility. That might mean adding heated stoneware and shelves for pizza to serve it by the slice and mobile, plug-and-play sandwich units.
As more schools source local, in-season produce, equipment such as blast chillers becomes important to enable operators to quickly freeze a surplus of perishable items, such as strawberries from a nearby farm, for use in future menu items. Schools now also want to prep more ahead of time and blast-chill items that staff can retherm later to maximize labor. Building in the space for cook-chill capabilities will continue to be a need in flexible school foodservice design.
Stadiums
The Taste of Miami area at the Marlins Park in Miami features a variety of local restaurants. Designing for foodservice in sports arenas today means building in equipment flexibility that can support both menu and vendor changes.
In sports arena design, infrastructure development remains the top priority for Kristin Sedej, FCSI, president, S2O Consultants Inc., Chicago. The most important design element for flexibility, she says, is to design and build in enough electricity throughout the arena or stadium — in the stands, on the concourses and in the clubs.
"These are very portable programs so there has to be ample power," says Sedej. "That's a biggie. Because things change so rapidly in the sports environment, it's important to provide different electrical configurations and think that out ahead of time because you cannot just throw in a 100 amp, quad receptacle at the last minute."
Nowadays, as more sports arenas look to bring in local restaurants as vendors, it's even more important to build out the infrastructure for flexibility ahead of time as those programs change or face the costly consequences later. Many vendors have specific requirements in terms of the equipment they need to use and a preferred setup.
"If you don't do these things in the beginning, you could potentially handcuff the client from being able to bring in whomever they want," Sedej says.
Even if there is not an immediate need for every outlet, having the option there is important. "I might put in outlets at 48 inches so anything on the counter can plug into them, and when they're not being used, you can install a work station and wire shelving station in front of it," Sedej says. "You want the countertops to look finished but have enough electrical support for future changes."
Even though they offer more plug-and-play flexibility, Sedej recommends against utility distribution systems in sports arenas because they're cost prohibitive when installed at every cooking station. She recommends more outlets scattered throughout to have fewer extension cords running along floors.
The other important consideration when designing for flexibility is to determine up front where you're putting black iron and understand the ratio of cooking versus non-cooking areas in the arena so you can work with the existing Type 1 hood structures.
"I'll often overdesign the hood just a little bit to make room for different equipment being swapped in and out," says Sedej, who will also add more fire suppression zone coverage just in case there are changes. "The other option is always to do more ventless if the hood system is not adequate, but then again, you'll need a lot more electric."
When it comes to flexible equipment, Sedej prefers griddles, fryers, griddle-fryer combinations and, sometimes, charbroilers, combi ovens and ample hot holding capabilities. Her preference is to set that equipment on casters, along with worktables, but things like three-compartment sinks and some countertops can be fixed. Sedej specifies the most heavy-duty walk-ins possible within the budget (with beefed-up floors and doors) because there may be a beer cooler one day and a food cooler the next.
Designing for flexibility means maintaining that kind of adjustable mindset, always thinking about what could be down the road. Perhaps more now than ever, being able to design a kitchen for future changes is one of a foodservice consultant's greatest gifts.
---
Firehouse Subs and Airport Design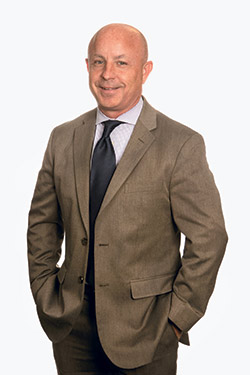 Richard Elkins, director of construction services for Firehouse SubsFlexible design became top of mind for Richard Elkins, director of construction services for Firehouse Subs, when working to fit an operation into the Jacksonville International Airport. Given that the smaller, more compact airport store would offer breakfast in addition to lunch, Elkins got creative. He switched up the traditional linear cookline design for a double-sided, U-shaped module where different cooking and assembly processes could happen simultaneously and be brought together for final service.
"The sandwich-making process starts in the back of the space and works its way forward instead of working from left to right," Elkins says. In the airport setting, the toaster sits on an island in the middle of the space where the bread is dropped, while staff heat the meat and cheese in the steamer nearby. Everything then moves up the line to the front where staff assemble items at the refrigerated sandwich prep table. A small, countertop warming unit was added to hold rethermed eggs during the morning rush. Staff can take that piece down and remove it to make room for lunch service.
Menu boards were also an important feature for flexibility in the airport setting, Elkins says. "We can quickly flip the menu when breakfast is over and lunch begins, as well as advertise LTOs [limited time offers] and other specials and deals," he says.
Lately, for Firehouse's traditional restaurant locations, Elkins has been working on building in more space for separate online order pickups by customers and third-party delivery drivers from GrubHub and Uber Eats. "We call it 'Rapid Rescue,' and we have installed some shelving at the end of the line where we can put the to-go bags with the names on the receipts, so the drivers don't even have to interact with the staff," he says. Though Elkins started with a cubby, he went with a standing metal rack with multiple levels to allow room for more items. At the moment, staff can move these units in and out, but Elkins is considering making them a more permanent, built-in fixture at new-build stores.
"With the Jacksonville airport project and now this 'Rapid Rescue' program, we are confident that we can make just about any design work in any type of smaller, more flexible space," says Elkin.