From fast-casual concepts to high-end raw bars, trash fish and other emerging seafood items are experiencing a heyday on menus around the country.
Beer Battered Fish and Chips at The Hourly Oyster House in Cambridge, Mass. Photo by Joel Benjamin
47%
The percentage of consumers
interested in trying a new seafood concept.
Source: Datassential
1/3
The number of operators who had an increase in seafood sales last year.
Source: Datassential
Seacuterie
PB Catch, a seafood and raw bar in Palm Beach, Fla., tops wooden boards with cured white tuna, octopus torchon and other seafood charcuterie in place of the traditional meat-centric charcuterie board.
Seacuterie at PB Catch in Palm Beach, Fla. Photo courtesy of Tom Bollinger Photography
Trash Fish
More chefs around the country keep reaching for underutilized — yet abundant — fish like rudderfish, dogfish and snakehead. Sometimes referred to as trash fish because the bycatch was traditionally tossed out by fisheries in favor of more sought-after species, these fish are becoming more readily acceptable among chefs.
---
Seafood Cooking Equipment:
Wood-fired grills and ovens
Robata grills
Sous vide items
Combi ovens
---
Seafood Tabletop Trends:
Cedar and wood planks
Black and slate gray plates
Tinned fish containers as serving vessels
Metal baskets for fried fish
Raw seafood towers
---
Fast-Casual Seafood
Slapfish started as a food truck by Andrew Gruel and has become a fast-casual restaurant franchise with 11 locations and
The Ultimate Lobster Roll at Slapfish Photo by Lauren Groelcounting. It's known for craveable dishes that use sustainable and lesser-known fish. Chowder fries represent one of the Huntington Beach, Calif.-based chain's latest inventions. The dish consists of natural-cut fries smothered in clam chowder and bacon.
Brown Bag Seafood Co. opened in 2014 after owner Donna Lee noticed it was hard to find quick-service, sustainable fresh fish in the Chicago area. Do-it-yourself rules apply at Brown Bag, where guests indicate their preferred fish, format (sandwich, salad, taco, powerbox, straight up) and side on — you guessed it — a brown paper bag. Customers can also choose from a list of signature items, like lobster rolls. The concept has three locations, including two in Chicago's Loop area, and plans to open a fourth soon. Brown Bag participates in the Monterey Bay Aquarium Seafood Watch program, which emphasizes purchasing and eating seafood that is fished or farmed in a way that supports a healthy ocean.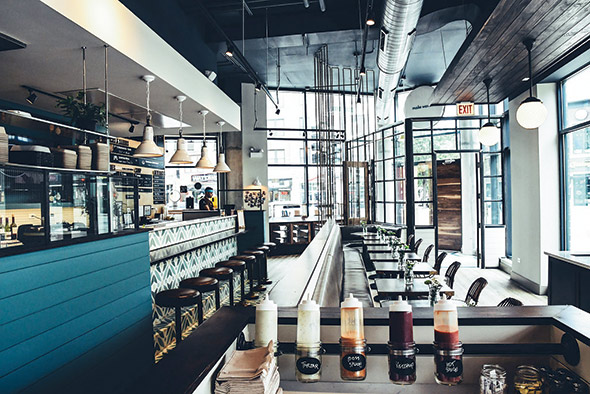 Tinned Seafood
As Spanish and Portuguese cuisines gain ground in the U.S., tinned, sustainable fish from these countries are becoming more popular as both a retail and menu item. Restaurants can even repurpose the tins as playful serving vessels.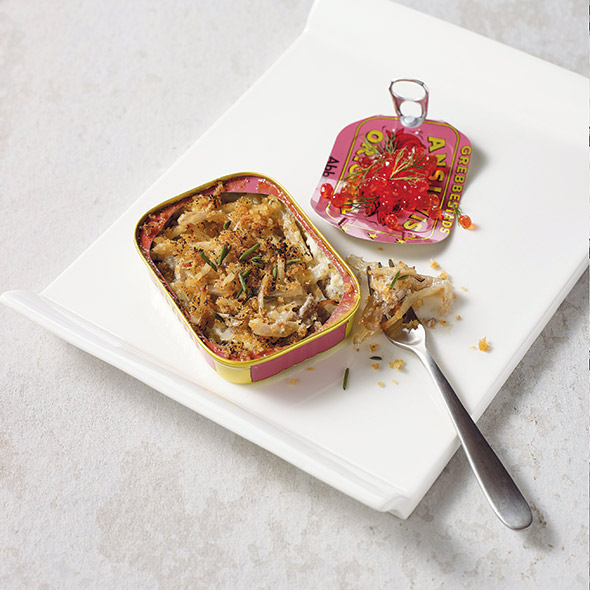 Janssons frestelse, a Swedish casserole, served in a sardine tin. Photo courtesy of Idaho Potato Commission