The Brick Side Eatery brings new menu options to the University of Pittsburgh Medical Center's staff and visitors at the Montefiore campus.
A complete renovation to the existing seventh floor cafe at UPMC Montefiore brought opportunities for a new and unique style of retail operation. The Brick Side Eatery — the first restaurant-style operation of its kind on the University of Pittsburgh Medical Center campus — serves medical center staff, patient visitors and the public.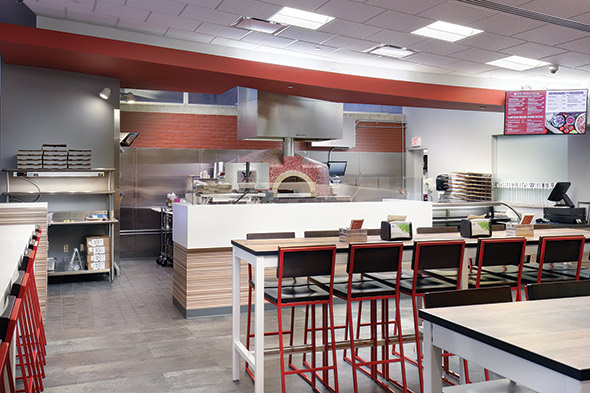 "We were given a footprint for this location — only 2,000 square feet — and we had to fit our new concept into this space," says Timothy Sweitzer, director of UPMC Food and Nutrition Retail. He supervises and co-manages The Brick Side Eatery with Timothy Rummel.
"The previous cafe served a rotating three-week cycle menu with burgers. We asked staff and many employees. Pizza was the choice and gave us an opportunity to offer healthier selections than traditional pizzas," says Sweitzer.
The Montefiore hospital connects to the main UPMC Presbyterian hospital by a pedestrian bridge, providing about 11,000 people access to the new eatery. In addition to pizza, the retail operation features a casual restaurant menu that includes pizza, salads and sandwiches.
"We wanted to operate far outside the stereotypical foodservice operation where menu items sit in steamtable pans and staff dish up food on customers' plates," says Sweitzer. "We designed the menu around simplicity and cross-utilizing clean ingredients." His retail experience includes training at a culinary arts school, and working at the Duquesne Club in Pittsburgh and Darden restaurants.
Customers eating on-site can enjoy table service. "We serve guests within 10 to 12 minutes of placing their orders so they can come in and dine quickly or more leisurely," Sweitzer says. Seating includes two 12-person community tables, built-in perimeter booths that line one wall and individual tables that line another brick wall. Along the window wall, a high-top table with seating faces outside.
Built-in banquet seating lines the perimeter of the seating area while two community tables provide additional seating options.
Customers can also order online or place orders at a takeout window. For online orders, once they've customized their selections and paid, they can see exact time parameters for pickup at the eatery's takeout window. Sweitzer estimates takeout sales will eventually account for approximately 60 percent of the operation's business. The operation plans to add a delivery option in the near future.
Deliveries and Preparation
Vendors deliver food to the seventh-floor operation and place it into a walk-in cooler and reach-in freezer. The lobby sits on the seventh floor because the hospital resides on a hillside.
For cold prep, staff cut vegetables and prepare salad dressings and ingredients at worktables. Staff cook proteins and grill vegetables and crostini in a combi oven. They use a hand blender to mix canned imported tomatoes for tomato sauce. A local partner delivers fresh dough.
"The space is quite small, so we have a fine-tuned, logistical operation that contains all the tables and equipment positioned for easy and efficient access," Sweitzer says. For example, the exhaust hood covers the combi oven and pizza oven.
Sweitzer and the culinary team have access to steamers, kettles and other equipment on Montefiore's adjacent fourth-floor kitchen. "We've designed the eatery menu to work with the equipment we have here, and we intentionally decided not to offer everything for everyone," Sweitzer says. "But if we needed to use the other equipment we could. We used a little storage in the beginning."
Pizza preparation generates the most attention and largest number of sales. Customers place orders and wait while staff stretch the dough on a peel for about 45 seconds, add toppings from the cold rail and place the 11-inch pies into a brick, gas-generated pizza oven that allows customers to see flames as the pizzas cook. After about two and a half minutes, staff remove the pies, cut them into six pieces and place them into boxes.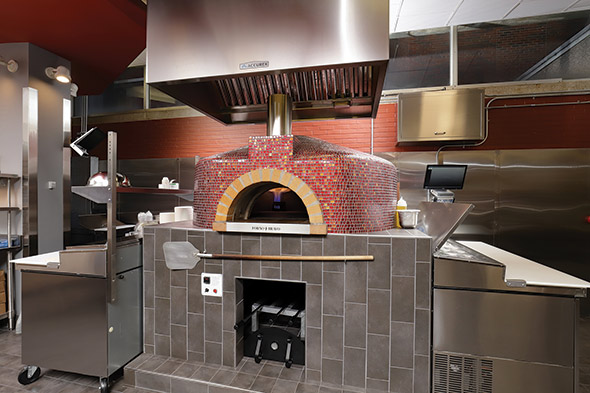 A brick gas-powered pizza oven serves as the focal point at The Brick Side Eatery and cooks up to 250 pies per day. A cold rail holds ingredients nearby.
Customers can only order whole pies — no slices. "We wanted this concept to encourage two or more associates to order a pizza and salad and split the order or maybe take the pies to a community dining table in the seating area and share the food together. We wanted to get away from cafeteria-style per-slice options," Sweitzer says.
Pizza selections include five daily options, such as cheese, chicken caprese, quattro formaggio, pepperoni, garlic pork and broccoli rabe and vegetarian roasted. Gluten-free pizzas feature a cauliflower crust.
The eatery's menu also features six signature salads such as Brick Side tossed, artisan grain, power greens slaw, apple almond crunch, caprese, chopped Cobb and sunflower kale. Customers have four salad dressing options and can add herb-roasted chicken, herb salmon, grilled herb steak and artisan grain salad.
Customers may also select from seven signature sandwiches such as the chicken caprese melt, herb salmon club, steak, slow-roasted garlic pork, spinach artichoke melt, Italian brick oven grinder and vegetarian-roasted veggie grinder. Staff heat sandwiches in one of two quick-speed ovens upon request.
Two side dishes include artisan quinoa or power slaw with shaved Brussels sprouts, chicory and carrots mixed with an herb vinaigrette.
Reach-in refrigerators at the cash registers hold three desserts, such as New York-style cheesecake, white raspberry cheesecake and Moscato tiramisu. "We wanted to get away from chips and cookies that customers can get in most cafeterias and fast-service restaurants," Sweitzer says.
Customers can watch pizza preparation while they place orders. They select beverages and desserts from the refrigerated display unit before paying at the registers.
Refrigerated beverages include bottled soda, sparkling and still waters and pure leaf teas. "We eliminated fountain soda and the need for cups and ice," Sweitzer says. Coffee isn't offered because a licensed Starbucks sits on the same floor.
After paying, customers receive numbers on stands that they place on their tables so servers know where to deliver their food. "We deliver within about 10 minutes," Sweitzer says. "We also capture customers' names at the register so we can say, 'Donna, do you want anything else?' "
The operation's post-consumer waste is 100 percent compostable or recyclable. "A company takes out post-consumer waste after separating it at the can," Sweitzer says. "Every item served is compostable except the glass bottles, which are put in the recycling bin."
Working in a small space will continue to challenge the culinary staff. "We can always use more space. But we've learned to work with it," Sweitzer says.
The rave reviews from customers — even those who have a 10-minute walk to get to The Brick Side Eatery — balance out the difficulty of working in a small space. Staff are also pleased with Rummel's hiring decisions; he finds the right people to work in a tight environment that produces large volumes of food during peak service times.
Key Players
Ownership: UPMC (University of Pittsburgh Medical Center)
Executive Director, Food and Nutrition: Simone Frerk
Director, UPMC Food and Nutrition Retail, UPMC Presbyterian Shadyside: Timothy Sweitzer
Manager, Brick Side Eatery: Timothy Rummel
Executive Chef: John Howey
Architect: DRS Architects, Pittsburgh
Interior Design: UPMC team, including Elizabeth Zeszutek
Equipment Dealer: TriMark SS Kemp, Pittsburgh
General Contractor: MBM Contracting, Pittsburgh
Facts of Note
Opened: Dec. 27, 2017
Scope of Project: A remodel of the front of the house and back of the house
Size: Front-of-the-house and back-of-the-house cooking areas, 2,225 sq. ft.; seating area, 775 sq. ft.
Seats: 56
Average Check: $9.50
Total Annual Sales: $1.3 million (anticipated)
Transactions: Expecting 300 to 400 per day depending on weather and day of week
Hours: 10:30 a.m. to 9 p.m., Monday through Friday; 10:30 a.m. to 5 p.m., weekends
Menu Specialties: Signature pizzas, salads and sandwiches
Staff: 17 staff members, including a supervisor and Timothy Sweitzer, who manages 12 retail locations
Total Project Cost: $700,000
Equipment Investment: $140,000