Plant-forward movement takes root.
The so-called plant-forward movement in the food industry is — forgive the expression — growing like a weed. Vegetarian, vegan and vegetable-centric concepts are rubbing shoulders with burger, pizza and chicken restaurants on lists of hot new emerging chains. Celebrity chefs from Jose Andres and Richard Landau to Matthew Kennedy, Jean-Georges Vongerichten and Yotam Ottolenghi keep launching big-buzz veggie-centric restaurants. Others, such as Eric Ripert at New York's Le Bernardin, winner of multiple Michelin Stars, showcase artfully composed vegetable tasting menus alongside more traditional menus. Ripert cites the growing demand for meatless options and the creative challenge of high-end vegetable cookery as key drivers for the veggie additions.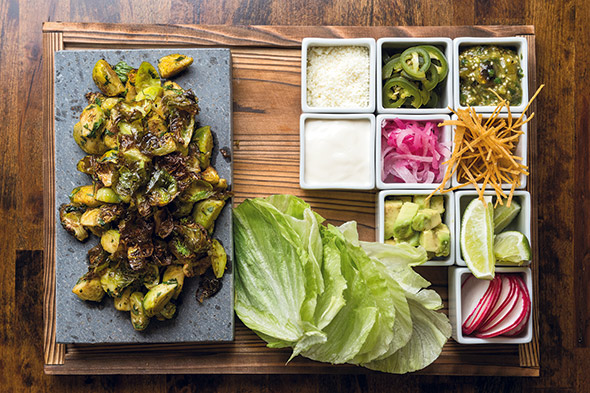 Noncommercial trendsetters such as Yale, Stanford, Harvard, University of Massachusetts-Amherst, Google, Microsoft and Bon Appétit Management continue to implement innovative plant-based menu platforms that strongly resonate with younger consumers' concerns about health and sustainability. With excess consumption of red meat, in particular, directly tied to critical health issues (coronary disease, cancer, obesity, diabetes) and environmental damage (beef production generates more greenhouse gasses, according to environmental groups), these and many other noncommercial leaders increasingly weave both human and planetary health into menu-planning strategies.
Behind the scenes, major food manufacturers have also put stakes in plant-based protein startups, bringing resources and scalability to the category. Announcements abound regarding better-burger operators, among others, adding different brands of plant-based burgers to menus, with beet and pea protein alternatives now in the mix of beef-replacement options.
The trend made appearances on several 2018 lists: Whole Foods Market named plant-based proteins as a top food trend for 2018; vegetable-forward/veggie-centric cuisine took the No. 5 spot on the National Restaurant Association's list of What's Hot for 2018; and the Specialty Foods Association's Trendspotter panel ranks plant-based foods No. 1 on its list of 2018 trends.
Beefy Blends
Even the beefiest of restaurant concepts continue to take note. Last December, McDonald's made the new McVegan soy-based burger an official menu addition at several hundred units across Sweden and Finland, following tests that proved demand was strong and customer response was positive. Developed in partnership with an Oslo, Norway-based manufacturer, the burger's toppings include tomato, lettuce, pickles, onion, ketchup, mustard, oil and an egg-free sandwich sauce. McDonald's has said that it will evaluate further McVegan rollouts on a country-by-country basis.
Last fall, Sonic Drive-In became the first national U.S. quick-service burger chain to begin testing a blended beef and mushroom (25 percent to 30 percent) burger, trying a tactic that many in the plant-forward movement hope will gain traction as a way to begin weaning consumers off high-fat, high-carbon-footprint animal proteins. Operators including Compass Group USA and Sodexo are participating, as well, with their own blended burger menu introductions. Sodexo, for instance, partnered with the Mushroom Council in 2016 to create The Blend burger, now served in more than 250 participating K-12 school districts nationwide.
And many operations, commercial and noncommercial alike, continue to work toward introducing menu items such as salads and entrees that consist mainly of vegetables, pulses and/or grains, with small portions of meat used as flavor-enhancing garnishes or optional add-ons.
Defining a New Normal
If it all seems like a tsunami of indicators favoring a more plant-forward foodservice industry, it is. And many advocating for that change remain confident that, while traditional niche vegetarian and vegan restaurants have long been outliers, a new generation of more mainstream, plant-forward operations continue to emerge that transcends trend, fad or niche status.
Sophie Egan, who heads up health and sustainability leadership and serves as editorial director of strategic initiatives at the Culinary Institute of America (CIA), says the ultimate goal is for plant-forward to become the new normal, and eventually, simply the normal.
That's a shift that Menus of Change, the six-year-old initiative from the CIA and Harvard's T.H. Chan School of Public Health, is working to help bring about. The industry-wide effort seeks to "realize a long-term, practical vision integrating optimal nutrition and public health, environmental stewardship and restoration, and social responsibility concerns within the foodservice industry and the culinary profession."
Within that broad framework, and in the interest of making sustainable, healthful and delicious plant-forward dining mainstream, Menus of Change recently developed a definition to provide clarity around the concept. Specifically, plant-forward does not necessarily mean vegan or vegetarian. Rather, it represents "a style of cooking and eating that emphasizes and celebrates, but is not limited to, plant-based foods — including fruits and vegetables (produce); whole grains; beans, legumes (pulses) and soy foods; nuts and seeds; plant oils; and herbs and spices — and that reflects evidence-based principles of health and sustainability."
The definition, Egan asserts, is far more inclusive.
For operators in the veggie-centric, plant-forward restaurant space, the shift is bringing validation and vigor to new players and legacy concepts. Following are a few operators whose successes prove that, while meat still reigns supreme, America's appetite for plant-forward alternatives is healthy and growing.
---
Ownership: Amanda Cohen
Founded: 2008, New York
Segment: Upscale vegetarian
Average Ticket: $90 with alcohol
Best Sellers: Brussels sprout tacos, Korean fried broccoli, portobello mousse with sauteed Asian pears, cherries and truffle toast
Having outgrown the original location's capacity to meet demand, Amanda Cohen relocated Dirt Candy to a larger, 50-seat location in 2015. Photo by Evan Sung
New York chef and cookbook author Amanda Cohen has been a pioneer in the vegetable-forward movement since opening Dirt Candy in 2008. Its original, 18-seat East Village restaurant garnered a two-star review from the New York Times and was recognized by the Michelin Guide for five consecutive years.
In 2015, with lines out the door and demand for reservations high, she moved Dirt Candy to a larger, 50-seat space on the city's Lower East Side. There, it continues to thrive and evolve along with its customer base. Last fall Cohen transitioned the restaurant away from an a la carte menu in favor of two tasting menu options: The Vegetable Patch features 5 courses of Dirt Candy's greatest hits for $57, with optional $45 wine pairings; and The Vegetable Garden features 9 to 10 courses that change based on seasons, product availability and chef's whims for $83, with optional $65 wine pairings.
"The kind of food Dirt Candy makes is different from what you'll find elsewhere, and I noticed that customers were getting frustrated because they didn't have enough guidance on how to get the most out of it," Cohen says. "From there it was an easy decision to go to tasting. This way, they can get either a full-on decadent experience or just sample what we do and see my kitchen at its best."
Cohen estimates her current customer base to be 40 percent omnivores and 60 percent herbivores, slightly more herbivores than when the restaurant first opened. She notes that managing changing customer expectations remains a big challenge for plant-based restaurants.
"For a long time, running a vegetable restaurant meant you were running a place that existed to serve a lifestyle — vegetarians and vegans," Cohen says. "The quality of the food was less important than fitting into that lifestyle. Restaurants had to fit the proper moral and political niche, such as supporting PETA or other animal rights organizations, embracing a humanist ethos, being a hub for groups that embrace the vegan or vegetarian philosophy. These days, customers expect some kind of health and fitness agenda from a vegetable restaurant. I don't do politics at Dirt Candy, and I feel like the plate isn't a medicine cabinet. The toughest thing for me has been getting people used to the idea that all Dirt Candy does is make vegetables delicious and that we don't have a bigger agenda."
---
Ownership: ThinkFoodGroup, Washington, D.C.
Founded: 2015
Segment: Fast-casual
Units Open: 5
Average Ticket: $10-$11 per person
Best Sellers: Frida kale bowl, curry lentil bowl, customizable bowls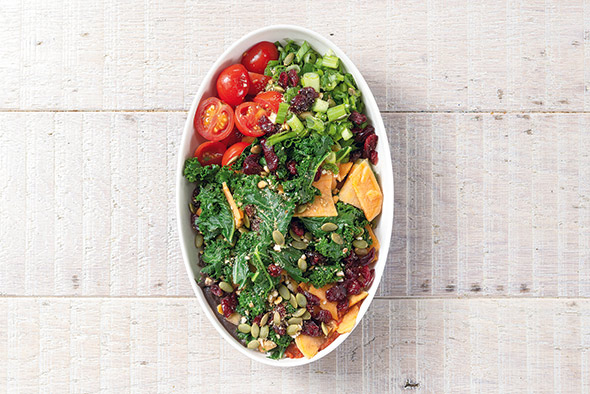 A chef-developed best seller at Beefsteak is the Frida Kale bowl, which features rice, kale, sweet potato, black beans and spicy tomatoes topped with cherry tomatoes, scallions, Corn Nuts, pumpkin seeds, cranberries and lemon-honey dressing. Photo by Rey Lopez
Beefsteak, part of Chef Jose Andres' ThinkFoodGroup portfolio, launched in Washington, D.C., as a next-gen fast-casual concept celebrating vegetables. Currently at three units in D.C., one in Bethesda, Md., and one on the University of Pennsylvania campus, the company plans to develop additional corporate stores. Its recent partnership with Compass Group USA will lead to Beefsteak units opening in noncommercial operations managed by Compass Group's Bon Appétit division.
"It was a dream of Jose's for a long time to create a vegetable-centric restaurant, with the goal of feeding 1 million people a day," says Eric Martino, chief operating officer of ThinkFoodGroup's FastGood Concepts division. "We wanted to do a concept that meets demands for convenience, transparency and customizability, with vegetables as the stars. That being said, we're not positioned as a vegetarian restaurant. Our focus is simply on clean ingredients with low carbon footprints and high nutrient values. We partner with local growers for many of our ingredients and with local composters, who in turn sell their compost to some of our growers."
Helping to bring the concept's motto — vegetables, unleashed — to life, Beefsteak's graphics feature caricatures of playful, slightly naughty vegetables. Other prototypical design elements include soil-colored flooring and sky-blue ceilings, from which white produce cartons hang in cloud-like clusters.
Its menu celebrates "the unsung power of vegetables" and features chef-inspired and/or customizable combinations of vegetables served atop warm grains or salad greens and topped with signature sauces and a wide selection of toppings. These include optional protein add-ons such as chicken sausage, salt-cured salmon and poached eggs.
"One of the biggest things we had to figure out was how to be able to do vegetables in a fast-casual environment," Martino notes. "After a lot of experimentation, we settled on blanching them to order in salted water for about 90 seconds before they go into the bowl with grains or greens and toppings. We use programmable pasta cookers for blanching. A second key is to ensure that all of the vegetables are cut in the right size and/or shape to ensure compatible cook times."
While vegetables are the stars at Beefsteak, Martino says chicken sausage is the best-selling add-on. That fits with the plant-forward movement, in which animal proteins aren't shunned but enjoyed as complements to vegetable-based dishes.
"That speaks to the fact that we can accommodate all diets, from high protein to vegetarian and vegan," Martino says. "But whatever your choice, you can feel good about the ingredients and the fact that you've had a healthy and delicious meal that's also fast and affordable."
---
Ownership: ESquared Hospitality, New York
Founded: 2015
Segment: Vegan fast-casual
Units Open: 9, 3 additional opening early 2018
Average Ticket: $17-$20
Best Sellers: Quinoa taco salad, The Guac Burger
The 100 percent plant-based menu at by CHLOE's ranges from house-made veggie burgers and salads to pasta dishes and, in some locations, breakfast and brunch items. Shown here are the pesto meatball sub with air-baked fries and the popular quinoa taco salad. Photo by Mikey Pozarik
An upstart brand from multiconcept operator ESquared Hospitality, by CHLOE charted new territory for the firm: Not only is it the company's first fast-casual brand, it's also entirely vegan.
Most of by CHLOE's customers, however, are not. Manuel Trevino, corporate executive chef, has been with the brand since the beginning and says its immediate and broad-based acceptance by mainstream consumers was a bit of a surprise.
"Initially we were a little concerned that our customer base would be limited to vegans and vegetarians, which might have limited our growth. Obviously, they're a key part of our demographic, but they actually make up only about 20 percent of our base," Trevino says. "We also are certified kosher, so a lot of people come in for religious reasons. But what we didn't anticipate was the extent to which regular consumers — meat eaters who just want something different, something plant-based once in a while — would flock to by CHLOE. They genuinely love the food and don't really care that it's plant-based."
Blending fast-casual service and full-service ambiance, by CHLOE's aesthetic is fresh and airy with residential design touches. As with all menu items, all finishes and materials are free of animal products. Photo by Mikey Pozarik
The brand currently operates units in New York, Boston and Providence, R.I., as well as Silver Lake, Calif., where it's inside a 365 by Whole Foods Market. An additional unit in New York and two in London are set to open soon.
On the menu, customers find a wide range of dishes prepared fresh and in-house, which highlight whole, 100-percent plant-based ingredients. They include salads and soups, signature burgers and sandwiches, fresh pastas, cold-pressed juices, dairy-free ice creams and baked goods.
The chain approaches every aspect of its business, from sourcing to packaging, through the filter of veganism. "We take that credo — of health, sustainability and animal welfare — and put it into everything we do," he notes. "We fully believe that what's becoming mainstream in urban markets like ours will trickle down into smaller markets nationwide as well."
---
Ownership: Matt and Cierra de Gruyter
Founded: 2014, Bend, Ore.
Segment: Elevated fast-casual, vegan
Units Open: 5
Average Burger Menu Price: $8
Best Sellers: Signature umami mushroom and quinoa burger, all-American burger with tempeh bacon and vegan cheese
Next Level Burger's founders hope to reach 1,000 units in 10 years via corporate development and partnerships. The chain already has a partnership with 365 by Whole Foods Markets, which has units open within stores in Seattle (shown), Portland, Ore., and Brooklyn. Photo courtesy of Next Level Burger
Next Level Burger takes the all-American burger joint concept and gives it a plant-based twist. Going to market as the nation's first 100-percent vegan burger chain, the brand touts healthy, sustainable, delicious food that's plant-based, organic and GMO-free. Its menu offers a broad selection of signature burgers, franks, salads, fries and dairy-free shakes.
Ingredients in Next Level Burger's house-made burgers include quinoa, black beans, mushrooms and chia seeds. Toppings are fresh and organic. Cheeses are vegan, and the bacon is smoky tempeh. Photo courtesy of Next Level BurgerCo-founder Matt de Gruyter left a high-flying career in venture capital and private equity to launch the concept with his wife, Cierra. Both had made personal transitions to plant-based diets and ultimately developed a passion for creating a business that would make a positive impact on human and environmental health. They relocated from California to Bend, Ore., and in July 2014 opened the first Next Level Burger unit.
"That was the beginning of what we call the burger revolution," Matt de Gruyter says. "We got immediate attention, and lines were out the door. Bend is a small community but very focused on healthy, active, outdoor lifestyles. Within a couple of months, Alex Payne, one of the original architects of Twitter, came in. He shared our vision and became an investor, so what was already an aggressive plan became even more aggressive."
A second unit, in Portland, Ore., followed in 2015 to equally enthusiastic response. "The crowds were insane. By the end of that first week, we'd sold out of just about everything and actually had to close early," de Gruyter says.
Among the Portland unit's early customers was the global executive chef for Whole Foods Market, who recommended the concept to the retailer's Northwest region president. "They were getting ready to introduce the new 365 by Whole Foods Market concept and extended an invitation to us to be the on-site restaurant partner at the 365 store in Portland. That was our third unit, and how this whole journey with Whole Foods began. It's been a fantastic ride so far," de Gruyter says.
Next Level Burger now operates units in 365 stores in Concord, Calif., Brooklyn, and Portland. Going forward, de Gruyter anticipates further growth through Whole Foods as well as independent corporate store development. No franchising is planned.
"Our aspirations are ridiculous," de Gruyter adds. "We hope to develop 1,000 stores within 10 years, assuming we can continue to execute quality food and a great experience."
Describing Next Level Burger as elevated fast casual, de Gruyter says the goal from the start was to create a vegan concept that would appeal to everyone. "We're still refining the experience, but we wanted to stay far away from the stereotypical vegan or vegetarian restaurant, which too often were fine for some but not for all. We wanted to reinvent the American burger joint to be a place where everyone can enjoy the quintessential fast-food experience and feel fantastic about what they're eating. And our unofficial goal was really to feed the people. We believed that if we gave people a better, healthier choice they'd choose it and that the impact of making that choice can be global. We feel like we're making the world a better place with every burger we sling. I can't find a better way to impact this planet than to help change the way people eat."