Some people say they don't follow trends. But the thing is, trends can have a domino effect regardless of whether you're into them. Take food trends. As more chefs figure out different ways to use ingredients such as gochujang (Korean for red chili paste) or uni (Japanese for sea urchin) or to grow microgreens in their kitchens, they also think of new ways to serve their creations. And as more diners take photos of the food at their tables, that impacts the way chefs think about how to plate dishes. All of this has a direct impact on the pieces
that foodservice operators select to adorn their tabletops.
Here, we provide a look at some of the top dining trends and their impact on tabletop selection.
Hyperlocal
The rustic, pottery-inspired plateware at Temporis in Chicago easily connects diners with the ultra-local, herbs-at-the-table, eclectic vibe of the tasting menu. Photo courtesy of TemporisAs the farm-to-table concept goes mainstream, some operators take the next step by growing their own food on-site.
Despite the evolution of this dining phenomenon, they still reach for the same rustic, eclectic and pottery-inspired plateware made popular by the connections to local farmers in the first place. "Restaurants are trying to make their guests feel like they are in someone's kitchen as opposed to just a traditional restaurant," says Matthew Starr, brand manager at Boston Showcase Co., a foodservice equipment and supplies dealer based in Newton Highlands, Mass. To highlight the hyperlocal concept, "We're seeing more things like walls of microgreens, and even tabletop installations with fresh herbs and greens," Starr says.
At Temporis in Chicago, each custom-made table in the dining room features a square in the middle where staff can place a planter box holding fresh microgreens grown hydroponically in the basement. Servers clip the greens right off the table and use them to garnish plates, which provides a super fresh and bright finish in front of the customers.
Global Cuisine and Street Food
The presentation of TacoCraft's street tacos aligns with the Chicago restaurant's modern Mexican twist. Photo courtesy of TacoCraftGlobal flavors and street food continue to find their way into modern dishes, inspiring new renditions of authentic dishes that tell a story on every plate.
As such, more authentic equipment occupies center stage in the kitchen as operators look to recreate real flavors from different cultures and cuisines. Equipment includes tandoor ovens and Japanese-style robata or teppanyaki grills burning compressed hardwood binchotan as well as different forms of live-fire cooking for South American asado-style cuisine.
Further along these lines, research firm Datassential reported the growing trend of food on sticks, such as Japanese-inspired yakitori, or marinated and skewered meats cooked on robata grills. To maintain a sense of story and authenticity, chefs serve the meat still on the sticks, atop rustic or multishaped plates for a presentation that offers a nod to street food.
Cast iron and ceramic serving ware and Mexican molcajates for guacamole share a similar appeal — a functional aesthetic — as operators can use these items for food prep and for plating.
Starr points out that chef Michael Scelfo of Waypoint in Boston steams and serves his popular dumplings in the same porcelain dim sum set, as opposed to bamboo steamers, for a more unique appearance. The dome-shaped vessel helps maintain heat until the dish arrives at the table, where the lid can be removed for presentation.
Instagram-Worthy
Adding eye-catching dots of color to brighten up a dish like these raw scallops elevates the dining experience so that customers of Chicago's Dos Urban Cantina want to share their meal via social media. Photo courtesy of Anjali Pinto.The back and forth of chefs beautifully plating their creations and diners wanting to take photos of their orders results in a burst of food photography on Instagram, and chefs know their dishes will instantly show up in the spotlight.
Whereas Instagram has become the main tool for still food photos, younger diners use Snapchat, Instagram Stories and Boomerang to record these more interactive dining experiences at the table, Starr points out.
As such, chefs are paying greater attention to the plates they choose. As a result, stark-white plates — which had fallen to the wayside in favor of rustic, farm-to-table-esque dishes — are making a comeback.
"Color on plates can detract from the food on the plate, so chefs are going back to white," says Starr. "The idea where everything that comes out of the kitchen is likely to be photographed and shared and wind up on blogs and Eater — that can really be the livelihood of the restaurant. Social media is not to be underestimated."
Chris Crocetti, director of business development, Florida, for TriMark R.W. Smith in Miami, agrees. "I'm seeing white coming back and coupe is still important, but we're also seeing a lot of variations of white like stone, ivory and bright white in different shapes and sizes as well as many grays, like matte gray and other light and darker grays in smooth and textured finishes." These more muted plates help the colors of dishes pop.
Crocetti says he's also seeing more chefs use plateware that's flat in the center with higher walls or sides, as these bowl-like serving vessels can add more drama to a dish. (Click here for more tabletop insights from Crocetti.)
Playful and Casual
The creative use of color and presentation gives this menu item at Chicago's Bohemian House a nice depth that makes the plate ready for guests to share on Instagram. Photo courtesy of Bohemian HouseOn the flipside of flat white and grays, chefs continue to explore other types of dishware like painted pottery, tin platters and antique designs in keeping with their more casual, playful and trendy image.
"Fine dining is really fading out in place of more casual dining," says Starr. Even in a high-end, urban restaurant, "you might get your Neapolitan-style pizza served on a cheap, tin pizza pan that costs a dollar, but that's OK because it's cool and hip and part of the whole vibe of the place."
Both Crocetti in Miami and Starr in Boston see a trend of plates getting smaller, between 7.5 inches and 8.5 inches, which supports the ongoing popularity of group dining and sharing.
In New York, Tess Rex, business development manager at M. Tucker, a division of Singer NY LLC, sees more mixing and matching of plates in pastel colors like light blue, light green and pink for a lighter and airier, even feminine, approach. "Restaurants opening in hotels are now so super bright and open and welcoming, so it makes sense that this is translating to tabletop choices," she adds.
The playfulness continues in operators' flatware choices. Rex reports requesting more flatware in different finishes, from gold and copper to even champagne colors, for a more playful approach. "We're seeing a lot of mixing and matching — a dozen here and a dozen there and throwing it together all over the table," she says.
On the opposite color spectrum, Crocetti in Miami says he sees some black-handled flatware, but all in all, more pieces that purposely look worn or matte or bruised for a less polished appeal.
Table settings have changed too, becoming more casual and approachable. Crocetti says he's seen some restaurants set the rolled flatware in a bain marie in the center of the table rather than placed around the seats. And Elske in Chicago positions the knife with the cut side down on top of the forks for a more casual, Scandinavian approach.
Interactive Dining
The Little Donkey in Cambridge, Mass., remains on trend with via its elevated presentation of chilled seafood and shellfish, ceviche and razor clams on a bed of crushed ice. Photo courtesy of Little DonkeyAlong the lines of the playful approach, more restaurants — particularly urban sites — continue to explore tableside service and food presentation with more action. At Ostra in Boston, Starr says he's had smoked salmon served at the table under a glass dome that, when removed, allows the smoke to billow out and perfume the air.
Tableside cart dining has made a comeback too, first with cocktails, and now with cheese, chocolates, tartare, flambés and more.
Raw bars and platters have become another outlet for creating a more interactive dining experience. Crocetti sees more restaurants serving all types of raw seafood over ice on risers, with different vessels holding horseradish and chili sauce — and even eyedroppers holding Tabasco — for guests to create their own cocktail sauces.
"Those antique metal trays are some of the cheapest pieces I sell and people are putting $4 oysters on them, but diners are fine with that because they're not looking for fancy white tablecloth service," Starr adds.
At Little Donkey, chef Jamie Bissonnette uses risers and mini vessels to showcase more than just oysters, including different ceviches and razor clams and uni.
---
Better Barware
At all restaurants across the country, bars and bar service continue to be the center for major profit production, helping offset food costs while creating a more lively atmosphere throughout a space. As such, Tess Rex, business development manager at M. Tucker in New York, says she's seen her tabletop sales increase just because of the growth in bar tools, serving vessels and glassware alone.
Here's a look at the top trends in barware noted by Rex and Chris Crocetti, director of business development for TriMark RW Smith.
Black matte glasses, cocktail shakers and wine buckets for a sleeker, more industrial look
Copper bartops
Hollowed-out fruits like watermelon, coconut and even cucumbers as serving vessels
Classic, no-frills glassware for highlighting heavily garnished drinks such as bloody marys with cheese, salami, olives and other add-ins that almost create a meal in a drink
Curvy, hurricane glasses to showcase colorful, multilayered cocktails like parfaits
Small pairings — sidecars, michelada (clam juice mix with beer on the side) and boilermakers (whiskey in one vessel, beer in another) for make-your-own cocktails
Cocktail and mini snack or food pairings such as side glasses with pickled grapes, ramekins of salts and spices, and little house-made corn nuts in mini vessels all served on wooden boards like coffee service or on a riser
Larger serving pitchers with spouts for pour-your-own drinks that hold temperatures better and are easier to serve tableside than punch bowls
Cart usage for tableside gin and tonic, martini service and champagne
Beer glasses shaped like cans
The new coupe — deeper, 10-ounce bowls for sharing — and martini glasses shaped like rectangular boxes
Cooler mixing vessels — copper, gold and matte shakers, vintage beakers and carafes
Cocktails served in metal flasks
---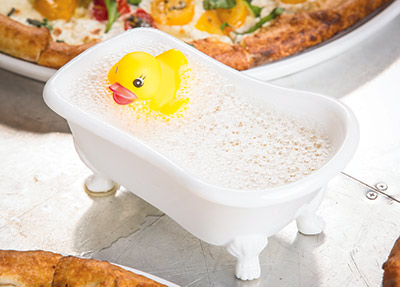 At The Bassment in Chicago, the bathtub gin cocktail pays homage to the underground liquor produced during Prohibition, but with a more modern, playful approach, complete with a white, ceramic bathtub-shaped vessel, rubber ducky and straws for sharing. The drink features gin combined with tonic syrup, as well as a touch of fresh pineapple and citrus juices for sweetness, and a topping of prosecco for a little effervescence.