Spreading Smiles with Haute Dogs, Cool Digs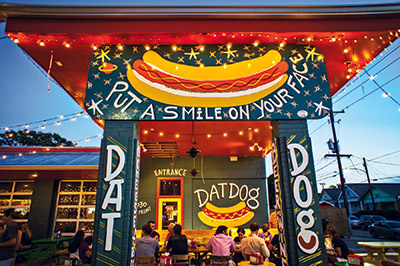 As colorful as its home city of New Orleans, Dat Dog is a quirky, fast-casual/casual-dining hybrid that serves up classic and creative takes on gourmet sausages. Photos courtesy of Dat DogJust try watching Dat Dog's new website video for potential franchisees without cracking a smile and wishing there was a unit nearby. The brand, which got its start as a 475-square-foot hot dog and sausage shack in post-Katrina New Orleans, is all about spreading smiles. Its distinctively different "haute dog" menu, funky and colorful stores, and passionate commitment to community and culture have been doing the trick in that regard since the first unit opened in 2011.
And since that time, the Dat Dog brand has grown into an even happier place — a successful four-unit fast-casual chain with a bigger and completely unique menu, larger locations to accommodate its burgeoning fan base and, as of January this year, big plans for expansion through franchising.
When New Orleans native and former federal prosecutor Constantine Georges and friend Skip Murray launched Dat Dog, they broke one of the cardinal restaurant start-up rules: They eschewed "location, location, location" to set up shop in a tiny space on Freret Street in an economically depressed neighborhood high on crime and low on foot traffic. But despite the neighborhood having fallen on hard times, Georges felt that the area — within walking distance of three universities and one of few corridors connecting uptown and downtown New Orleans — was ripe for revitalization.
It was definitely ripe for a hot dog stand. Lines were routinely out the door and around the block, far exceeding the capacity of the little shop and the expectations of its founders. The team soon moved to larger digs, a former gas station across the street, and began expanding while sticking to its colorful, casual aesthetic. Today, Dat Dog has five company-owned locations in the New Orleans area and was set to open its newest location in late summer in Lafayette.
Bill DiPaola joined Dat Dog in 2014 and spearheads its evolution and expansion. He's a 22-year industry veteran with prior management experience at Copeland's of New Orleans, Dickie Brennan & Company, and Ruth's Chris Steak House. Now president and chief operating officer, DiPaola says the company's future growth will come primarily through franchising, which kicked off in January of this year. An agreement has been signed with B&G Food Enterprises, a Taco Bell franchisee with more than 100 units in Louisiana, Mississippi and Texas, to develop 25 Dat Dogs in the Houston market. A second franchisee group, Prime Dog LLC, has three Baton Rouge, La., Dat Dogs in development and more planned throughout the
Gulf South.
Signature Style
As for the concept's style, DiPaola characterizes it as a fast-casual/casual-dining hybrid. "We have the sharp focus of a Chipotle," he explains. "Everything that we serve is in the shape of a hot dog, including our burgers, which are rolled from freshly ground beef, and chicken, which is cut into strips and grilled or fried. Guests order at the counter and we bring their food out to them. But our menu is very diverse and we have an environment that's closer to a Buffalo Wild Wings than a Chipotle. Here, you can come in and watch the game, drink a local craft beer, play trivia or corn hole. You can hang out and be loose and easy."
And guests can enjoy the best of Dat Dog's wursts. In true fast-casual style, guests can customize their own meals by choosing their sausage, selecting from more than 30 toppings, and adding on a side. Conversely, guests can opt for one of the brand's signature creations. Sausage choices range from traditional European-style wieners, kielbasa and bratwurst, to veggie and vegan dogs, to Dat Dog originals which blend ingredients such as alligator, duck and crawfish with pork.
Alligator sausage ranks a best seller, as does the signature Crawfish Etouffee Dog. Other "haute" selections on the House Specialties menu include the Blue Dat Burger, a rolled beef patty topped with blue cheese, grilled onions, bacon and barbecue sauce; the Guinness Special, an Irish Guinness sausage with Andouille sauce, onions, shredded cheddar, bacon and yellow mustard; the Bacon Werewolf, a Slovenian sausage with bacon, sauerkraut, dill relish, grilled onions, tomatoes and Creole mustard; and the Dat Chick, fried chicken breast with jalapeños, Mother-in-Law Slaw and Chick Sauce.
The Sea Dog Special is sausage-shaped beer-battered cod and the Son of a Saint Dog is a Guinness sausage topped with bacon, onions and barbecue sauce. One dollar from every Son of a Saint Dog sold benefits the Son of a Saint nonprofit, which provides mentorship, education, cultural enrichment and emotional support for fatherless young men in New Orleans.
Mission-Critical Buns
Loaded with local flavor, Dat Dog's signature Crawfish Etouffee Dog features a crawfish sausage topped with house-made crawfish etouffee, sour cream, tomatoes, onions and Creole mustard.DiPaola says the chain's buns are as important to its success as what's served in them. The buns start out in a high-pressure convection steamer before they're quickly toasted on a flattop. It's a process he maintains is "absolutely mission critical to a Dat Dog."
Expanded considerably from the original Freret Street location, the full menu today celebrates both traditional craftsmanship and contemporary twists on regional specialties. It has also been strategically refined to bypass the veto vote.
"If someone in a group feels like a burger or is vegan, we have them covered," DiPaola says. "If someone's avoiding carbs, we have the Greenie Weenie, which is any sausage or other protein that you like wrapped in a romaine lettuce leaf instead of a bun."
Dat Dog keeps operations lean and consistency high by utilizing a third-party commissary to produce its custom-blend sausages. Executive Chef Alex Ventura, who joined the chain in 2015 after stints at Dickie Brennan's and the Palace Café, creates the recipes. "A critical part of our evolution was going from relying on existing products to creating our own," DiPaola says. "They really set us apart from any other brand."
Like its menu, Dat Dog's prototype has been fine-tuned in preparation for growth. The ideal unit consists of a freestanding building or endcap space that ranges from 2,500 to 3,000 square feet, which can accommodate plenty of relaxed on-site dining. The brand also offers takeout, delivery via third-party services and catering, and each unit includes a small bar. Alcohol accounts for 25 percent of average unit sales of $1.66 million, with local craft beers representing the majority of bar sales.
Kitchens are galley-style, with cooking done on one side and the "dress line" on the other. The brand's growth plans are serious, but its cornerstones are fun and diversity.Kitchens are simple and galley-style, with cooking equipment on one side and the "dress line" holding toppings and condiments on the other. The back of the house also includes a small prep area, cooler and walk-in freezer — buns and some of the sausages are best kept frozen, DiPaola says.
Outdoor patios are vital to the brand and, along with its colorful, shabby-chic design aesthetic, help bring its unique biergarten-meets-Mardi-Gras vibe to life.
"We make sure that we fit within the neighborhoods that we reside in," DiPaola says. "We're colorful, we're fun and nothing fancy and I think that translates well. It tells the customer that we didn't come here to convince them how great we are. We came here to open a business because we think this neighborhood and the people in it are great. That's the message we hope to send out about our brand, and it's the message that we will continue to grow with."
Dat Dog Snapshot
HQ: New Orleans
Concept: Fast casual, gourmet hot dog
Founded: 2011
No. of Units: 5, plus 28 in development
Ownership: Dat Dog Enterprises LLC
Expansion Markets: Southern Louisiana, Texas
Franchising: Yes
Services: Lunch, dinner, takeout, delivery, catering
Average Unit Size: 2,500-3,000 square feet, plus patio
Average Kitchen Size: 820-850 square feet
Average Check: $11.20
Average Unit Volume: $1.66 million
Average Unit Cost: $475,000-$927,000
Average Kitchen Equipment Package: $100,000-$110,000
Mission-Critical Equipment: Convection steamer, flattop grill, charbroiler, fryers