Many restaurants and operators are going beyond simply composting scraps and otherwise discarded pre-consumer food to actually using it in dishes, getting closer to zero-waste kitchens.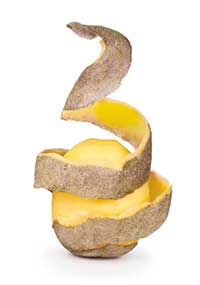 Food waste reduction ranked No. 7 on the National Restaurant Association's What's Hot list of 2017 concept trends. Foodservice operations discard 4 to 10 percent of purchased food before it ever reaches a guest, according to LeanPath, a food waste consultancy. Finally, the hard work many members of the industry have done to educate the greater public about food waste and reduction seems to be paying off as more operators have converted what was once a special, sustainable initiative reserved for the few into standard operating procedure.
Whole-Plant Butchery
Just like whole animal butchery helps chefs make use of every part of the animal, whole-plant butchery has taken off as chefs look to prevent wasting precious local produce. Chefs now make frittatas out of beet greens and pesto out of carrot tops, use scraps for soups and stocks, and even use vegetable skins and peels for garnish. Add to the list chefs carving out pumpkins, watermelon and other foods to use as the serving vessel for dishes.
New Foodwaste Metrics
A Cornell Center for Hospitality Research report developed a metric called FRESH, which stands for Foodservice Impact Rating for Environmentally Sustainable Hospitality Events. Foodservice operators can use this metric to evaluate the performance of any foodservice meal period or event in the hospitality sector. The seven measurements include:
1. A post-consumer food-waste indicator
2. A no-show indicator (for when unexpectedly fewer people show up)
3. An over-show measure
4. A planning indicator to measure intentional overproduction
5. A portion-size indicator to measure per-guest consumption against expectations
6. An economies of scale indicator
7. A post-event indicator depending on different disposal options
Trash Cooking
Celebrated chef Dan Barber of multiconcept operator Blue Hill, New York, has been a longtime advocate of food waste reduction. He's part of wastED, a community of chefs and other members of the foodservice industry who work together to reconceive waste that occurs at every link in the food chain. As part of a pop-up restaurant concept that Barber implemented, he created a menu with meals made from various vegetable scraps and trimmings, as well as leftover pulp and other food that would have otherwise gone straight to the trash. Bread was made from pasta dough pieces and a "dumpster dive vegetable salad" featured bruised bok choy and other would-be scraps. Even the candles on the table were made from reserved bacon grease. Barber's efforts prove that even in the foodservice industry, a little creativity can turn one person's trash into another person's treasure.
Emerging Edible Bowls
Pumpkins, butternut and acorn squash
Coconut
Tomatoes
Cantaloupe
Pineapple
Cored apples
Avocados
Pokéspot's Food Vessels
The Pokéspot in New York serves poke out of pitted avocado halves. These avocado boats replace plastic or glass bowls with scooped out avocados. They feature a choice of protein (ahi tuna, salmon, etc.) two toppings (cucumber, lotus chips, etc.) and sauce (blood orange ponzu, spicy miso, etc.).